See Jim Brown's contributed article in Advantage for the Product Lifecycle, SAP Extends Technical Publishing to the Enterprise. The article explains the opportunity for manufacturers to improve their technical communications processes with solutions like Right Hemisphere, including Dassault System's 3DVIA (Composer), Anark, PTC's Arbortext, Cortona3D, Immersive Design, Lattice Technology, Quadrispace, and others. Beyond that, the article points out SAP's unique opportunity to integrate advanced publication capabilities from Right Hemisphere further into the enterprise.
Note: SAP acquired Right Hemisphere in 2011
Note 2: It has been a while since I have had an update with some of these companies, please feel free to provide insight into them and others so I can schedule some briefings to catch up.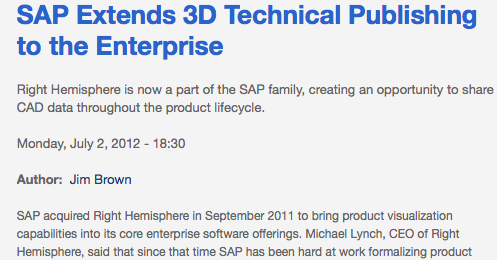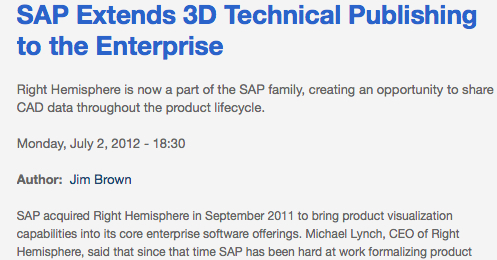 For more of Tech-Clarity's views on technical publications, please see Tech-Clarity Insight: The Business of 3D Technical Communications: Evolving Strategies to Document Products and Tech-Clarity Insight: Better Service with Better Product Information.
NOTE: Link to original article removed because it is no long available at the destination site.