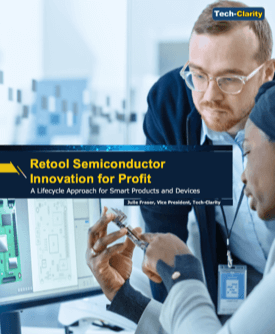 How can semiconductor companies make their product innovation even more profitable?

By moving beyond technical prowess. By retooling innovation for a modern lifecycle management approach for digital continuity. This white paper is based on a Tech-Clarity survey of 277 semiconductor and high-tech professionals to find out how semiconductor companies manage product development and product lifecycles. This industry-specific survey indicates that success requires some retooling.
Please enjoy the summary* below. For the full research, please visit our sponsor Siemens (registration required).
Table of Contents
Executive Overview
Opportunity Brings Challenges
Retooling to Lifecycle Management Strategies
Identifying the Top Performers
Business Capabilities Matter
Top Performers Manage Product Data Better
Organizing and Supporting People for Success
Semiconductor's Complex Technology Landscape
Tech-Clarity PLM Value Maturity Model
Digital Continuity from PLM
How Semiconductor Companies Differ from Their Customers
Conclusions
Recommendations
About the Author
About the Research
Acknowledgments
Overview
Gaining design wins and getting each product into the market profitably is a puzzle. Solving that puzzle repeatedly and reliably is an enterprise- and ecosystem-wide endeavor that requires retooling semiconductor innovation to support that scope. 
Some appear to have done that. We identified these companies as Top Performers: the companies with the best revenue, profit margin growth, and revenue from products less than two years old. They think and act more holistically. Top Performers have better capabilities for ecosystem collaboration and IP protection, waste less time in product development processes, and have faster time to market. 
These leaders accomplish their higher performance through better use of commercial technology, including PLM. They have better access to data and digital continuity. Top Performers also exhibit higher digital maturity, managing and sharing data across partners and disciplines. The Top Performers show a way forward for semiconductor, electronics, and high-tech companies. 
Conclusions
Every aspect of life increasingly depends on semiconductors and electronics to become smarter. Opportunity is growing. Yet to seize it, companies must retool innovation in not only product technology but also enterprise and ecosystem processes. Remember, success rests on achieving product quality, reliability, performance, innovativeness, and cost all at once. Beating the competition in all those ways is no small feat.
Top Performers' Holistic View

What differentiates Top Performers from Others is how much they have done to ensure their business and product innovation work effectively. They are better at cross-functional and multi-partner processes than others. Rather than settling for trade-offs, they have developed capabilities to balance all the objectives. They can design successful innovative products while at the same time being efficient and protecting their IP. This balanced view and set of capabilities enable them to get to market faster and more confidently with lower operating costs.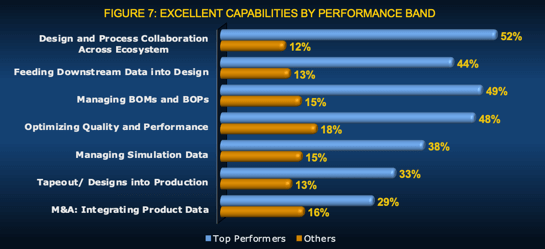 Digital Support for Retooling Semiconductor Innovation
It's not realistic to expect to simplify the multi-application technology environment. That's not what differentiates Top Performers. How they achieve superior performance is by being better at 
managing their product data, whether BOMs, BOPs, simulation data, or IP 

digital continuity 

data access through the lifecycle 

using PDM or PLM technologies 

collaboration across their enterprise, ecosystem, and product lifecycle. 
For related content, check out the Semiconductor Innovation for Profitability webcast.
*This summary is an abbreviated version of the research and does not contain the full content. A link to download the full report is available here.
If you have difficulty obtaining a copy of the report, please contact us.