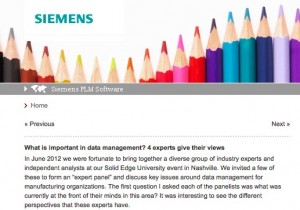 I was happy to be asked to sit on a panel focused on data management at Solid Edge University this year. I presented a keynote earlier in the day based on my recent survey on managing engineering data. Each of the panel members brought a different perspective. Panel members included:
Jim Brown, Tech-Clarity (yours truly)
Dave Chadwick of Siemens summarized his takeaways in the Siemens PLM blog post What's Important in Data Management – 4 Experts Give Their Views. It's worth a read!