A quick peek into some research on … the business value of simulation shows how manufacturers can meet demands for time to market and reduced cost without compromising product quality. Simulation helps companies meet the reality of today's market, where building products with extremely high safety factors will simply no longer work.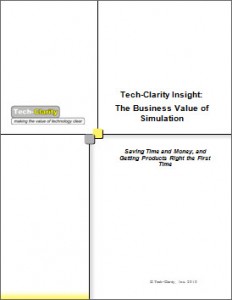 Like wise, costly and time-consuming physical prototypes will not suffice. Instead, manufacturers are turning to simulation to help engineers design and validate better quality products faster and more efficiently.
The Research Findings
The paper is titled Tech-Clarity Insight: The Business Value of Simulation: Saving Time and Money, and Getting Products Right the First Time. The paper discusses the experiences of three manufacturers, Unverferth Manufacturing, Jaguar Cars Ltd., and Joy Mining Machinery. These three manufacturers are at different levels of maturity with their use of simulation and help provide examples for how others can leverage the power of design analysis and simulation in their own business.
The research finds significant business value in simulation in the following areas:
Time – The manufacturers were saving time by getting designs right the first time and reducing rework.
Product Cost – Simulation helps these manufacturers optimize the cost of their products, without compromising quality.
Efficiency – Companies can use simulation technology to break free from the time-consuming (and costly) design-prototype-break-fix approach, and finding errors early to prevent redesigns.
Quality – Simulation helps ensure product designs will meet their requirements.
Innovation – Digital prototypes helps engineers explore more options and try more radical design changes.
The complexity of today's products is incredible. With new materials and the increase in the use of molded parts, simulation can offer significant improvements over traditional design validation methods. There is more detail in the report, and some great insight from the manufacturers represented.
Implications for Manufacturers
I heard a great quote the other day at a conference. The person said the reason to simulate is that "in the real world, there is no 'undo'." I think puts things into perspective as far as cataclysmic failures. Manufacturers can certainly use simulation to avoid making big mistakes. But I think it is also important to recognize that beyond reducing risk, simulation can help manufacturers optimize product cost, reduce design rework, and generally improve the efficiency of designing, developing, and manufacturing products. Which is more important? It really depends on what you are manufacturing.
Simulation processes and tools can be applied to solve a wide variety of challenges from simulating systems behavior to simulating manufacturing operations. Simulation provides a lot of opportunity, but it is important to apply the tools in a way that provides the right value to the business. As one of the companies I interviewed (Unverferth) for Tech-Clarity Insight: Engineering's Role in Surviving a Down Economy explained, "We can't afford to overdesign our farm equipment to be like a piece of construction equipment. We need to make sure the product is structurally sound with the least amount of material, so we use simulation and visualization to make sure the product will get the job done, and validate that early." Well said, and a great example of aligning the use of simulation with the needs of the business (and the customers).
So that was a quick peek into some recent research on how simulation processes and technology can help drive business value, I hope you found it interesting. Does the research reflect your experiences? Do you see it differently? Let us know what it looks like from your perspective.
Please feel free to review more free research and white papers about PLM and other enterprise software for manufacturers from Tech-Clarity.