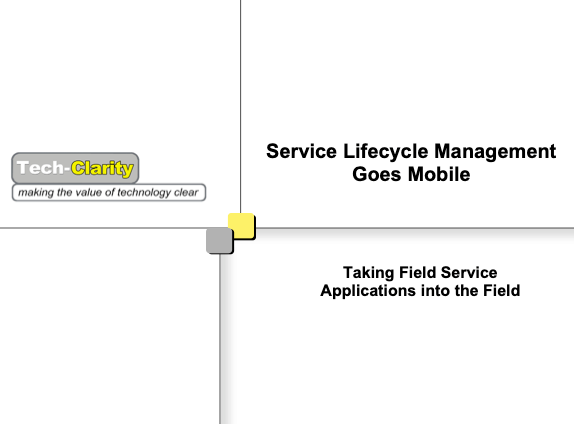 Service Lifecycle Management Goes Mobile: Taking Field Service Applications into the Field is a guide to furthering the value of Service Lifecycle Management through the pragmatic implementation of mobile technology.
Click here to read the full report, thank you to our sponsor Astea.
Table of Contents
Executive Overview
Furthering Service Value with Mobile Technology
Tie the Field to the Business
Remove Paper from the Process
Mobile Technology Enables Better SLM
Mobile Technology Furthers the Benefits of SLM
Taking SLM Mobile
Mobile Apps – Not Backoffice Applications Taken on the Road
Living Within the Reality of Mobile Constraints
Get the Right Partner
Summary
About the Author
Executive Overview
In the world of service, value is often perceived – if not generated – in the field. The technician at a customer site is a critical point of contact between a service company and its customers. During a call, the service company can earn the customer's respect and further a long-term relationship, or potentially discredit the company and damage the relationship. To be fair, one service call isn't usually the difference between a happy customer and a dissatisfied one, but a series of these interactions helps to determine the view that the customer has of its service provider. Despite everything that goes on behind the scenes to prevent service problems from occurring in the first place, and without regard to the office and depot functions, a customer's perception of value still comes primarily from the perception of the field personnel.
Moving beyond the experience with the field personnel and the break/fix mentality is a higher level of value. This higher value, coined by industry analyst firm AMR Research as Service Lifecycle Management (SLM), is an approach for service-oriented companies to better serve their customers for enhanced profitability. Furthering this value, mobile technology provides more effective communication, timeliness and quality of business interactions. Mobile technology, when coupled with a strong SLM approach, can help to ensure that service organization is able to serve the customer to their satisfaction, and do so at a reduced total cost to the service organization. Further, Mobile SLM capabilities can help companies grow revenue through better and more timely information about customer needs.
Adopting Service Lifecycle Management techniques alone is a compelling proposition, providing increased revenue, lower costs and improved customer satisfaction. This paper explores the additional value that mobile applications provide across the service life of a product or piece of capital equipment. The paper will discuss the direct value of the mobile applications, and also explore the ability for mobile technology to drive SLM changes into the business to get the highest value and satisfaction out of every customer interaction. In addition, the paper will highlight how mobile technology can not only improve the actual value offered to service customers, but add to customers' perceptions of value.