I had the chance to talk with … the team at regulatory compliance solution provider Atrion International earlier in the year about their product sustainability solutions. It was a great opportunity to get an update on the company and hear more about some interesting announcements they made earlier in the year.

The updates have to do with technical architecture and industry partnerships, and point to some significant progress since the last time I spoke with them.
What do they Do?
In short, Atrion helps manufacturers develop sustainable products and comply with product-related regulations. The company offers everything from generation of materials documentation such as MSDS (material safety data sheets) to solutions aimed at helping companies design for compliance in a more lifecycle oriented approach. Atrion is a vendor that not only understands compliance, but also broader product lifecycle management (PLM), enterprise systems, supply chain, and sustainability perspectives.
What did they Announce?
Atrion made two announcements earlier this year:
The introduction of "ACE" – Atrion has created the ACE architecture to decouple their compliance content from their software applications. In this way, third party applications can use an SOA approach to access compliance information when they need it. This allows the Atrion functionality and data to be readily incorporated into the applications manufacturers already use, such as ERP or PLM. One of the ways that Atrion describes this is as a "compliance hub," which I think is a good description. The result is that the users stay in the application they are comfortable with, but gain the advantages available from real-time product compliance checks to enable processes like "design for compliance."
A partnership with Microsoft – Atrion has partnered with Microsoft to provide sustainability and product regulatory compliance capabilities to users of Microsoft Dynamics. This extends the value of Atrion's solutions to more users and allows them to access the information in the context of their ERP environment (thanks to ACE, I believe). More information on the announcement can be found in this press release
The two announcement are related, of course, because the encapsulation of compliance capabilities in ACE makes the Atrion data and solutions more readily consumed by third party applications. It's important to note that Atrion has developed integration with SAP as well as Microsoft.
Implications for Manufacturers
Product sustainability and environmental compliance are increasingly important to manufacturers. My past research at Tech-Clarity and with Aberdeen Group shows that manufacturers are taking wildly different approaches to ensuring their products meet regulatory needs. Leading companies are developing a product compliance framework that helps automate product compliance activities (see graphic). My research shows that those that are taking a more systematic approach are gaining higher levels of compliance at significantly lower cost. Given the increasing demands from REACH, RoHS, GHS, and other regulations, companies can no longer afford a "brute force" approach or handle compliance on a regulation-by-regulation basis. Solutions like Atrion's can help achieve the automation to comply with regulatory demands, customer requirements, and corporate "green" or sustainability initiatives.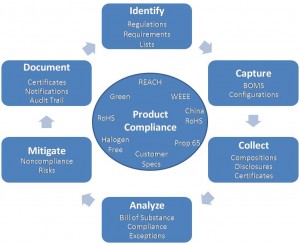 So that's what I hear from Atrion, I hope you found it useful. What do you think? What else should I have asked them?