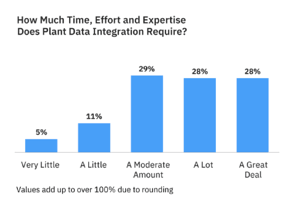 What current challenge have manufacturers been wrestling with for at least 35 years?
System integration. Getting manufacturing data to flow has always been a problem. And it still is.
Based on Tech-Clarity research The Manufacturing Data Challenge: Lessons from Top Performers, most of the 300 respondents' companies need better ways to integrate IT and OT data. Consistency and context are essential to better data management.
Read Julie Fraser's guest blog on the Critical Manufacturing site. The post points to just how essential – and possible – better and more integrated manufacturing data management is today.