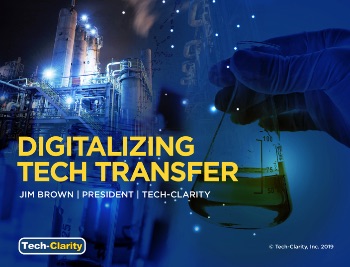 Effective Tech Transfer is crucial to delivering innovative products to market. Can companies improve Tech Transfer through the use of digital data, processes, and technology? We surveyed over 200 companies to find out.
Please enjoy the summary below.
For the full report, please visit our sponsor BIOVIA Dassault Systems (registration required).
Improve Tech Transfer, Improve Profitability
Tech Transfer is the Bridge Between Innovation and Profits
Process manufacturers must continuously innovate to differentiate and remain viable in competitive, global markets. They have to be agile, delivering customer-driven and market-centric solutions quickly across their global production network. At the same time, they have to continuously improve quality and cost to drive customer satisfaction and profitability.
Tech Transfer is an inherently data-driven process that translates R&D innovation to the plants. It is also the vehicle that supplies real-world production feedback to R&D for continuous improvement. This makes Tech Transfer a critical competence to achieve and maintain product profitability.
Identify Digitalization Improvement Opportunities
This research identifies the significant challenges companies face in Tech Transfer and analyzes how best practices and increased digitalization improve Tech Transfer performance. At the highest level, the results indicate that Top Performing companies have more digital data and processes. Let's take a look at the details.
Table of Contents*
The Impact on Business Performance
Tech Transfer Complexity on the Rise…
Complexity Adds Up…
Contract Organizations Lead to Complexity
Identifying Tech Transfer Performance Leaders
Tech Transfer Fundamentals Lead to Success
Differentiating Practices of the Top Performers
Adopt Higher Levels of Process Digitalization
Digitalize Data and Automate Data Collection
Integrate Systems More Completely
Leverage PM and Specialty Scientific Solutions
Leverage Analytics
Digitalize to Improve Business Results
Get Started – Digitalize Tech Transfer Now
About the Research
Acknowledgments
Digitalize to Improve Business Results
Tech Transfer is Strategic
Tech Transfer is a challenging process that companies have to master to deliver innovation to market. Companies must transfer products with quality despite the need to control cost and the demand for speed. Companies that don't master Tech Transfer will suffer from the inability to successfully innovate.
Challenges are Increasing
Unfortunately, there is little relief in sight. The data shows that Tech Transfer complexity is on the rise.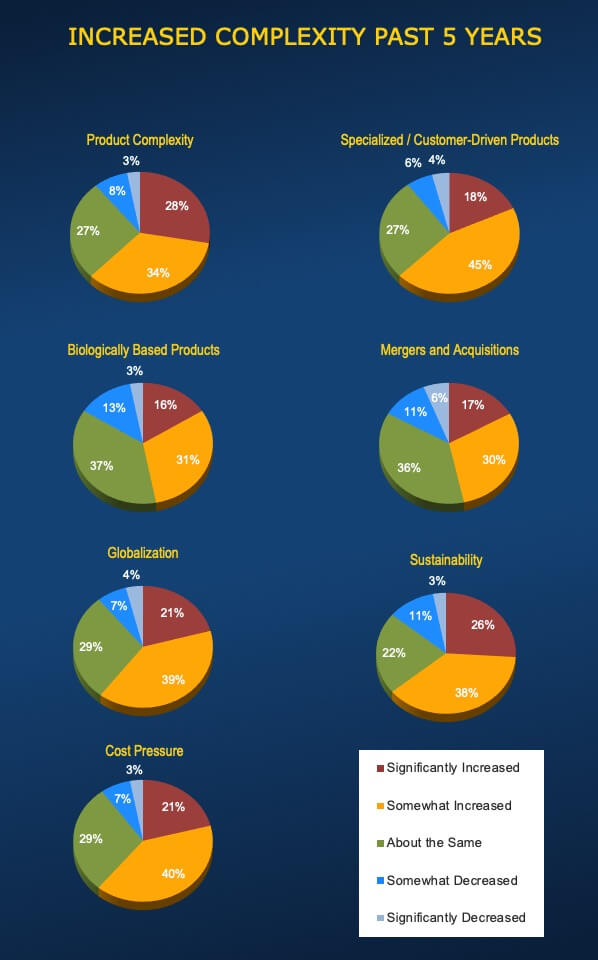 Digitalization is the Solution
Digital transformation is a proven approach for companies in the process industries. Our research shows direct benefits of digitalization in the laboratory and beyond. The research finds a clear correlation between developing better products and greater data and process digitalization in the lab. The research also found that the companies surveyed are much less digital BEYOND the lab, providing significant promise to improve Tech Transfer.
Get Started – Digitalize Tech Transfer Now
Digitalization Differentiates Top Performing Companies in Tech Transfer
This survey extends prior findings to show that companies can improve Tech Transfer performance through digitalization. Digitalization shows clear value in Tech Transfer.
Specifically Top Performers:
Are more likely to use cohesive, integrated, digital product models
Have more digital, standardized processes
Have more digital data
Have more automated data collection
Have more integrated lab / manufacturing systems
Take a more global systems approach
Use project management software
Use more specialty lab systems including SDMS, QMS, and LIMS
Use more analytics capabilities, and use them better
It's Time to Get Started
Digitalization is the key to improving Tech Transfer performance, allowing companies to get products to market faster and reach quality and yield targets sooner than their competition. It's time to adopt digital processes, data, and integration to drive better Tech Transfer and resulting business performance.
*This summary is an abbreviated version of the report and does not contain the full content. A link to download the full report is available above.