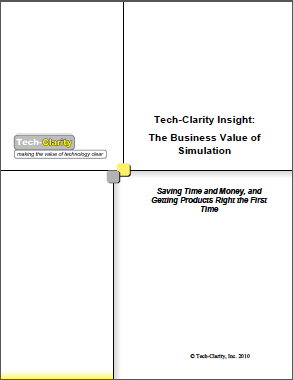 The Business Value of Simulation – Saving Time and Money, and Getting Products Right the First Time reviews how manufacturers can leverage simulation processes and technology to save time, reduce cost, drive efficiency, improve quality, and increase innovation. Discusses the economic value available from early design analysis and validation.
Please enjoy the free Executive Summary below, or click the report title above to download the full PDF (free of charge, no registration required).
Table of Contents
Executive Overview
Product Development Challenges
The Economics of Simulation
Getting the Product Right the First Time
Raising the Bar on "Right"
Baking Simulation into the Design Process
Conclusion
Recommendations
About the Author
Executive Overview
Over the last few years, manufacturers have focused on surviving the down economy and preparing to prosper as markets recover. Most have reduced cost and are running very lean. But as Tech-Clarity's Engineering's Role in Surviving a Down Economy research reports, cutting costs can't result in cutting quality in competitive markets. Engineers today need to get innovative products to market quickly to gain as much of an advantage in the market as they can, while reducing product cost and maintaining product quality.
One strategy that is providing value in this environment is digital design validation using simulation technologies. Simulation allows companies to meet the demands for reduced cost and faster time to market, but without compromising product quality. "In the past, we ran more physical tests," explains Dr. Tayeb Zeguer, Principal Tech Specialist for automotive manufacturer Jaguar Cars Ltd. "But we can't afford that anymore. The budget was very high, but the value to engineering was very low."
Beyond cost reduction, simulation helps companies raise the bar on their products. Simulation can help companies gain better insight and understanding of the physical behavior of their products than testing ever could. It also helps them innovate, allowing the freedom to test new concepts with confidence. Whether they are optimizing for weight, material reduction, and cost or testing new innovative concepts, early simulation helps manufacturers explore and learn from more design iterations.
To apply simulation early and often, companies are changing the way they develop products so that simulation processes and tools are part of the design and engineering process. "In years to come, simulation and digital prototyping technology are going to be as essential as CAD is to design products," explains James F. Amero, Global Engineering Senior Systems Analyst for Joy Mining Machinery. To accomplish this, manufacturers are making simulation technology accessible to their design engineers in addition to simulation experts.
This report finds that manufacturers are finding significant business value from simulation. As Dave Smith, Director of Engineering for agricultural equipment producer Unverferth Manufacturing Company says, "The more we can simulate the better we become." Given today's economy, simulation just makes good business sense.