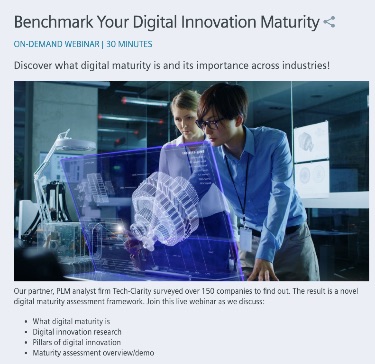 How do your product innovation processes stack up against your competitors? Against top innovators? What practical steps can you take to improve it? Watch this webcast to understand how to benchmark your digital innovation maturity.
Benchmark Your Digital Innovation Maturity
This webcast shares definitions and details about the four pillars of digital innovation maturity:
Digital Twin
Digital Thread
Digital Manufacturing
Digital Innovation Platform
The webinar also shares some results from our digital innovation research and a demonstration of Tech-Clarity's Digital Product Innovation Maturity Assessment.
In addition, Scott Clemmons, Director of Global Industry Marketing at Siemens Digital Industries Software, shares the Siemens' perspective on digital product innovation.
Watch the webcast replay now, sponsored by Siemens (registration required).
Or, benchmark your digital innovation maturity now (no registration required).