Tech-Clarity Perspective: Best Practices for Managing Design Data – How Effective Data Management Fundamentals Enable World-Class Product Development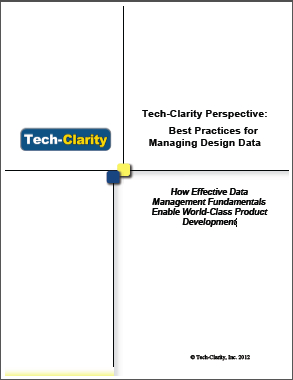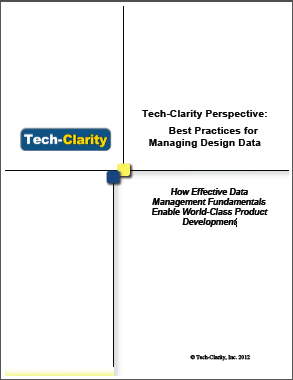 shares survey results on the processes and technology that top-performing manufacturers use to manage their technical product data. The survey benchmarks manufacturers on their design performance and determines which respondents outperform the others in:
Designing high quality products
Developing products quickly
Developing innovative products
Developing products efficiently
Then the report analyzes what these "world class" companies do differently in design data management in order to make recommendations to other companies that are looking to improve their performance.
Please enjoy the free Executive Summary below, or click the report title above to download a PDF (free of charge, no registration required).
For more information, please visit the Survey Highlights Data Management Challenges Faced by Manufacturers blog post and infographic written by Dave Chadwick on the Siemens PLM website. There is more information there and a link to download the full report (registration may be required).
Table of Contents
Executive Overview
Importance of Effective Data Management
Data Management Challenges Impact Time and Quality
Complexity, more than Size, Creates Issues
Wasting Time on Nonproductive Data Management
Identifying the Top Business Performers
Best Data Management Practices of World Class Companies
Enabling World Class Data Management (and results)
Conclusion
Recommendations
About the Author
About the Research
Executive Overview
Effectively managing design data is critical to remain agile in today's complex product development environment. Tech-Clarity research shows that effective data management helps companies design innovative, high-quality products quickly and efficiently. This report analyzes how best practices relate to business performance based on over 2,000 responses to a web-based data management survey.
The survey allowed participants to report their company performance related to quality, innovation, product development speed, and efficiency. Respondents of all company sizes from various manufacturing industries across the globe shared their experiences. Survey analysis correlated companies with the highest aggregate performance in their important product development metrics with their data management approaches. The data shows that companies with world-class performance are more likely to have very effective data management capabilities. World-class manufacturers:
Are more able to find the data they need, share it with others, manage their design projects, and provide the correct data to manufacturing
Spend 25% less time on nonproductive data management tasks
The results indicate that effective data management is an important enabler for designing and developing profitable products. Better data management also helps companies streamline data management efforts. This is critical given that one-quarter of the companies surveyed indicate their technical personnel spend the equivalent of one day per week (20%) on non-value-added data management activities.
Leading companies take a different approach. Survey analysis indicates that world-class manufacturers are more likely to use structured, collaborative design data management technology. World-class companies are 30% more likely to use PDM or PLM solutions and are more likely to use other collaborative data management tools like Microsoft SharePoint to manage their design data. Managing design data and enabling collaboration – the basic fundamentals behind any PDM or PLM solution – provide important business value. As one participant from the industrial hygiene industry says, "Quite simply when you have good data management it protects the bottom line and project time." This report helps manufacturers learn from the approaches of top-performing companies to help them streamline design data management and improve business performance.
NOTE: The original posting included the Overview only, however the full report was no long available on the target site so it was posted here to ensure availability