How does your product innovation process stack up against our digital maturity assessment framework? How can you digitally transform product innovation to improve business performance?
Tech-Clarity is excited to announce our new Assessment Center with the introduction of the Digital Product Innovation Maturity Assessment.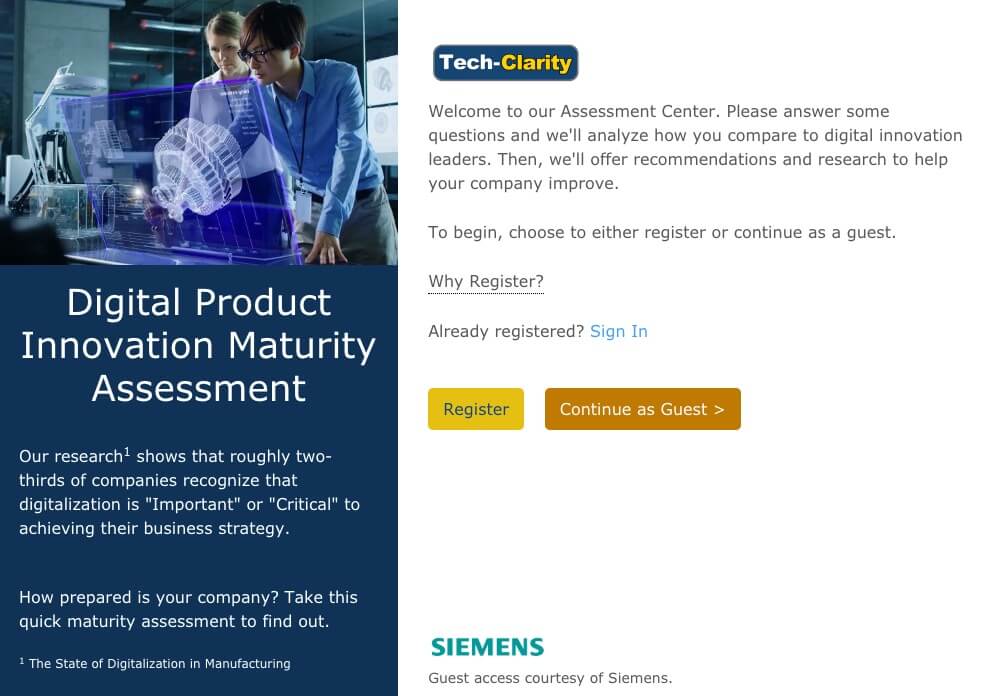 Digital Maturity Assessment Framework
The assessment helps you understand how your company compares to others in four critical pillars of our digital maturity assessment framework for product innovation:
Digital Twin
Digital Thread
Digital Manufacturing
Digital Innovation Platform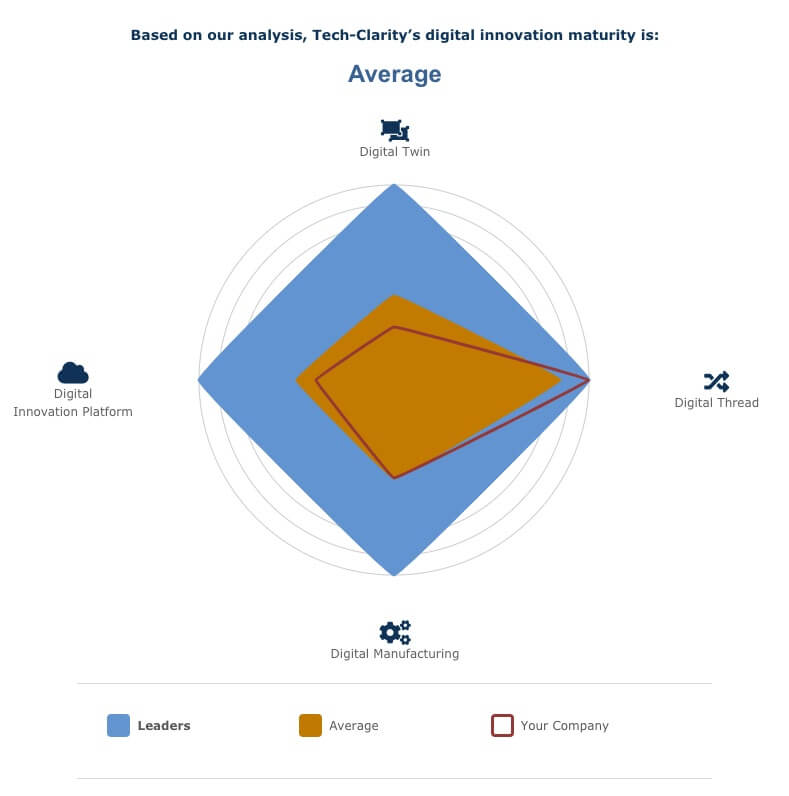 The online tool leverages our research showing that Top Performers in digital product innovation – those that achieve higher revenue growth, margin expansion, and product innovation – have higher levels of digital innovation maturity. Our analysis also shows these top innovators achieve better operational innovation results, including better ability to get products to market quickly, design innovative products, meet market cost requirements, develop high-performance products, and deliver high-quality products. This resource helps you understand how your company can improve digital innovation maturity to gain these business benefits.
Digital Product Innovation Analysis
The analysis calculates your digital innovation maturity based on a short, 5-minute questionnaire. Your company can easily compare your performance to average and leading businesses against our digital maturity assessment framework. Registered users gain access to a personalized report with tailored recommendations to guide their digital innovation transformation. The report includes exclusive early access to our upcoming survey report, Improve Product Innovation and Profitability through Increased Digital Maturity.
Thank you to our sponsor, Siemens Digital Industries Software. You can learn more from Siemens about digital transformation on their website.
Digital Maturity Assessment Framework Definitions
The digital maturity assessment framework uses the following digital innovation pillar definitions:
A digital twin is a virtual model of a physical item. The model represents a specific product, configuration, piece of equipment, plant, city, or other physical asset with enough fidelity to predict, validate, and optimize performance and behavior.
The digital thread ties product information, decisions, and history together in a structured, integrated way that captures product innovation throughout the product lifecycle and incorporates streamlined design creation by sharing and/or reusing design data across the stages of innovation.
Digital manufacturing is the application of digitalization to the design, optimization, validation, and commissioning of production.
A digital product innovation platform supports integrated, digital product models coupled with integrated applications to design, optimize, validate, and collaborate on products. It supports digital twins, the digital thread, and digital manufacturing.