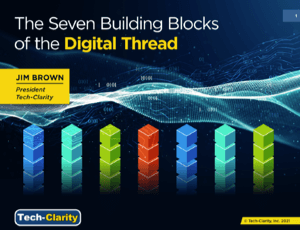 What are the core fundamentals that manufacturers need in their digital thread? What do they need in their PLM system to serve as their digital thread backbone? Read our eBook, The Seven Building Blocks of the Digital Thread, to learn more.
Please enjoy the summary* below. Please visit our sponsor PTC for the full research (registration required).
For related research, read our original buyer's guide Choosing PLM for Digital Thread Initiatives.
Table of Contents
Introducing the Guide
Why Digital Thread?
Supporting the Digital Thread
1) Managing Engineering Data
2) BOMs, Configurations, and DMU
3) Production Planning
4) Part and Supplier Management
5) Product Traceability and Closed-Loop Quality
6) Enterprise Change
7) Secure Collaboration
Implementation and Adoption
Special Considerations
Vendor Considerations
Conclusions and Next Steps
Acknowledgments
Executive Overview
The Digital Thread is Essential
Over three-quarters of manufacturers view the digital thread as either important or critical to achieving their business strategy. These industrial companies view the digital thread as a fundamental way to improve performance and gain an advantage over their competitors. Our research, however, shows that only about one-quarter of companies have implemented a digital thread initiative.
Having a comprehensive digital thread is moving from an advantage to a competitive necessity. But many companies struggle to define their needs and start an initiative. This guide introduces the top 7 fundamentals that manufacturers should consider to implement and support their digital thread, along with some key solution requirements to support them.

Why Digital Thread?
Business Benefits of the Digital Thread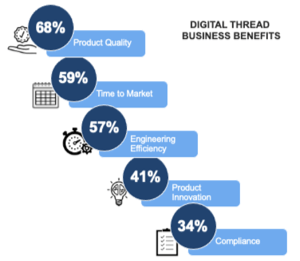 There are numerous definitions of the digital thread. Our research highlights two primary value drivers, streamlining engineering and creating digital continuity. More importantly, these factors are the means to significant business improvements. Benefits include improved quality, greater efficiency, lead-time reduction, enhanced innovation, and more. Specifically, our study shows that companies that have adopted a digital thread enable their technical resources to spend 10% more value-added time on innovation, design, and development work.
This value is the outcome of reduced handoffs and translations, a complete and cohesive data model, connected data, traceability, reuse, and better collaboration. This is why the digital thread is such a critical capability for manufacturers.
Conclusions and Next Steps
Achieving the Business Value of the Digital Thread
The digital thread is crucial to business performance and competition for today's manufacturer. We believe that those companies that adopt the efficiencies and traceability available from the digital thread have an opportunity to outperform their competitors. In fact, our research shows that Top Performers, those that outperform their competitors across key product development metrics, are almost two and one-half times as likely to have already implemented a digital thread initiative.
Secure the Foundation of the Digital Thread with PLM
The digital thread starts in Engineering and PLM is the foundation. Our survey finds that Top Performing companies are 2.4 times as likely to view PLM as critical to supporting the digital thread. PLM supports the basics of data management, processes, and collaboration that make up the seven foundational necessities of the digital thread. But PLM provides much more than that, supporting more advanced capabilities, integration, and technologies that will allow manufacturers to extend the value of their digital thread over time and continue to create competitive advantages. But they can start with the fundamentals and grow their capabilities – and value – over time.
Get the Right PLM and Get Started
As with any technology, it's important to recognize the importance of not only software capabilities but also factors like implementation, adoption, vendor considerations, industry needs, and specific company needs. Most importantly, manufacturers should get started because the window where the digital thread provides an advantage is closing as basic digital thread maturity becomes the industry norm.
*This summary is an abbreviated version of the research and does not contain the full content. Please visit our sponsor PTC for the full research (registration required). 
If you have difficulty obtaining a copy of the report, please contact us.