A quick peek into some research on … how effectively managing engineering data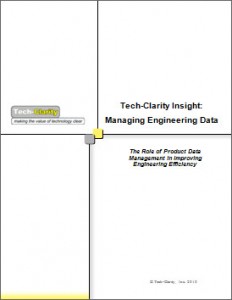 can improve engineering efficiency. Beyond just efficiency, the study looks at how solutions that manage engineering data – whether you call them PLM, PDM, cPDM, EDM, or any other acronym – can play a critical role in helping manufacturers realize their business strategies.
The Research Findings
Past Tech-Clarity research, including Tech-Clarity Insight: Innovating Through an Economic Downturn and Tech-Clarity Insight: Engineering's Role in Surviving a Down Economy, make it clear that manufacturers are facing difficult times. Although there are positive signs about the recovery, there are lingering impacts on today's manufacturing business including:
Companies have to innovate to capture their share of a smaller market (some say they have to increase market share just to stay still due to lower overall sales volume)
They need to bring products to market faster in today's competitive, global environment (even before the downturn)
They are running lean (and recent studies including one from Aberdeen Group indicate that they plan to add resources back in slowly)
What does that mean? As the recently published report Tech-Clarity Insight: Managing Engineering Data – The Role of Product Data Management in Improving Engineering Efficiency says, "manufacturers need to be able to design and develop products extremely efficiently to get the most out of their engineering efforts." Perhaps that's always true, and somewhat obvious. But what can they do about it? The report reviews the experience of three manufacturers, including AMETEK (rotary and linear motion control products and electronic instruments), SchuF-Fetterolf (industrial valve company specializing in the design and manufacture of process critical valves), and Visa Lighting (manufacturer of performance decorative lighting). The research finds that managing engineering data has a positive impact on:
Gaining control of product data
Collaborating across sites and sharing information
Automating (and streamlining) product-related processes
Leveraging PDM beyond engineering data
In turn, these improvements drive business level results including increased engineering efficiency and faster time to market. Looking back at the challenges companies face in a tough economy, these are important benefits!
Implications for Manufacturers
The research indicates that solutions to manage engineering data drive important business benefits. Product Data Management (PDM) is an important discipline and software enabler in manufacturing companies today. Regardless of whether the PDM is a part of a larger Product Lifecycle Management (PLM) solution or a simpler solution that focuses only on the PDM aspects, it is a must for manufacturers today. Manufacturers that haven't invested in these solutions have a choice to make. They can choose a PLM solution from vendors like Dassault Systemes, PTC, or Siemens PLM. They could choose to get PLM from an ERP vendor such as Oracle or SAP. Others will choose a more focused PDM solution. Which is right? It depends on the business strategy and what the company wants to accomplish – now and in the future.
PLM is expanding to cover a lot more than data management, as I discuss in What I Learned: PLM Please Take 3 Giant Steps Forward. For some companies that fits their strategy well. For others (including some interviewed for this paper) that seems like too much for them. Instead of investing in PLM and using a subset, they chose to work with a simpler solution. Solutions from companies like Arena Solutions or Synergis Software can offer a lighter weight solution for these companies to meet their PDM needs. To be fair, some of the large PLM vendors also offer a simpler solution (although that is too much to get into here). They may not have all of the capabilities that the larger PLM systems do, but if the business isn't ready for PLM they can offer a long-term PDM solution or a stepping stone to get data in order on the path towards a more broad PLM strategy. Regardless of what path they choose, the study is further evidence that manufacturers are getting real value from PDM.
So that was a quick peek into some recent research on the importance of managing engineering data well, I hope you found it interesting. Does the research reflect your experiences? Do you see it differently? Let us know what it looks like from your perspective.
Please feel free to review more free research and white papers about PLM and other enterprise software for manufacturers from Tech-Clarity.