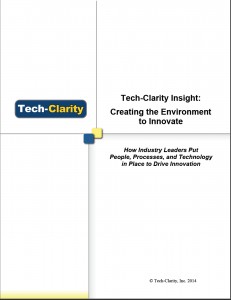 Tech-Clarity Insight – Creating the Environment to Innovate, How Industry Leaders Put People, Processes, and Technology in Place to Drive Innovation shares our insights and the perspective of three leading companies on how to best create an atmosphere that fosters innovation. The report explains that companies must put a realistic improvement plan in place that covers people, process, and technology if they want to improve innovation performance.
Please enjoy the summary below, or click the report to download a PDF overview (free of charge, no registration required).
For the full report, please visit our sponsor Planview (free of charge, registration required).
You can also view a replay of a related, 30 minute Three Elements Missing From Your Innovation Process webcast presented by Planview (free, registration required).
Table of Contents
Executive Overview
Examining People, Processes, and Technology
Establish a Culture for Innovation
Design Right-Sized Processes for Innovation
Enable Innovation with Lightweight, Flexible Technology
Adopt a Continuous Improvement Approach
Conclusion
Recommendations
About the Author
Executive Overview
Companies want to raise the bar on innovation from incremental improvement to the kind of innovation that shows up in the annual report. Breakthrough innovation is visible to customers, the market, and investors. As Lana Kington, Director of Global R&D Innovation Management for Mead Johnson Nutrition points out, "Whenever our management speaks to investors, they consistently highlight our innovation performance because of its importance to our consumers, our business and our reputation." Others agree, including Sindy Wilson, Director of Product Portfolio Analytics & Insights for Manheim Auction, "We are the industry leader and we drive innovation, it's very visible and a very high priority."
Although innovation is important and gets a lot of attention, too few companies have a realistic plan in place to improve innovation performance. Companies don't have an environment that fosters innovation and allows them to innovate and commercialize effectively to capitalize on their ideas. We spoke with several leading companies about how they create an environment that fosters innovation. As Manheim's Wilson states, "You have to be fast to market to be relevant." Companies need a plan to operationalize innovation to be more predictable, repeatable, and reduce risk. The plan must address three critical elements necessary to foster innovation – people, processes, and technology.
Some may scoff at the simplicity of the "people, processes, technology" message. It probably gets as much lip service as innovation itself. But each element is critically important and there are some special considerations for each related to innovation. For example, some feel processes for innovation can slow them down. "People are always concerned that an innovation process is simply bureaucracy – and that it will slow them down; but that's not the case,"explains Lana Kington of Mead Johnson. While that may be true, done right innovation processes help guide and streamline innovation execution. "We can have discipline and the flexibility to innovate."
Technology plays a special role in enabling innovation. "Inevitably software will speed up innovation, you gain back efficiencies tenfold by automating," explains Immucor's Erik Greenfield in Tech-Clarity's Top 5 Misconceptions about Innovation Management Software. Technology helps support standard processes and metrics and provides transparency to consistent information. Good processes and technology also enable facts-based decision-making to move companies away from emotion and gut instinct to a more mature, sustainable approach. While processes and technology are crucial, the research also shows the importance of a strong innovation culture and that processes and technology must be lightweight and flexible to enable but not burden innovators, particularly in early innovation phases.