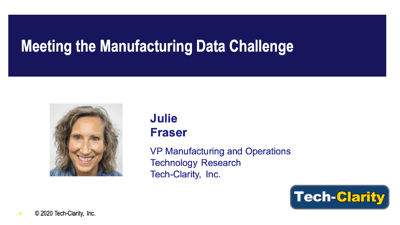 What do manufacturers need to do to succeed and get results from their Industry 4.0 efforts?
In this webcast, Julie Fraser revealed a few significant findings of research of over 300 companies on the topic of manufacturing data management. It's a multi-faceted challenge in which people, processes, and technology all matter. 
This webcast explains the new Tech-Clarity research report's findings, The Manufacturing Data Challenge: Lessons from Top Performers. Attend to learn what  Top Performers are doing differently than others to improve dramatically on both operational and business key performance indicators (KPIs).
Register now to hear about this ground-breaking research, sponsored by Critical Manufacturing (registration required).