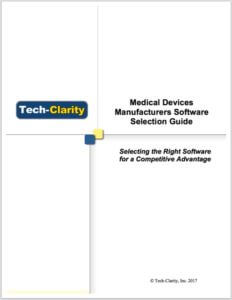 Tech-Clarity's Medical Devices Manufacturers Software Selection Guide helps manufacturers identify the right buying criteria for software solutions to support developing, producing, and servicing medical devices. This buyer's guide also takes into account unique needs for medical device companies including regulatory compliance and support for the FDA's Case for Quality.
Tech-Clarity's Buyer's Guides go beyond software functionality to provide a framework of requirements that impact implementation success and long-term ROI, including:
Software capabilities
Implementation
User adoption
Support
Vendor characteristics / attributes
Unique business needs
Please enjoy the summary below, or click the report to download a PDF summary overview (free of charge, no registration required).
For the full report, please visit our sponsor, PTC, here (free of charge, registration required).
Table of Contents
Executive Overview
Identify Your Challenges
Transition from Document Centric to Product Centric
Consider the Complete Lifecycle

Manage the Product
Manage Requirements (Customer Needs to Regulatory)
Support Product Development for Hardware
Support Software Development
Enable Smart and Connected Products
Ensure Regulatory Compliance
Support Quality Management
Plan for Manufacturing
Control Suppliers
Plan for Service

Assess Implementation Requirements
Consider Vendor Attributes
Identify Specific Needs for your Company
Conclusion
Recommendations
About the Author
Executive Overview
Medical device companies are in the business of making people's lives better. As Joel Hembrock, Senior Designer and CAD Administrator at Medtronic says, "Our patients are the people who benefit from our products. Restoring life is our main focus. [We want] to be giving people their lives back, restoring their health, allowing them to actually live again and not have their disease or any other ailment keep them from being able to live."
With lives at stake, patient safety is of the upmost importance. As such, the industry faces heavy regulations. Compliance is so critical that if medical device companies do not adhere to FDA, EU and other worldwide standards and regulations, they will not be profitable. However, so much time, effort, and cost goes into compliance documentation, it takes efforts away from innovating and ensuring high quality products. Consequently, it is harder to take advantage of opportunities that will boost profitability.
On the other hand, medical device companies who adopt practices focused on high quality devices can expect greater patient satisfaction, improved competitiveness, and higher profits. In fact, McKinsey estimates that companies who adopt quality focused best practices can increase profits by 3% to 4% of revenues. They estimate the revenue increase alone could be a $3.5 billion opportunity for the industry and this doesn't even factor in profitability improvements by avoiding costly quality issues.
To achieve this, companies need to be empowered to shift from a document centric process to one that focuses on high quality, innovative products that meet patient needs. The good news is that with investments in the right technology, this is possible. Technology can reduce manual, time intensive reporting processes to a push of a button. Rather than structuring processes around documentation, technology can allow you to focus on developing the right products and services that will meet patient needs.
For these reasons, some medical device manufacturers are integrating quality processes into core product lifecycle management activities. By integrating quality processes throughout the product design and delivery lifecycle, companies can improve efficiency. With this approach, time spent searching for compliance supporting documentation and reporting, can instead be invested in quality and innovation. The result will be greater profitability.
Other changes in the medical device industry are coming from recent trends such as the transition to outcome-based healthcare in the US. In some cases, to be compensated, medical professionals must show positive patient outcomes. One way to accomplish this is to take advantage of innovation enabled by the Internet of Things (IoT). This along with requirements for Unique Device Identifiers (UDI's) can provide new levels of traceability and communication that can demonstrate device effectiveness. However, to take advantage of this and manage it, the right technology must be in place.
While many of these issues may require new investments in technology, existing systems that are working well, should be leveraged. Working solutions such as Manufacturing Execution Systems (MES), Enterprise Resource Planning (ERP) and Product Lifecycle Management (PLM) should be considered when selecting a complete solution to manage medical devices. The new solution should use a platform that will leverage and extend the investments made in existing solutions.
With so much to consider, how do you know what will be the right technology? This buyer's guide will serve as guidance to help you select what is right for your company.
This guide consists of four major sections covering software tool functionality required for medical device companies, implementation requirements, vendor attributes, and special company considerations (Figure 1).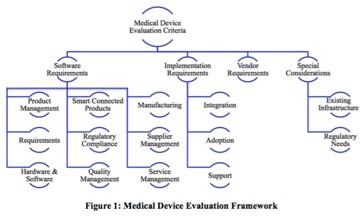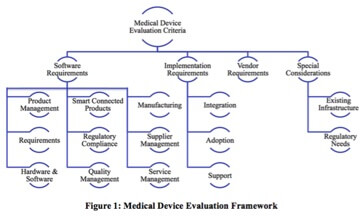 Each section includes a checklist with key requirements to investigate when selecting software tools. This guide is not an all encompassing requirements list. It provides a high level overview.