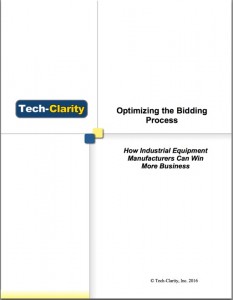 Optimizing the Bidding Process: How Industrial Equipment Manufacturers Can Win More Business focuses on the importance of getting the bidding process right. Bids require a quick response, yet must be competitively priced, without sacrificing margins. Getting this right is a challenge for many companies, but is especially difficult for businesses such as industrial equipment manufacturers offering Engineer-to-Order products.  This report identifies best practices for quickly delivering an accurate, yet competitive bid.
Please enjoy the summary below, or click the report or title to download the full PDF (free of charge, no registration required).
For for more information on bidding for Engineer-to-Order products, please visit our sponsor, Autodesk. 
Table of Contents
Executive Overview

Review your Bidding Process

Win More Business

Win Customer Loyalty

Prepare for the Future

Extend Bid Automation to Engineering

Enable Collaboration

Select the Right Vendor

Conclusion

Recommendations

About the Author
Executive Overview
Growth and profitability are important to any business and industrial equipment manufacturers are no exception. Those looking to accomplish this without investing heavily into additional resources and increasing costs can be challenged. Global competition adds further difficulty and makes it even harder to differentiate the business and its products. One way to address these business challenges is to optimize the bidding process. With a focus on bidding, industrial equipment manufacturers can boost profitability without adding more resources, while offering their customers the responsiveness and level of service that will help them stand out from the competition.
While an effective bidding process is critical to the success of the business, it is not easy, particularly for those industrial equipment manufacturers offering Engineer-to-Order (ETO) products. Bids must be both fast, to create a competitive advantage, yet accurate to maintain optimal profit margins. Balancing this can be very difficult. Anvil International, a pipe support manufacturer, has turned to software to help and they are enjoying great success as a result. Their bids are more competitive because they can respond more quickly to customers. Also, with better insight into actual costs, their bids are priced more competitively. Says Jennifer Fogarty Armitage, Manager of Commercial Operations, "Our improved bidding process has led to greater efficiency so we are able to focus on the right business which has been more profitable for us."
The success of companies who have adopted practices like those implemented at Anvil is also supported by Tech-Clarity survey research. Best Practices for Developing Industrial Equipment finds that Top Performing industrial equipment manufacturers have:
Grown revenue 2.2 times more than their lesser performing competitors
Increased profit margins 2.4 times more than average performing companies
A rules-based approach is key to the success of Top Performers as they are three times more likely than competitors to use it. PLM is also important to Top Performers and they are 34% more likely than lesser performing Industrial Equipment manufactures to use it. This paper discusses how to optimize the bidding process in order to help industrial equipment manufactures win more business while improving profitability.