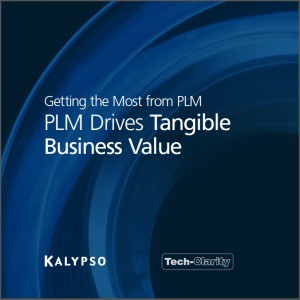 The Getting the Most from PLM – PLM Drives Tangible Business Value eBook is the result of a joint research project between research firm Tech-Clarity and innovation consulting firm Kalypso. We researched over 100 companies to determine how some companies get much higher levels of value from their Product Lifecycle Management implementations. The report shows that leading companies go beyond tactical (yet valuable) cost and efficiency gains to improve innovation and drive higher profit margins and revenue.
Please enjoy the summary below, or click the eBook to download a PDF overview (free of charge, no registration required).
For the full report, please visit our research partner Kalypso (free of charge, no registration required).
PLM and Business Value
Product lifecycle management (PLM) drives significant business improvements that show up in investor calls and annual reports. PLM implementations enable important improvements, but the value is tactical and limited to improved efficiency and reduced cost. While these are worthwhile improvements (and often pay for the whole initiative), they fail to exploit the full potential of PLM.
PLM can drive innovation, improve differentiation and lead to significant revenue growth. But most PLM implementations fall short of this. Why?


All PLM Initiatives Are Not Equal
This eBook explains how some get the most out of PLM and shares practical tips for how you can drive real business value from PLM in your business.
Most of the companies surveyed report that PLM helped improve their top line and drive higher margins. But some did better than others. To find out why, we looked at the companies that rated themselves the highest on revenue growth, profit margin growth and percent of sales from new products (less than three years old) – the "Top Performers."
Top Performers grew revenue almost twice as much as others while growing profit margins 29 percent more. This is a significant difference on the bottom line.
Top Performers also grew revenue from new products more than Others, indicating better innovation and product development performance.