Last month, we attended PTC LiveWorx 2023. Since it has been four years since the last in-person event, there was much to cover and lots of excitement.
James Heppelmann kicked off the event by reflecting on changes since 2019. He observed that industrial companies are undergoing a significant transition, largely involving digital transformation. He remarked that digital transformation has evolved beyond getting to market faster with lower cost and higher quality. Now, companies feel pressure to reshore, develop more intelligent products, improve factory efficiency, make supply chains more resilient, become more sustainable and compliant, and accelerate growth with complementary services. These initiatives have shaped PTC's strategy over the last four years, driving a $3 billion investment in acquisitions and development.
While PTC covered many topics explaining the impact of this investment, four stood out to me:
SaaS Strategy

Support for Software/Smart Products

Extending Field Service Capabilities

Design for Sustainability
1.    SaaS Strategy
Most significant was PTC's strengthened SaaS strategy with the acquisitions of cloud-native Onshape and Arena for product design (CAD and CAE/Simulation), product data management (PDM), and product lifecycle management (PLM). These products make up its Velocity Group. PTC then created its Altas SaaS platform based on Onshape technology. This platform was used to create SaaS offerings for its existing products. They designate their SaaS offerings as "+," meaning the current offering, "plus more," with added cloud capabilities. These capabilities include real-time collaboration, faster deployment, reduced hardware costs, and easier methods for the broader enterprise to access product information.
PTC previously launched Windchill+, Kepware +, and Vfuria+. The newest addition, Creo+, was announced at LiveWorx 2023. Brian Thompson explained that Creo+ offers all the capabilities of Creo 10 (also announced at LiveWorx 2023), but with new cloud-based tools. Creo+ enables real-time collaboration so internal and external team members can simultaneously work on the same design.
While an exciting development, does PTC need two cloud-based solutions with Onshape/Arena and Creo+ / Windchill+? How should customers determine which is best for them? I liked how Jim Heppleman positioned this during a Q&A session. He explained that customers can decide between two product development priorities, and select the solution that best matches their needs. The priorities are:
Agile Product Development:

This approach

applies the Agile methodologies that have been successful in software development to the entire product. Agile focuses on customer needs and providing value quickly. Work is completed in short intervals, or sprints, typically two weeks long, and validated along the way. The goal is to have a workable, high-quality product in less time. In contrast, the traditional Waterfall method waits until development work is complete before testing. Typically, teams then spend months fixing problems. An Agile approach could be particularly valuable for companies looking for high growth. For these customers, PTC suggests Onshape and Arena and

David Katzman

explained how these solutions support an Agile methodology.

Model-Based Digital Thread

: With this approach, companies need the digital thread across the lifecycle. This supports traceability, reuse, efficiency, and a more disciplined approach. For companies that value this and profitability over growth, PTC recommends Creo and

Windchill

. PTC also reassures customers that all Creo data is upward compatible with Creo+.
2.    Support for Software/Smart Products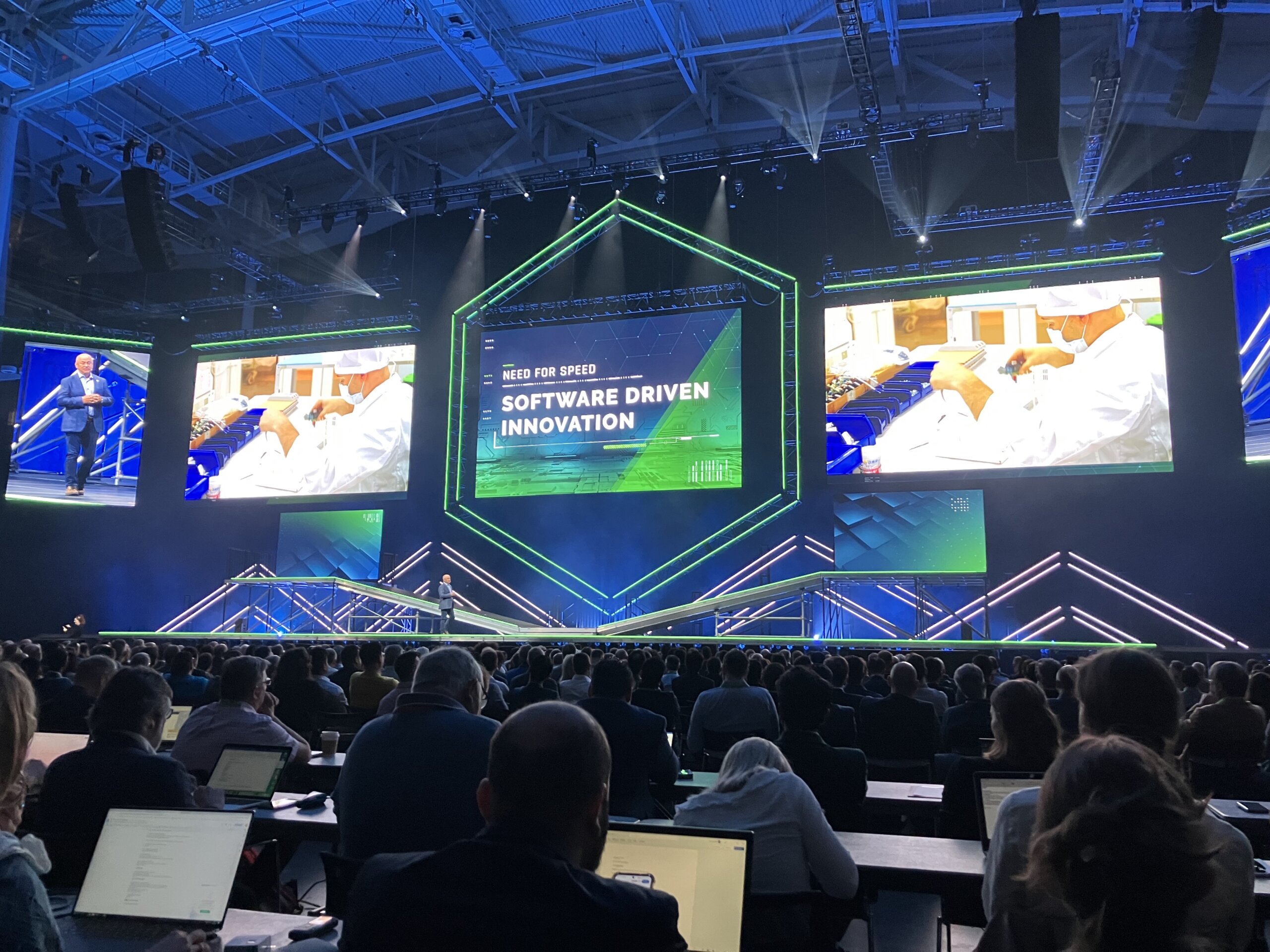 Smart products have become increasingly critical to product success. In fact, Tech-Clarity's Profiting from Smart Products found that 86% of survey respondents indicated that smart products are important for their company's long-term success and profitability. PTC already supports this with PTC Integrity for Application Lifecycle Management (ALM), including Model-Based Systems Engineering (MBSE). However, with the acquisition of Codebeamer, PTC expands their solution to support software development for manufactured products with a cloud-ready solution. With software continuing to be a major innovation driver for today's modern products, this remains an important area for a complete product development solution.

3.    Extending Field Service Capabilities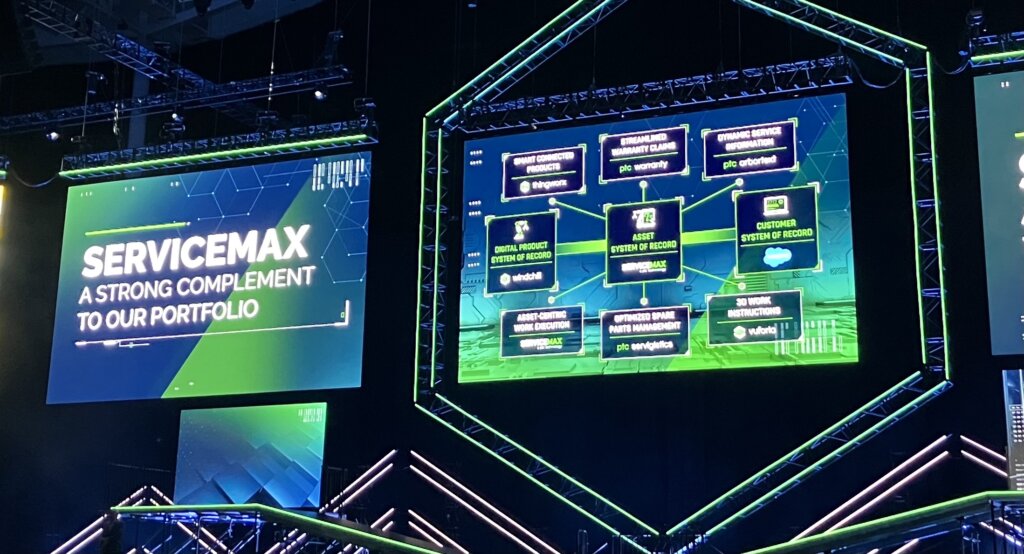 PTC has several offerings to support product service, including PTC Arbortext for technical publications and service manuals, Servigistics for optimized spare parts management, and Vuforia. for 3D work instructions and augmented reality. PTC significantly expanded this portfolio by acquiring ServiceMax, the largest acquisition in its history. Neil Barua explained that ServiceMax supports field service operations. It keeps a record of prior issues, previous maintenance, and part replacements. The offering is further strengthened with ThingWorx to monitor the product fleet for more predictive and preventative maintenance.
4.    Design for Sustainability
Finally, EVP Chief Strategy & Sustainability Officer, Catherine Kniker (CK) stressed the importance of sustainability considerations during design, emphasizing that design decisions determine 80% of a product's environmental footprint. Engineers can improve sustainability by evaluating materials, energy efficiency, and waste reduction. PTC plans to support some of these decisions through expanded partnerships with Ansys and aPriori Technologies.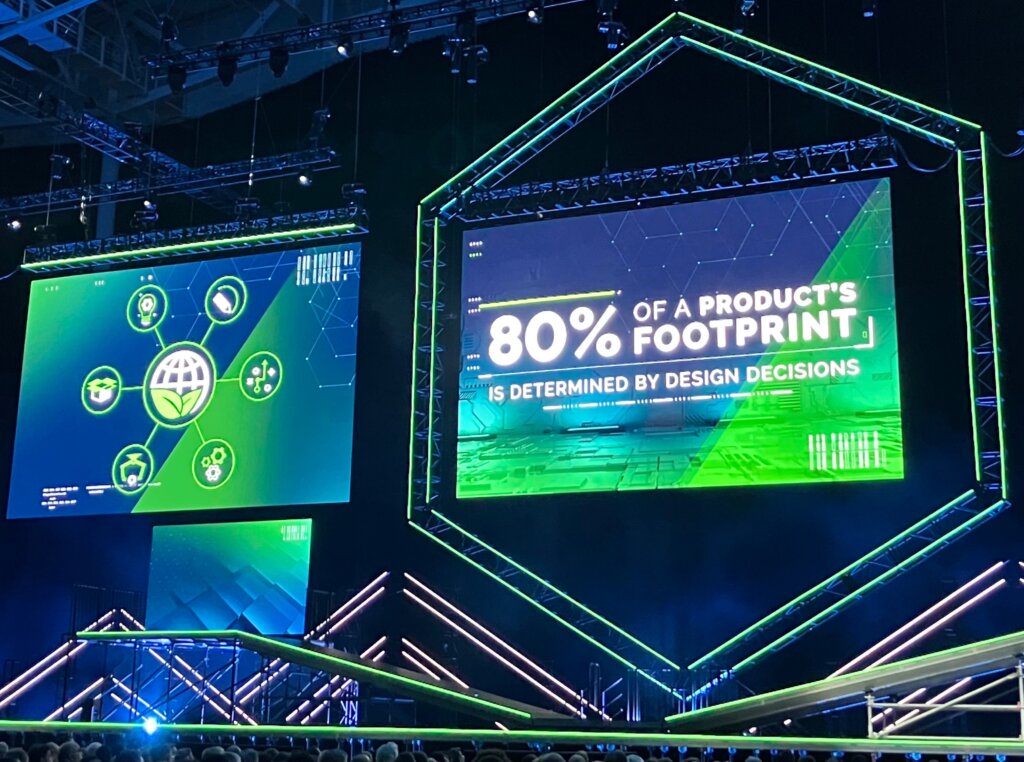 Integrated workflows with Ansys Granta, a Materials Information Management solution (Ansys Materials), Creo, and Windchill, will allow engineers to assess the impact of different materials on performance, recyclability, and carbon footprint. Ansys CEO Ajei Gopal also joined Jim Hepplemann on stage to discuss the strength of their partnership in other ways to support for digital transformation and simulation-driven design with continued and tighter integrations across products lines including Windchill and Ansys Minerva.
PTC and aPriori are also planning for greater interoperability between aPriori, Creo, and Windchill so that engineers can leverage aPriori to assess cost, manufacturability, and sustainability. Engineers will be able to understand their impact on the manufacturing footprint and cost as the design evolves. aPriori's software will also make improvement recommendations. 
Beyond these expanded partnerships, PTC signed the Science Based Targets initiative (SBTi) commitment letter, pledging to reduce near-term emissions reductions and meet long-term net-zero targets.
We look forward to hearing how these investments offer PTC customers even more value. Thanks to Coray Thibaut de Maisieres, and Ernestine Tiongson for hosting us at PTC LiveWorx 2023.