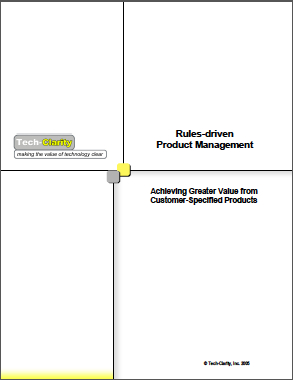 Rules-driven Product Management: Achieving Greater Value from Customer-Specified Products highlights the manufacturing strategy of customizing products to exact customer specifications to combat commoditization, globalization, margin shrink and increased competition, and how Rules-driven Product Management can help.
Please enjoy the free Executive Summary below, or click the report title above to download the full PDF (free of charge, no registration required).
Table of Contents
Executive Overview
Eliminating Product Management Guesswork
A Different Product, Every Time
Customization without Sacrificing Responsiveness
Proposal Speed without Sacrificing Margins
Delivery Speed without Sacrificing Design Quality
Quality without Sacrificing Efficiency
Leveraging Corporate Product Knowledge
Rules-driven Product Management
An RPM Example
Summary
About the Author
Executive Overview
Commoditization. Globalization. Margin shrink. Increased competition. These are the watchwords for manufacturing today, and manufacturing executives are charged with achieving a profitable business despite these challenges. One way that companies are addressing this situation is by developing products that align more exactly with customer needs. Many companies, in fact, are moving towards making their products to exact customer specifications to maintain or recover elusive margins—and better yet drive business growth. While not all industries offer the opportunity to tailor each delivery to exact customer specifications, moving products closer to that model can provide significant return to manufacturers in many industries.
This approach has its challenges, as many naysayers will be quick to point out. Typical arguments against a "to order" strategy include the belief that customizing products is too expensive, not achievable within allowable delivery lead times and causes havoc and disruption in the manufacturing plant. Unfortunately, without an innovative approach there is truth behind these objections. But, on the positive side of the argument lies an increased ability to differentiate products, an enhanced ability to meet customer needs, increased sales and the potential to charge a price premium. The challenge, of course, is to maximize the ability to achieve the positive impacts while minimizing or alleviating the negatives. Perhaps that approach is obvious, but the solution may not be.
This paper will review one approach, Rules-driven Product Management (RPM). RPM provides the ability to deliver the benefits of customized products without paying the high penalties traditionally associated with customization. For companies that are already providing products to customer specifications, RPM offers the ability to streamline processes, reduce cost and improve lead times. For companies that are not already providing customized products, RPM offers the ability to capture additional revenue potential by providing more specification options to the customer without increasing manufacturing costs.