I had the chance to talk with the leadership team at Siemens PLM last week during their annual industry analyst conference. Through a series of presentations, one-to-one meetings, customer speakers, and a very candid executive panel I got a very good view into how Siemens PLM is doing and where they are heading. I will do my best to share the highlights with you here.
How is Siemens PLM Doing? The Financial View

One of the first orders of business in these events is typically financial performance. Software vendors either want us to know they are doing well (and can therefore continue to invest in products) or how they plan to correct the issue (again, so they can continue to invest in products). As an industry analyst my concern with financial performance is what it means to the future of their products and their service to their customers. The news here is overwhelmingly good. Siemens PLM enjoyed double digit growth for 2011 and claims to have outgrown all competitors in the first half. They also reminded us that they have made 5 acquisitions in the last year, and CEO Chuck Grindstaff hinted that there will be more to come. The bottom line here is that Siemens PLM is doing well and investing in their products.
How is Siemens PLM Doing? The Product View
Speaking of products, we get to hear a lot of updates on new releases and future plans. There is way too much to get into in this post, but suffice it to say I was amazed at how much progress was made in NX, Tecnomatix, Solid Edge, and Teamcenter this year. I have to single out Teamcenter here, and not just because I am a PLM wonk. It is clear to me that the investment in Teamcenter has accelerated under Eric Sterling. One particular change of note, in fact, is the move to make new applications (like the new sustainability app, Teamcenter Substance Compliance) available to work with multiple Teamcenter releases to ensure existing customers don't have to wait until they install the latest and greatest Teamcenter release to take advantage of it. This infrastructure-application approach is a great thing for existing customers that typically can't move everything to the next release quickly. Oh, and I wouldn't be anywhere close to complete in my coverage if I didn't mention they are retooling the Teamcenter UI (the crowd cheers here).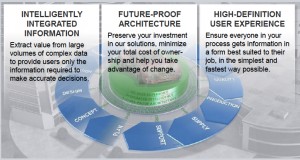 Siemens' product vision is HD-PLM. HD-PLM has three primary investment pillars:
Intelligently integrated information
Future-proof architecture
High-definition user experience
How is Siemens PLM Doing? The Strategic View
OK, the post is long and I have only scratched the surface. I do think it's important to discuss the Siemens PLM updates on strategy. I know this sounds a bit boring but Siemens was very clear they are going to provide more of the same. What!? Read on, I was impressed with what they had to say. Siemens PLM has been delivering products to help companies design and develop better products. That will continue to be there mission. In their words, "continued investment in core PLM." Will they push the edges? You bet. Their willingness to acquire companies like Vistagy (specialty engineering tools, most notably for composites) shows they are not standing still. The point is they have a clear mission and they are sticking to it. Much less about hype and a lot about delivering. Wow.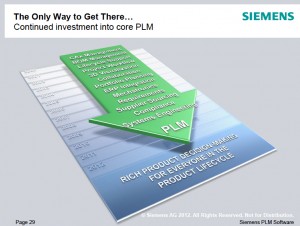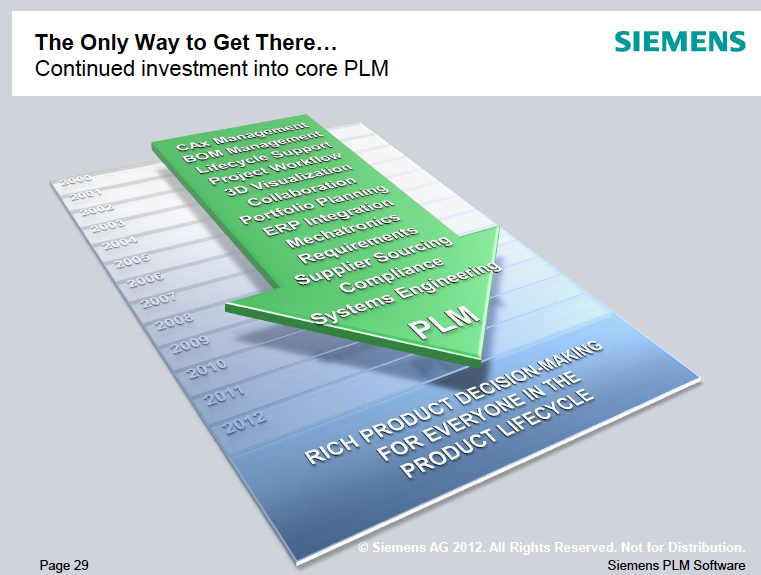 So how are they guiding this commitment to continue to serve the design and development needs of customers? Their mantra is "Smarter Decisions, Better Products." Siemens PLM is focusing on helping companies make each of the thousands of decisions it takes to develop a product faster and right the first time. It is a very important guiding principal. What does it mean in practice? Siemens PLM will be providing an immersive environment that enables engineers and others to get the right information quickly and in the right context to make decisions. In the right context means a lot, because it means in the context of the product they are designing as well in relationship to all of the vast amounts and types of data associated with today's complex products. This leads to some very interesting new technologies like 4GD (4th Generation Design) and their Active Workspace product (which will now be delivered with Teamcenter instead of as a separate product, again crowd cheers).
One important area to note is that I mentioned "design and develop" product above. This is really not the full mission of Siemens Industry Software (of which Siemens PLM is a big part) because they provide solutions much further into manufacturing. In fact, Chuck Grindstaff specifically mentioned the continued long term vision of integrating PLM, MES, Plant Engineering, and Factory Automation.
Implications for Manufacturers
The short story is that if I were a Siemens PLM customer I would be pretty comfortable with my vendor of choice. While they don't have everything for everyone (nobody does) they are clearly in solid financial shape (both in the PLM group and on a corporate level) and they are planning to continue investing in the solutions their customers expect from them. There is a bit of risk / change happening as they continue to transition from a product-line-centric business to a more more vertical industry market orientation, but they are taking a proven approach and managed to stay profitable over the first year of the transition so I wouldn't classify it as a major concern. And as always, Siemens reiterates their commitment to "never let a customer fail."
So that's some of what I hear from Siemens PLM, I hope you found it useful. I didn't even get to talk about the exciting developments with the Ministry of Education in China, the presentation on the Curiosity Rover mission, how Siemens PLM is working more closely with other Siemens' businesses, or the students from Rose Hulman who designed a prosthetic for a young boy using Siemens' tools. I hope I didn't miss any of the parts you feel are most important, I tried to hit the highlights. What do you think? What else should I have asked them?