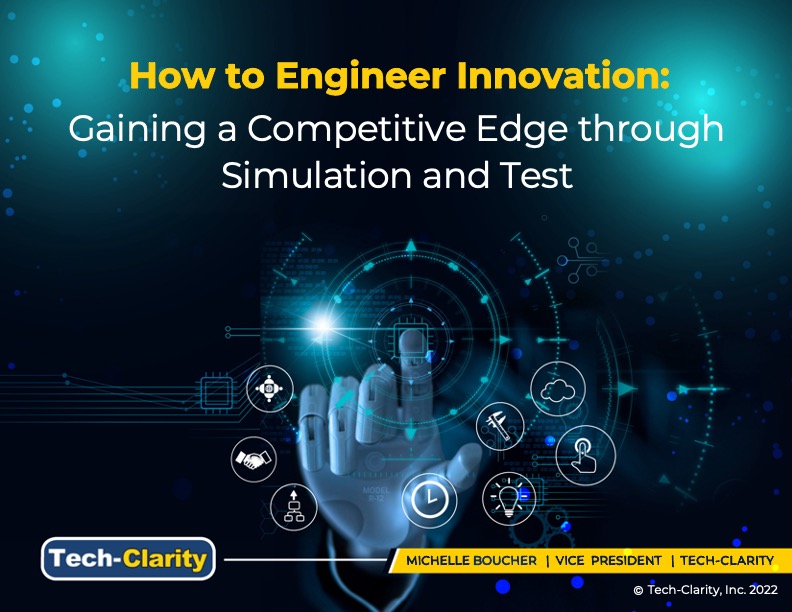 How can you help engineers manage complexity to make more informed design decisions?

As the role of product development teams becomes increasingly critical to product differentiation, growing complexity continues to make the job harder. However, with the right technologies, and by connecting simulation and test, you can empower development teams to engineer products that will win market share and boost profitability. 
This survey-based research study examines engineering practices and the use of simulation and test. It identifies four best practices to get even more value from simulation and test. It also shares advice to support adoption.
Please enjoy the summary* below. For the full research, please visit our sponsor Siemens (registration required).
Table of Contents
Executive Summary
What It Takes for Product Success
What Does Complexity Come From?
Addressing Complexity
What Holds Companies Back?
Identifying Top Performers
1. Explore Design Ideas Using Simulation
2. Validate Simulation Accuracy with Test Results
3. Reduce Test Time with Collaboration
4. Accelerate Time to Results
Recommendations
About the Research
Acknowledgments
Executive Summary
Getting a Competitive Advantage
To be competitive in today's global market, product engineering teams must balance quality, cost, and innovation requirements and still get to market as quickly as possible. However, these competing requirements make it challenging. Plus, ever-increasing complexity adds further complication.
Managing Complexity
Engineering teams must deal with numerous sources of complexity, ranging from more requirements and new disruptive technologies, to more software and electronics. Companies report that they deal with this complexity by investing in more technology. This can help to predict and characterize product performance.
Four Practices
The research looks at four ways companies can become even more competitive as they deal with increasing complexity: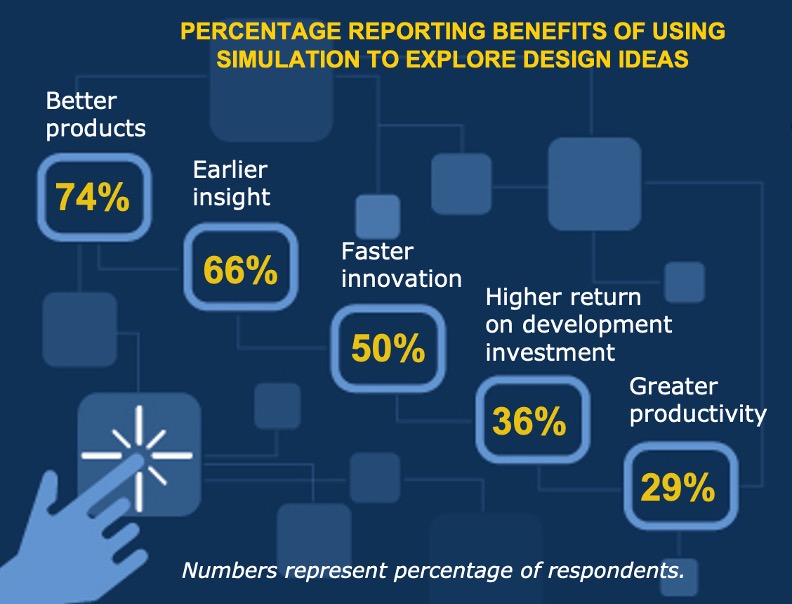 Use simulation to explore design ideas to innovate and optimize designs in less time. An overwhelming 99% find benefit in this powerful practice.
Validate simulation models using test results to improve model accuracy. The vast majority of Top Performing companies, 79%, enable collaboration between simulation analysts and test engineers, allowing them to execute this highly effective practice.
Reduce test time with collaboration. The findings reveal many ways leveraging simulation results during test saves time. Consequently, 100% of companies who enable collaboration between simulation and test report they experience benefits
Accelerate the time to results with the right solution. The research uncovers several ways Top Performers save time, including that Top Performers are 2.3 times more likely than All Others to indicate that using cloud tools is a way to get results faster
Addressing Complexity
Engineering Impact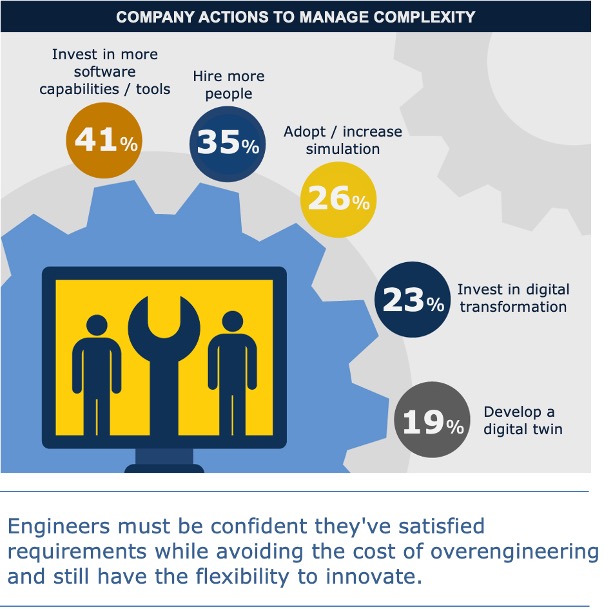 Every one of the sources of complexity has a direct impact on engineering. Engineers must figure out how to meet more requirements, incorporate new technologies, and integrate their work with additional engineering disciplines, while dealing with increasing demands for new skills. In addition, they must
be confident they've satisfied requirements while avoiding the cost of overengineering and still have the flexibility to innovate. All of this makes their job that much harder. It's such a challenge; companies take many actions to help them deal with complexity (see graph).
Addressing Complexity
Many companies turn to technology to help. In particular, simulation can be a valuable tool to improve engineering decisions. Empowering engineers to make better decisions reduces risk and increases the likelihood of products achieving market success.
*This summary is an abbreviated version of the research and does not contain the full content. For the full research, please visit our sponsor Siemens (registration required).
If you have difficulty obtaining a copy of the report, please contact us.