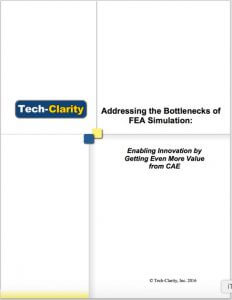 Tech-Clarity's Addressing the Bottlenecks of FEA Simulation: Enabling Innovation by Getting Even More Value from CAE shares survey results on the simulation process. The analysis identified the top simulation bottlenecks that slow down the process. With a better understanding of these bottlenecks, manufacturers can take steps to minimize them and consequently, get even more value from simulation.
Please enjoy the summary below, or click the report to download a PDF overview (free of charge, no registration required).
For the full report, please visit our sponsor, Siemens, here (free of charge, registration required).
Table of Contents
Executive Overview
Support Business Goals with the Right Design Tools.
Examine the Value of Simulation
Identifying the Top Performers
Understand the Simulation Process
Identify Improvement Opportunities during Preprocessing
Prepare for the Solver
Streamline Postprocessing
Look for the Right Qualities in a Simulation Solution
Conclusion
Recommendations
About the Author
About the Research
Executive Overview
As companies seek to improve profitability and competitiveness, investments in the product development process can yield big returns. Empowering teams to make the best design decisions puts them in a great position to bring innovative, high quality, profitable products to market.
Simulation can be a powerful tool for supporting better decisions. However, several steps during the simulation process can slow things down and prevent companies from taking full advantage of potential benefits. Understanding simulation challenges can help companies put the right capabilities in place so they may realize even more value from simulation tools.
What challenges do companies experience as part of the simulation process? What slows the process down? How do successful companies get the most value from simulation? To answer these questions, Tech-Clarity surveyed over 160 manufacturers about their simulation processes. The results were analyzed to identify the top challenges associated with preprocessing, preparing for the solver, and postprocessing.
The research finds that:
Preprocessing is the most time consuming part of the simulation process, taking up 38% of total simulation time
Top challenges of preprocessing include finding problematic geometry, recreating CAD geometry, and defining assembly contacts
Top challenges of postprocessing involve the time invested in filtering through vast amounts of data
The research also highlights the complexity of the environments in which analysts work. Companies report using 3.6 different CAD tools on average, with 84% using two or more CAD tools. Companies also work with 3.3 different solvers for analyses. This further aggravates the challenges associated with preparing models for analysis.
Further analysis identified how Top Performing organizations address these challenges. Top Performers are those who are more successful than their competitors. Compared to competitors, they are more efficient, more innovative, produce higher quality products, and do a better job meeting cost targets. Some of the things they do to achieve this success includes:
Automating many time consuming, tedious tasks associated with preprocessing. They are twice as likely to automate assembly contact definition and 4-times as likely to automate geometry clean up.
Maintaining flexibility and control so that models are not overly simplified and mesh size is appropriate. They are 52% more likely to have the ability to edit and control the mesh.
Using visual filtering and sorting tools to more easily review, analyze, and share simulation results. They are 2.2 times more likely than peers to visually filter results, which allows them to interrogate the results and quickly focus on areas of interest.
Ensuring their simulation solution works for their multi-CAD environment. They are 89% more likely than their peers to look for a simulation solution that has the ability to work with multi-CAD data.
In addition to examining the bottlenecks associated with simulation, this report provides guidance on best practices to address them. These practices will help product development teams get even more value from simulation so that they can make the right product decisions that will lead to more profitable products.