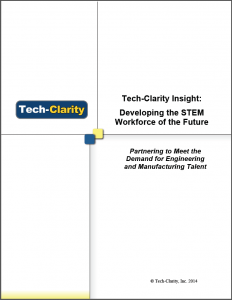 Developing the STEM Workforce of the Future: Partnering to Meet the Demand for Engineering and Manufacturing Talent discusses the shortcomings of the current education system in producing a sufficient number of qualified candidates to fill engineering and manufacturing jobs. The study doesn't focus on the gap, but instead identifies some of the causes and explores how manufacturers are developing more qualified candidates by partnering with academics, government, and software vendors. The key finding from the research is that these partnerships are successfully augmenting the current, theoretically-oriented educational approach with hands-on experience.
Please enjoy the summary below, or click the report or title to download the full PDF (free of charge, no registration required, courtesy of Siemens PLM).
Watch the related episode of Tech-Clarity TV, Partnering to Develop the STEM Workforce of the Future.
Table of Contents
Executive Overview
Understand The Implications of the Technical Workforce Gap
Recognize Industry's Needs and Perspective
Evaluate Current Academic Programs
Evolve Academic Programs
Governments' Role
Recognize the Growing Role of Software Providers
Partner to Develop the Workforce of the Future
Listen to the Student's Perspective
Learn from Success Stories – Greenpower
Learn from Success Stories – EcoCAR
Learn from Success Stories – Others
Conclusion
Recommendations
About the Author
Executive Overview
Not too long ago the term "STEM" didn't mean much to most of us. In recent years, however, numerous studies show that much of the world faces an engineering and manufacturing workforce shortage. This casts a lot of attention on science, technology, engineering, and mathematics (STEM) education. There are a variety of causes for the technical skills gap, including:
Increased demand due to the manufacturing renaissance, recovering economies, and "re-shoring" manufacturing closer to demand driving greater need for technically qualified employees
A large number of skilled, experience employees reaching retirement age
This paper doesn't go into depth on this gap. This issue has been well documented and discussed at national and international levels. Instead it focuses on the implications of the gap on the manufacturing industry and explores practical solutions to address it. A healthy manufacturing industry demands a reliable pipeline of qualified, capable individuals trained in STEM disciplines. As Vass Theodoracatos, Program Manager, GM Vehicle Engineering STEM Outreach of General Motors simply states, "There is an extreme need for well-trained and innovative talent to enter the workforce, not only for the future needs of General Motors, but for the industry as a whole." There are many challenges to developing this workforce ranging from garnering interest in STEM at a young age all the way through graduating (and retaining) qualified employees with the right training.
One of the biggest gaps in today's educational approach to filling the STEM demand, and perhaps the biggest opportunity for improvement in developing the future workforce, is including hands-on experience to augment theoretical learning. "The way people learn is through an applied project where they can apply theory to a very complex problem and add their creativity, ambition, enthusiasm, and the skills of the team," shares Kristen De La Rosa, Argonne National Laboratory Director of the DOE Advanced Vehicle Technology Competitions. "That's how they become leaders."
Industry, academics, governments, and software companies are partnering to help attract, develop, and retain the technical workforce of the future by developing hands-on, real-world learning experiences for students of all ages. These partnerships offer short- and long-term solutions to address the technical workforce gap. One industry insider who has researched this issue extensively is Michael Richey, PhD, Associate Technical Fellow, Engineering Education Research of Boeing. As Dr. Richey shares, "The current state of education is not working. I partner with universities to close gaps in our current workforce." This paper shares examples of successful partnerships and identifies the common factors that make them successful, including:
Practical, engaging experiences
Real, industrial-strength processes and tools
Involved mentors
Committed leadership and funding