A quick peek into some research on … how companies design their products to meet product environmental compliance, sustainability, and product cost targets. The report, Understanding Product Development Trade-offs: Designing Products for Compliance, Cost, and Sustainability, discusses how engineers and product developers can address these important aspects of their products early in the product lifecycle when designs are still flexible. Survey results and interviews show that while the market understanding of compliance and sustainability has matured, manufacturers are still facing the same challenges – and it has not gotten any easier.
The Research Findings
The report first talks about the challenges and the impacts that manufacturers face. By comparing to results in our 2009 report on Product Environmental Compliance, we were able to characterize some trends. From a compliance perspective, the regulations facing companies are relatively unchanged. The EU's REACH and RoHS still top the list. To be clear, the regulations that companies are focusing on are the same regulations – but the regulations themselves have grown more challenging as they grow in scope and cover more substances.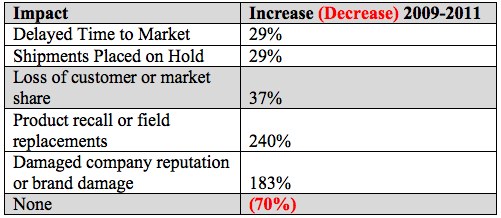 One interesting finding is that more companies reported significant business impacts from these requirements. The table below, in fact, is a clear indication that more companies are suffering. One of the most interesting facts is that the only category that shows fewer people in it is "None" – which is down by 70%. Not a good sign!
So what is making this challenging for manufacturers? I will try to summarize the findings here:
About one-half (51%) have difficulty understanding design tradeoffs
Companies have a hard time collecting information on compliance, sustainability, and cost
Survey respondents had difficulty making the right information available to decision makers in a timely manner
There is more detail on each of the individual areas in the report, it is worth a read (or at least a skim to look at the charts and callouts).
Implications for Manufacturers
So what does this mean for today's manufacturer? The job is getting more difficult, and gathering and sharing information so people can make good design decisions is a huge challenge. But there is hope. As the report says, only 11% of the companies surveyed have information on cost, compliance, and sustainability in a single system. In fact, 41% have disconnected systems for each. No wonder companies have difficulty making tradeoffs. As you have heard me say before, there is a significant opportunity for manufacturers to address compliance as a part of their PLM implementation. This is also true for other product analytics and "design for" processes such as cost and sustainability that rely on good product data.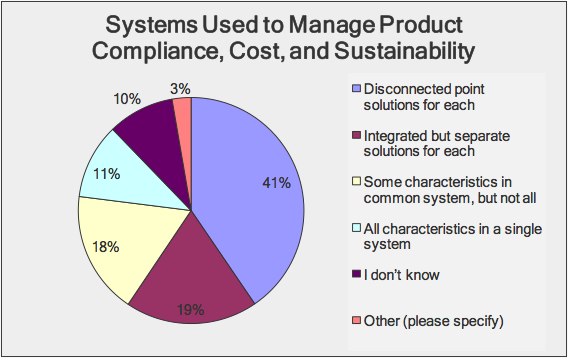 So that was a quick peek into some recent research on designing products for compliance, cost, and sustainability. I hope you found it interesting. Does the research reflect your experiences? Do you see it differently? Let us know what it looks like from your perspective. Please feel free to review more free research and white papers about PLM and other enterprise software for manufacturers from Tech-Clarity. In particular, you might be interested in my views on designing for product cost and product cost management (PCM) or my post on the need to reduce the compliance tax on product innovation.