This episode of Tech-Clarity TV reviews the basics of managing CAD and extends the findings to include multi-CAD data. The original report, The Basics of Managing CAD, concludes that lower-overhead, cloud-based solutions are a viable choice for companies that find PDM or PLM out of reach but don't want to suffer from the pitfalls of unmanaged (or manually managed) CAD files. The eBook followup, Managing Multi-CAD on a Budget, finds that simpler, cloud-based solutions are also an option in multi-CAD environments, but that there are some special multi-CAD requirements the must be addressed.
Watch this and more educational videos on the Tech-Clarity YouTube channel.
For the full multi-CAD ebook, please visit our sponsor GrabCAD (free of charge, registration required).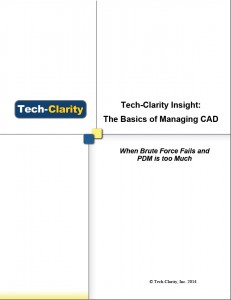 For the full report, please visit our sponsor, GrabCAD (free of charge, registration required)