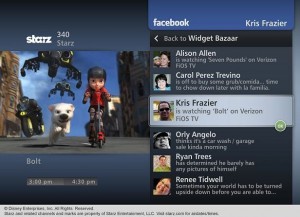 What I learned this week … was sparked by a small article by Jennifer LeClaire at newsfactor.com. The article was short and sweet, and announced that Verizon Adds Social Networking To FiOS TV Service. So other than the fact that I like FIOS and this points to further consolidation between TV and multi-media computing (which I think is both cool and invetible), why did I care? It reminded me that social computing is a capability, and that how you apply it – and in what context – can turn it into something very unique. That is what Verizon is starting to do with their TV service, and exactly what the PLM community needs to do with social computing in product development.
What FIOS is Doing (Conceptually)
In brief, what FIOS is doing is trying to understand how the trend towards social networking can make their television offering more interesting to the consumer. Interactive TV has been talked about for a while, and although I am not expert on the subject I now recognize that my little cable convertor box is turning into a pretty powerful (and very programmable) media serving computer. But why does Verizon want to get involved in our social networking? And why would we let them? It is simple – CONTEXT. What Verizon is doing (from what I can gather) is allowing us to network about their programs. But not just network about them in a standalone fashion (would we really need Verizon to do that?), but social network in a real-time, embedded, integrated way with the programming. To me, that is what is important about this announcement from a conceptual basis.
Importance to Social Computing PLM

Let's take the conceptual nugget – that Verizon thinks that their programming is more compelling and valuable if we can share, interact, and communite about it in context – and apply it to product innovation, product development, and engineering. Isn't this exactly what we are talking about with social computing in PLM? Anybody could try to use Facebook, Twitter, or a host of other technologies and use them in a standalone fashion. But the real value will come from social computing that is tightly integrated into the context of products and product development. That is why I believe it will be the PLM vendors like PTC, Dassault Systemes, or Siemens that will bring these capabilities to PLM. Or, perhaps specialty providers like vuuch that know the PLM systems and how to integrate with them. It will take domain expertise in the business of designing and developing products to understand and incorporate social computing into the fabric of PLM. For more on social computing in PLM, see What I Learned: Is Social Product Development Viable without PLM?and What I Learned: We are not Going to Build an Airplane on Facebook.
Implications for Manufacturers?
Social compting is here and growing. Social computing in PLM is coming. I believe that Verizon is experimenting more than anything. They are trying to take a leading position to see what will work and what will not. They are a first-mover in social networking in TV. They will make mistakes and learn from them. They are being proactive and taking a leadership position. Likewise, now is the time for manufacturers to start the process of learning about social computing in PLM, and get their feet wet. There will be some stops and starts, potentially, but there will also be rewards for those that get it right.
So that is what I learned this week, I hope you found it interesting. Let me know what you think. And I look forward to Tweeting with you about the Flyers hockey games once I get myself back over to FIOS!