3DEXPERIENCE World 2021 opened acknowledging 2020 was a year like no other. Many companies were forced to rethink the very way they work. This included adapting so that engineers could continue to innovate without obstacles. The theme of this year's 3DEXPERIENCE World, "The Freedom to Create," embraced that idea as Dassault Systèmes SOLIDWORKS seeks to remove barriers that stand in the way of engineering creativity and innovation.
Gian Paolo Bassi, CEO of Dassault Systèmes SOLIDWORKS, kicked off the event referencing a McKinsey study. The study found that those who had already started their digital transformation journey were better prepared to adapt to the pandemic, while it was a wake-up call for those who had not.
3DEXPERIENCE Vs. 3DEXPERIENCE Works
CEO of Dassault Systèmes, Bernard Charlès, then explained how the 3DEXPERIENCE platform is helping companies innovate. It is Dassault Systèmes' solution to support a company's digital transformation journey.
.@BernardCharles: With #3DEXPERIENCE platform you have a single environment to innovate #3DXW21 pic.twitter.com/efRUciHpxc

— Michelle Boucher (@MichBoucher) February 9, 2021
As announced a couple of years ago at SOLIDWORKS World 2019, the 3DEXPERIENCE platform was tailored for SOLIDWORKS users as 3DEXPERIENCE Works. Gian Paolo Bassi explained how as a cloud-based, integrated platform, 3DEXPERIENCE Works enables collaboration across teams, while unlocking the value of your engineering and product data.
.@gpbassi: #3DEXPERIENCE Works transforms connections into relationships, data into business intelligence, and suppliers into a value network of innovators, all with @SOLIDWORKS
value and ease of use. #3DXW21 pic.twitter.com/Mhs8IlnhF2

— Michelle Boucher (@MichBoucher) February 9, 2021
Keynote speaker Duncan Wardle, former head of Innovation and Creativity at Disney, emphasized why collaboration is so critical. Among his many innovation tips, he explained how more diversity within your teams allows you to get different perspectives that will lead to greater innovation. A platform that connects people can be a mechanism for bringing that diversity into your development teams.
Bringing It Together
Throughout 3DEXPERIENCE World 2021, Dassault Systèmes SOLIDWORKS executives demonstrated how the announcements over the last several years have come together to deliver a solution that scales to business needs.
.@ManishK_3DS explains how #3DEXPERIENCE Works is a complete portfolio that will scale with your business, from concept to production. #3DXW21 pic.twitter.com/m4vmbKx91f

— Michelle Boucher (@MichBoucher) February 10, 2021
3DEXPERIENCE Works offers a collection of role-based apps that cover the product lifecycle from design to manufacturing.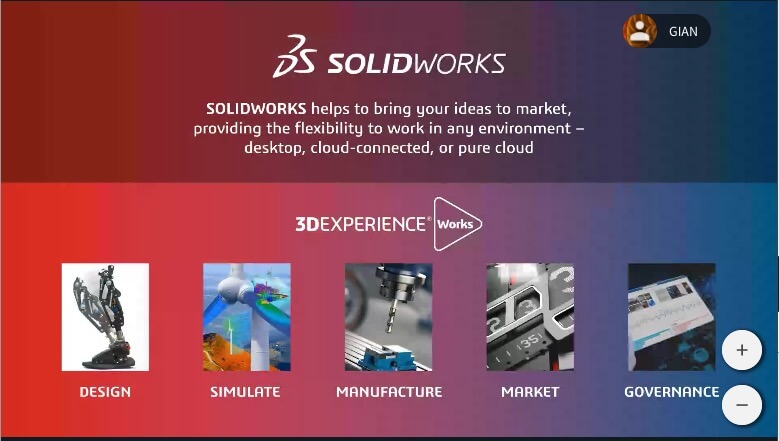 It has been interesting to see how SOLIDWORKS has evolved to take advantage of new technology, while continuing to support those who prefer to stick with the traditional software. The platform's modern technology offers opportunities to leverage cloud computing, artificial intelligence (AI), analytics, and seamless collaboration to enhance product development processes.
Experience – sketches, designs, but also behavior
3D models with simulation – imagine, model, simulate, optimize with scientific, multidisciplinary approach #experience #simulation #3DXW21 pic.twitter.com/i8H2l2WNxI

— Jim Brown (@jim_techclarity) February 10, 2021
The platform also offers the opportunity for new services such as the 3DEXPERIENCE Marketplace, which facilitates connections with makers who can produce your parts, as well as a parts catalog of supplied components. It also offers access to engineering service companies so for example, you can use it to find simulation experts to analyze your parts and products with CAE software.
Interesting to see / hear more about the #3DExperienceMarketplace at #3DXW21 Make, but also Engineering Services. A pretty unique offering! pic.twitter.com/amzjd5zJJS

— Jim Brown (@jim_techclarity) February 10, 2021
Adoption is Growing
SOLIDWORKS executives noted that the pandemic accelerated adoption. Throughout 3DEXPERIENCE World 2021, they shared numerous customer stories that demonstrated the business value of 3DEXPERIENCE Works.
Customer stories are demonstrating how #SolidWorks #CAD plays seamlessly in context with #3DExperiencePlatform – all in the cloud. Design, simulation, collaboration, rendering, etc. It paints a compelling picture of working in #3DExperienceWorks! #3DXW21 pic.twitter.com/0obMtshD7U

— Jim Brown (@jim_techclarity) February 10, 2021
Customer stories included Skinny Guy Campers, which highlighted the collaboration capabilities without the need for IT support.
Skinny Guy Campers explain how #3DEXPERIENCE has helped them. As a distributed team working in several states, including from home, they all have access to the data and apps they need and as a small startup, the #Cloud has made it easier w/o an internal IT team. #3DXW21 pic.twitter.com/JUa0OuVnz2

— Michelle Boucher (@MichBoucher) February 10, 2021
Square Robots stressed the data management and governance capabilities.
.@squarerobots explains how #3DEXPERIENCE has helped to synchronize all CAD data in a single location and enables easier collaboration, regardless of where they are, without duplications or contradictions. #3DXW21 pic.twitter.com/Q9KoXkDahS

— Michelle Boucher (@MichBoucher) February 10, 2021
Finally, Seed Terminator discussed the flexibility to hire the right talent.
Nick Berry from @seed_terminator explains #3DEXPERIENCE provides the flexibility to hire the best designers, regardless of where they are in the world. #3DXW21 pic.twitter.com/BevBxUrCDs

— Michelle Boucher (@MichBoucher) February 10, 2021
Design Tools
For design engineers, SOLIDWORKS continues to offer several options so that you have the flexibility to select the design tools that will work best for you and your company:
SOLIDWORKS 3D CAD: This is the traditional SOLIDWORKS desktop application.
3DEXPERIENCE SOLIDWORKS: This connects desktop SOLIDWORKS with 3DEXPERIENCE Works so that you can continue to use the desktop CAD application while taking advantage of the apps on the platform. Models modified in SOLIDWORKS desktop will update in the 3DEXPERIENCE design tools and vice versa.
3DEXPERIENCE design tools: This is a collection of newer browser-based design tools that launched over the last few years. These tools are available as part of 3DEXPERIENCE Works. They consist of apps like 3D Creator, which includes xDesign and capabilities such as design guidance, and 3D Sculptor, which is an app that mimics modeling with clay.
3DEXPERIENCE SOLIDWORKS should support companies if they want to transition to the new platform. It should also support a "hybrid environment" for those who want to stick with the traditional tools, but take advantage of some of the platform's collaboration tools and new functionality. Meanwhile, the desktop solution continues to be enhanced with many features and improvements made to SOLIDWORKS 2021.
Extending to Manufacturing
The platform also allows companies to extend their product data beyond engineering to other departments. DELMIAworks, the DS solution for ERP and MES for small and medium companies, has continued to see additional development and further integration with the platform.
#DELMIAworks is transforming since #Dassault acquired IQMS just over two years ago. At 3DEXPERIENCE World 2021, CEO @CheriWilliams highlighted simplification, integration into 3DS, more frequent product releases, and 36 new partners. #3DXW21 #ERP #transformation

— JulieFraser (@JulieFraser) February 16, 2021
During the event, Steve Bieszczat, CMO of DELMIAworks, shared usability enhancements such as SHOPWORKS, a touchscreen interface to DELMIAworks, and performance features like real-time process monitoring.
#DELMIAworks CMO @SteveBieszcat showed the 2021 release. The #SHOPWORKS #touchscreen interface, real-time #ProcessMonitoring, and #quality features should hook manufacturing. DELMIAworks shows resilience (like its customers) during these trying #COVID19 times. #3DXW21 #ERP #MES

— JulieFraser (@JulieFraser) February 16, 2021
Extending to Students and Makers
Continuing with the future of innovation theme, there were two major announcements during the event. First, they announced 3DEXPERIENCE SOLIDWORKS for Students to support the next generation of engineers.
.@gpbassi announces #3DEXPERIENCE @SOLIDWORKS for students available in May 2021, with a complete cloud curriculum, with goals to help students boost their resumes and land a job #3DXW21 pic.twitter.com/L1NCiJzpIW

— Michelle Boucher (@MichBoucher) February 9, 2021
The second announcement was 3DEXPERIENCE SOLIDWORKS for Makers, which provides makers with professional tools and the opportunity to connect with the global SOLIDWORKS community.
.@gpbassi: 2nd announcement is #3DEXPERIENCE for Makers. Will be available in 2nd half of 2021. Makers can become part of the community and collaboration network to tap into additional expertise. #3DXW21 pic.twitter.com/vaf1C1rgMW

— Michelle Boucher (@MichBoucher) February 9, 2021
3DEXPERIENCE World 2022
Overall, the virtual event adapted well to the restrictions required during a pandemic. There was still plenty of learning and inspiration to be taken from the keynotes, technical sessions, and customer stories. Replays can be accessed at 3dexperienceworld.com.
As the vision for 3DEXPERIENCE Works continues to be realized, it will be interesting to see how the solutions continue to evolve during next years' 3DEXPERIENCE World 2022 in Atlanta, GA, February 7-10, 2022.