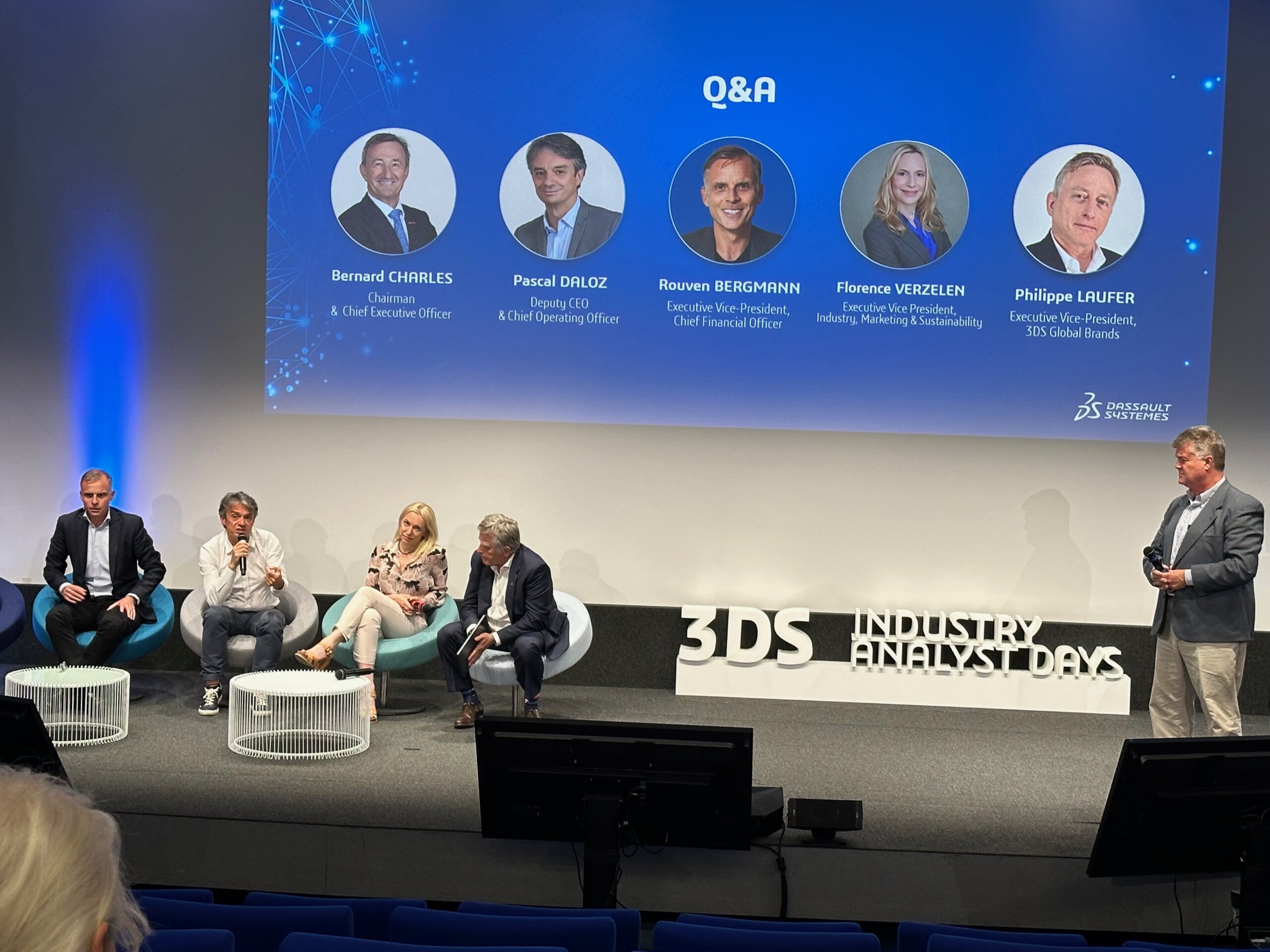 Michelle Boucher and I joined a group of industry analysts for an annual visit to Dassault Systèmes headquarters for an update on their business performance, product progress, and corporate strategy. This year did not disappoint. We had a lot of great conversations with company leadership and heard some really interesting updates. I'm going to try to condense our experience down to a number of key areas and follow that with a list of interesting things you may want to learn more about. 
In summary, my observations are that:
The Dassault Systèmes business is strong and well positioned for the future

They are making significant investment, and progress, on their cloud transition

They are invested in sustainability, focusing on both direct and indirect impacts

They are exploring an interesting new line of services called XaaS, or Experience as a Service, that have the potential to change the way capabilities like the digital twin are delivered
I'll offer some more detail on each of these, followed by some rapid-fire items that are worth exploring further.
Business and Vision 
Dassault Systèmes has always had a strong vision and tends to stay the course. The strategy that CEO and Chairman of the Board Bernard Charlès shared – being a scientific company focused on harmonizing product, nature, and life and 3D experiences that combine the virtual and real worlds – is powerful, but not new. Their current expression of the strategy is providing virtual twin experiences to help companies visualize, model, and simulate behavior from the molecular level all the way up to business experiences. Based on their results, their strategy is paying off. COO Pascal Daloz shared strong financial and customer results which I won't reiterate here but are readily available in shareholder reports. 
I felt the presentation from Bernard this year brought forward their role as a scientific company more prominently than usual. The discussions and examples highlighted their foundation in science, modeling, simulation, and data science. Executive VP Philippe Laufer also supported their scientific underpinning, speaking about their ability to bring the power of science to model, the power of data science to project real-world experiences, and their ability to develop scientific predictive models. I expect to hear more about this in their future strategy. 
Lastly, long-time leader Bernard Charlès showed great confidence handing over the meeting and letting soon-to-be CEO Pascal Daloz, in collaboration with other long-term 3DS leaders that have assumed broader executive roles, take the lead. He shared his belief that Dassault Systemes is in good hands as this very careful succession plan is rolled out.
Cloud Progress
Dassault Systèmes shared a number of updates that demonstrate their progress toward the cloud. Some of the key comments include that almost one-third of new customers are cloud-based and now more new customers are on the cloud than on-premise. They also shared that many large customers are moving to the cloud. It's interesting to note, particularly for regulated industries, that the 3DEXPERIENCE Platform can be deployed in a variety of scenarios. As they explained, having their own architecture and infrastructure combined with a hyperscaler (3DS OUTSCALE) allows them to deploy where it makes sense to support their customers' compliance needs and other business considerations. Another interesting note is that every new desktop SolidWorks license comes with the cloud for data anytime, anywhere, on any device using lifecycle and collaboration fundamentals from ENOVIA.
Sustainability 
Dassault Systèmes has long been focused on environmental sustainability. Not only did Executive VP Florence Verzelen speak and share important examples, but sustainability was mentioned by a number of people throughout the event. Although 3DS spoke about the progress they've made on their own environmental footprint, they focused more on what they can do to enable sustainability and circularity for their customers, what they call their environmental "handprint."
New Chief Sustainability Officer Philippine de T'Serclaes also shared her perspective and spoke about their science-based goals for improving sustainability. Both shared examples of using the 3DExperience platform for sustainability and circularity. 
Experience as a Service
3DS also shared a new customer engagement method. As opposed to delivering software or even software as a service (SaaS), they are delivering business experiences as a service. In the model, typically based on a value-based engagement, 3DS focuses on delivering value and solving business challenges instead of features to customers. In this model, they both develop and operate virtual twins for their customers, applying a combination of their software, their industry expertise, and their operations capabilities. This changes 3DS' role from software provider to value provider, because they maintain the full solution (or "experience") for the customer. This may help companies adopt digital twins and drive value without having to focus on how it's achieved.
Some final thoughts. I won't do them all justice here, but follow our research for more.
Business Process Management
Dassault Systèmes is moving beyond features and experiences to business processes. Highlights here are a new BPM offering and the plan to offer business experiences that customers can purchased from a marketplace. Director of Strategy & Transformation Vincent Merlino shared that the use of no-code, low-code platform for business experiences will add flexibility to allow the platform to support a broader array of industries and user types. 
Industrial Metaverse
I'll keep this short, but I will say that the augmented reality experience 3DS shared with us in a local museum was one of the first AR experiences I've seen that looks like it will provide significant value while still being within reach of smaller manufacturers. The example shared a virtual twin of a factory and examined placing new equipment. Whether you call it the metaverse or something else, there is something important happening here as technologies converge.
PLM Updates 
3DS is clearly continuing to invest in ENOVIA. Some examples shared by ENVIA CEO Stéphane Declee and VP Philippe Bartissol include the new BPM solution, a supplier portal PartSupply, and quite a few interesting integrated / distributed collaboration examples. 
Analytics
NETVIBES-EXALEAD CEO Morgan Zimmermann shared some of the increased focus on analytics and some really interesting case studies, including an exciting case study we first learned about during an earlier ENOVIA-NETVIBES analyst event (), Morgan shared another example of a virtual twin that correlates and synchronizes data from different systems on the virtual twin, created a dashboard of information from Primavera, SAP, CRM, and other systems overlaid on the physical model and supports a workflow to identify and trace an issue in the platform without resorting to email. 
Artificial Intelligence
Patrick Johnson, Senior VP of Research and Science, shared a number of practical examples of AI. There we very little hype. They just shared that they are already using it and have plans for more. Watch this space.
Model Based Systems Engineering
CATIA CEO Olivier Sappin shared 3DS' continued focus on MBSE to support the industry transformation to highly automated system of systems. He shared a virtual twin for cyber systems experience that started at mission definition, defined the system of Systems Architecture, and realized it with multi-discipline Engineering (including automation). 
Progress in AEC
VP Remi Dornier gave us on update on the vision they shared last year to componentize and modernize architecture, engineering, and construction. He shared working examples that show they are further exploring and realizing their vision.
Batteries
Managing Director Reza Sadedhi shared some significant work they are doing around battery cells, starting from scientific principles and simulation, creating a digital twin of the battery cell. 
There was more shared and there are things I didn't mention, but this is all I have room to share at the moment. Thank you Joe Horine, Orenella De Angelis, and Kurt Chen for hosting us and thank you to all of the 3DS execs who took time out of their schedule to meet with us.
For related insights, Michelle Boucher and Jim Brown share their updates on ENOVIA and NETVIBES Transitioning to a Business Platform, Michelle Boucher highlights key takeaways from 3DEXPERIENCE World 2021, and take a look back to read how Dassault Systèmes has made significant progress on their 3DExperience Vision from 2017.