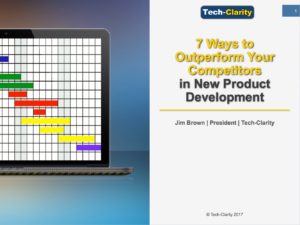 This eBook shares survey results analyzing companies' ability to hit new product development (NPD) targets, then offers seven practical tips identified by the research as best practice processes, organization, and technology leveraged by the top performing product developers. The research provides recommendations to companies based on the approaches taken by the Top Performers, those that are able to outperform their competitors in revenue growth, margin expansion, and delivering innovative products to market.
Please enjoy the summary below.
For the full report, please visit our sponsor Autodesk (free of charge, registration required).
Investigating How to Win at NPDI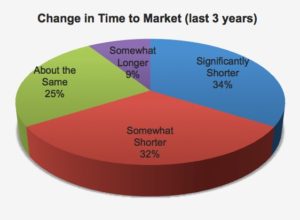 Beating the competition at new product development and introduction (NPDI) is critical to a company's success and profitability. It's also a major challenge loaded with obstacles, targets, and tradeoffs. Common best practices, like gated processes and cross-departmental teams, are designed to help. But are those too commonplace to provide a competitive advantage? What really drives better market performance?
Tech-Clarity surveyed over 150 companies to find out. We analyzed responding companies' processes, organization, and enabling technology to see what sets those with higher revenue growth, margin expansion, and portfolio innovation – the Top Performers – apart from the rest. We identified seven things that those companies do differently than their lower-performing competitors – the Others. Have they found a better way to develop products and beat the competition?
Seven Things Top Product Developers do Differently
Focus on market speed
Compete on innovation at multiple levels
Plan for success with better portfolio processes and requirements
Go beyond product excellence to market excellence
Adhere to their product development process
Adopt a more integrated, holistic view of NPDI
Enable innovators with more collaborative, agile systems
Conclusion
NPDI is a challenging endeavor that most companies struggle to manage. They commonly miss their product development targets, frequently trading time to market to hit more product-focused targets. The net result is that companies miss the targets that matter most to their companies – revenue growth and profit margins.
Some companies do better than others, however, and these Top Performers can serve as an example for others.
Top Performers share some industry best practices with Others, but also adopt some differentiated processes. The seven approaches identified in this report include a more holistic approach to products and more integrated NPDI processes and systems. They also include a more systematic, collaborative approach to new product development and introduction enabled by integrated, social, collaborative systems.
*This summary is an abbreviated version of the eBook and does not contain the full content. A link to download the full report is available above.
If you have difficulty obtaining a copy of the report, please contact us using the "Contact" link below.