Autodesk continues to grow their capabilities and presence in the PLM market. As PLM solutions continue to grow more broad and integrated, it's getting more difficult to talk about PLM strategies independently from the rest of the solution suite. Autodesk is no exception, because they've adopted a broad strategy that goes beyond PLM, expanding to a Product Innovation Platform approach. So this post will cover a very broad definition of PLM. I don't like to get into the "holy war" of naming software suites, so for this post you'll find me speaking about "PLM" as the data and process management components (PLM 360) and "Product Innovation Platform" as the broader context including design and analysis tools. I hope we can all still be friends.
This post is a part of our Strategies of the Major PLM Vendors series.
A Bit of History
Autodesk isn't new to the engineering software market, they've been enabling designers and engineers with CAD and other tools for a long time. While they traditionally focused on enabling individual designers or small teams, they are continuing their shift to expand into broad, enterprise-level focused solutions. At the same time, they continue to invest in broadening their solutions for the manufacturing industry to complement their dominance in AEC (architecture, engineering, and construction). They may still be the new kids on the block (relatively) for PLM, but have had success and continue to grow. For more on their past history, please take a look at my previous strategy post on Autodesk.
What's happened since then? A lot. I won't go into detail here on any of these, but Autodesk has added some important solutions to their portfolio. Some key, relevant additions include:
Entering the 3D Printing / additive manufacturing market with Ember 3D Printer and their Spark Initiative
Acquiring SeeControl as their foray into IoT
Buying ConfigureOne to offer a sales configuration / CPQ (configure price quote) product
The Autodesk Strategy for Manufacturers – The Future of Making Things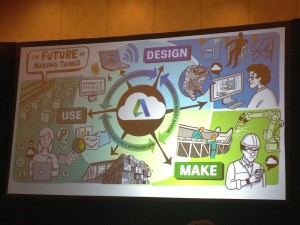 Autodesk has taken a unique and compelling approach to their vision for the manufacturing industry. It goes beyond their software technology well into their customers' business strategy and operations. The strategy is called "The Future of Making Things." Autodesk is really getting into their customers' shoes to look at the evolution (maybe it's a revolution?) of how manufacturers will design and make their products. With their entry into the IoT,  that extends further into how products are used (see more later). With this strategy, they're aiming to take a real lead on enabling engineers to take advantage of new techniques. They're investing in understanding emerging design approaches like generative design and new production methods like additive manufacturing. What sets them apart is that they go beyond just talking to customers about these things, they live it. They've set up centers such as Pier 9 where people actually design and produce things. If I understand correctly, they will be adding some similar capabilities to their new offices in the Seaport area of Boston. CEO Carl Bass, himself, is a self-acclaimed "maker" and enjoys designing and producing things. He's not your typical CEO pouring over spreadsheets and presentations all day!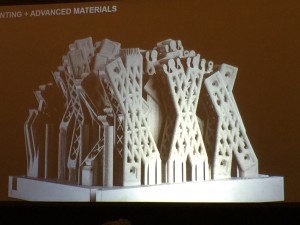 What does Autodesk think the future will hold? As Andrew Anagnost, SVP of Industry Strategy and Marketing explains, Autodesk believes that "new engineers and designers will use the power of the computer to design instead of just documenting design." They've shared some very interesting examples of generative design and topology optimization that do exactly that, leveraging advanced computing algorithms to create optimal designs that are well beyond the human brain's ability to conceptualize unassisted. The results are dramatically different looking, and can slash weight, material, and cost from designs. Coupling these designs with new production capabilities like additive manufacturing makes them realistic to produce. Times are changing, and Autodesk wants to be on the forefront of learning and developing new ways to design and produce in addition to just selling software that supports those activities. 
The Autodesk Product Portfolio Strategy
So how does the Future of Making Things translate into an Autodesk software strategy? Autodesk's portfolio includes everything from mobile sketching solutions to industrial-strength CAD and CAE software. It includes factory planning, reality computing, and laser scanning. And now it goes beyond design into manufacturing with Spark and Delcam. But Autodesk doesn't plan to be a standalone tools provider. Their vision is to allow designers to start at the conceptual design level and carry design information all the way through to manufacturing (and potentially beyond with IoT). Senior Director of Manufacturing Strategy and Business Development Steve Hooper explains that Autodesk's goal is to "bring continuity across different stages of design and manufacturing in a common platform." This Product Innovation Platform Approach is delivered via their Forge Platform, which integrates design data with APIs that are intended to be used by both internal and partner applications. Fusion 360, Autodesk's cloud-based design solution providing online CAD, CAM, and CAE capabilities, plays a pivotal role in the Product Innovation Platform.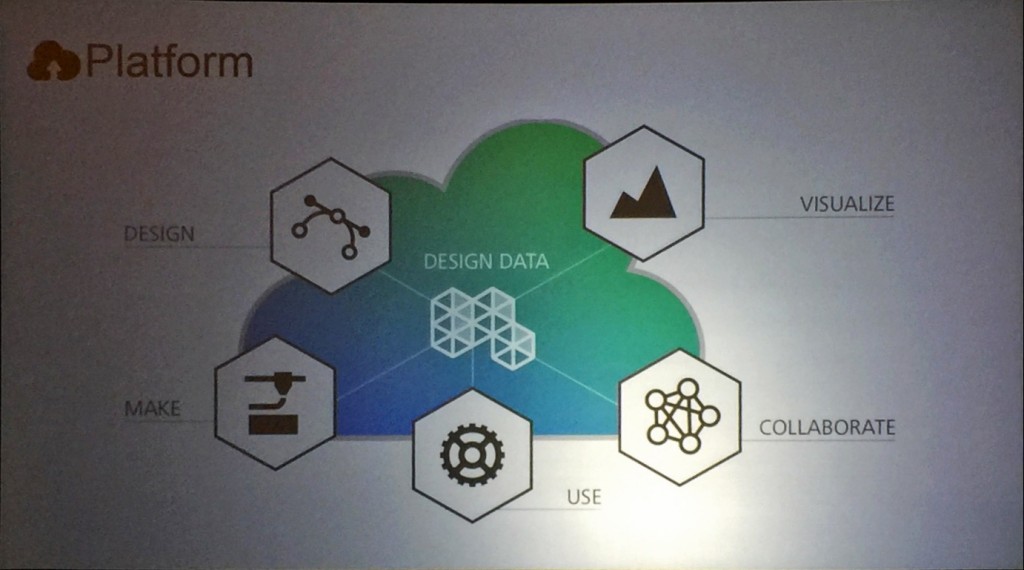 The result should be a more connected, streamlined approach to product design, production, and use (or perhaps usage monitoring). We've already seen that Autodesk is starting to blur the lines between products. Carl Bass, in fact, said "In 2020, I think it will be less distinguishable what our products are. It will be more of a platform. People will be able to access ready made solutions, along with some things from partners, and customers will construct their solutions. And it will happen in the cloud." There's a lot in that statement (and I may not have caught it verbatim, although I tried). The key point is that Autodesk will be providing a backbone on which design data rests across the product lifecycle. It can be acted on and utilized by many different applications, including those that aren't built by Autodesk. To start, the Forge Platform will be more focused on integrating design and engineering data, and does not reach out to PLM 360. I expect that will change over time.
One other note on Autodesk strategy is a repeat of what I've said before. One of the other differentiators for Autodesk is making their solutions accessible. They've spent a lot of effort hiding complexity and making advanced capabilities available to everyday designers and engineers as opposed to specialists. Their subscription licensing model also opens up the opportunity for engineers that access these speciality features affordably. Some call this "democratizing" IT, but the key thing to understand is that Autodesk is focused on helping more people take advantage of the technology.
One last note is that Autodesk has clearly embraced the cloud, mobile computing, and has developed some very interesting consumer-facing apps. They are not a tired, old software company. They are innovating and staying ahead of the curve.
The Autodesk "PLM" Strategy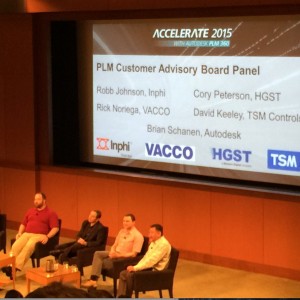 OK, let's look specifically at the "PLM" part of PLM – Autodesk's PLM 360. Autodesk introduced PLM 360 as a process- / enterprise-focused PLM system. In fact, they initially chose to forgo core PDM (product data management) capabilities to focus on collaboration and workflow capabilities, relying on their Vault solution to manage data (including CAD).  Since that time, they've started adding data management capabilities to PLM 360. Over time, I expect that the lines will be fully blurred between the design tools in Forge and PLM 360. The result will be a true Product Innovation Platform spanning the enterprise and the product lifecycle. It's a compelling vision.
It's important to mention that PLM 360 is one of the few cloud-native PLM solutions. Autodesk took a bold stance on the cloud and they continue to take advantage of their head start. Most other companies are taking an IaaS (Infrastructure as a Service) / hosted approach versus SaaS (Software as a Service). Some of this has to do with history, as the current leading PLM solutions were architected before cloud requirements were known and IaaS is an easier way to leverage existing solutions. The market isn't shifting to all-cloud quickly, and other vendors are investing to catch up, but for those that want a cloud PLM solution today Autodesk is a clear option.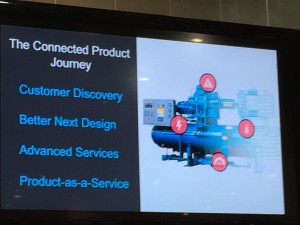 The PLM industry is going through a transformation given the IoT and Industrial Internet. Autodesk plans to be a part of that change, and has put a stake in the ground with the acquisition of SeeControl. SeeControl is a platform built to pull all M2M (machine to machine) communications into one layer, and leverage that information for predictive / preventative maintenance. Their vision for IoT is broad, as CTO Jeff Kowalski explains Autodesk wants to use IoT to "connect designers with the way users use their designs." That opens up a lot of possibilities, and I look forward to seeing what Autodesk does in this space next. 
Summing it all Up
Autodesk is a major player in the PLM / Product Innovation Platform business. They've invested in making solutions more readily available, lowering barriers to entry in terms of integration, ease of use, and subscription licensing that opens up new capabilities beyond a few specialists. Now, they're investing in developing an integrated Product Innovation Platform whose scope will stand against the rest of the major players. But what sets them apart is that Autodesk is investing in learning about (and in some cases like Ember, inventing) design and manufacturing techniques with a hands-on approach. They're not just observing the market and developing the tools they think will support it, they're walking the walk their customers walk to learn about what the tools should do. It's a pretty unique way of doing things, and one that will be very interesting to watch develop over time.
But I'm just one observer in the market, let me know what it looks like from your perspective!