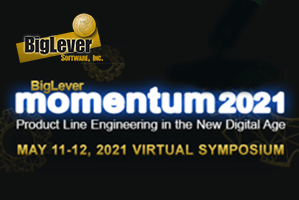 What role should feature-based Product Line Engineering (PLE) play in a digital transformation strategy?
On May 11-12, 2021, Big Lever will be holding their Momentum 2021 Symposium and this question will be the underlying theme of the event.
Tech-Clarity's Michelle Boucher will join the list of speakers and she will explore the question, why should business leaders care about PLE? Her talk will be at 1:45 EDT on Tuesday, May 11. You can register for the event here.
As products continue to grow in complexity, engineering jobs will only get harder. Digital transformation can help, and for many companies, this last year has dramatically accelerated adoption. With this growing adoption, what steps should you take to ensure you don't fall behind your competition? Michelle's talk will discuss how PLE fits into the digital transformation vision and the impact on the business. She will also explain how providing engineers with better solutions for PLE will help to execute a digital transformation strategy, while empowering your engineers to focus more on innovation and less on tedious tasks.
About the Event
In addition to Michelle, other speakers will include:
David Long, President, Vitech: Beyond Digital: Bridging the Divides
Dr. Bobbi Young, Systems Engineering Fellow, Raytheon: Digital Transformation: Composing Your Digital Future
Dr. Charles Krueger, CEO, BigLever: Product Line Engineering in the New Digital Age
Eric MacKnight, Staff Engineer, GE Aviation: General Electric Aviation's Use of Product Line Engineering and Model-based Systems Engineering

Panel Discussion

Sandy Friedenthal, Co-lead for OMG SysML V2 Submission Team: Model-Based Systems Engineering (MBSE) and the Digital Transformation
Rick Flores, Technical Fellow, General Motors & Halim Ragab, Engineering Specialist, General Motors: Application of PLE in MBSE for an AUTOSAR-based Digital Supply Chain
Bill Schindel, President, ICTT System Sciences: The Forces of Modularity: Macro and Micro Patterns in the Innovation Ecosystem
Rowland Darbin, INCOSE PLE Working Group Chair: INCOSE Product Line Engineering International Working Group Perspectives on Modern Feature-based PLE
Dr. William Donaldson, President & Founder, Strategic Venture Planning: We need to talk: Enabling the Conversation Between Business and Engineering about Organizational Change for Digital Transformation, Digital Engineering, and PLE
Roger McNicholas, VP, General Dynamics Mission Systems: Application of PLE to US Army Live Training
Register for what should be a very inspiring event here.