A quick peek into some research on … the importance of good supply chain information in A Risk-Based Approach to Component and Supplier Management: Mitigating Risk with Component and Compliance Intelligence.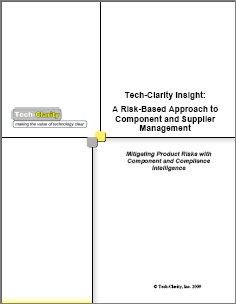 The research discusses how good intelligence on the supply chain can help mitigate risks such as counterfeits and fakes, obsolescence, and regulatory noncompliance. The report provides examples from a number of leading manufacturers including defense contractor BAE Systems, electronics industry service provider Jabil, and high tech company ON Semiconductor.
The Research Findings
There are a number of important observations based on interviews with the the three firms that agree to participate in the interviews. Please read the report for the full details. The main thing that stuck out for me was the need to build a framework that allows companies to leverage component and supply chain data to make good business decisions. This is critical to risk management, and helps companies avoid or reduce the impact of a number of common supply disruptions.  As the report finds, "The key is to arm the decision-maker with the right information in time to act strategically." Like so many other aspects of product development and product lifecycle management (PLM) I have studied, supply risk is best addressed early, when there are still more options available.
The framework of information is not trivial, and requires an investment by the manufacturer to ensure complete, consistent, and accurate information. The elements of the framework include data from both the manufacturer and the supporting supply chain. For example, a good framework combines information from multiple sources, putting the supply data into the context of the company's products and offering potential alternatives when issues do arise. This data can include:
Bills of Material (BOMs)
Approved Vendor Lists (AVLs)
Approved Material Lists (AMLs)
Component Specifications
Supplier Data
Obsolescence  Notifications
Controlled Substance Lists
Compliance Certifications
Bills of Substance (material composition for purchased components)
Notifications of Identified Counterfeits
And more
Having a clean, trusted source of information helps companies identify risk, analyze the potential impact, and mitigate the risk effectively. I can't imagine summing up the findings from the research any better than one of the company thought leaders I interviewed for the report who said "Knowledge is power, the more you know the better decisions you can make." Well said, and quite true.
Implications for Manufacturers

I often write about the importance of good software to help manufacturers maintain product profitability. This research is a good reminder that having the right information is just as important. Sourcing product and supply chain knowledge is a frequently overlooked aspect of a solid PLM strategy, as I mentioned previously in my report on Making Engineering Efficient – with Electronic Reference Information (no longer available, originally published at MBTmag). Having the right information – both internal and external – in a framework where it can be applied to make business decisions like risk management is an important tool in managing risk, but also to bringing profitable products to market in a broader sense.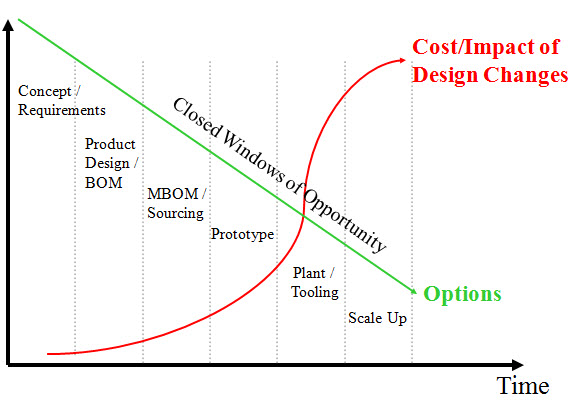 So that was a quick peek into some recent research on mitigating supply risk with good supply chain intelligence, I hope you found it interesting. Does the research reflect your experiences? Do you see it differently? Let us know what it looks like from your perspective.
Please feel free to review a summary of this and more free research and white papers about PLM and other enterprise software for manufacturers from Tech-Clarity. The full report is also available for free courtesy of IHS.