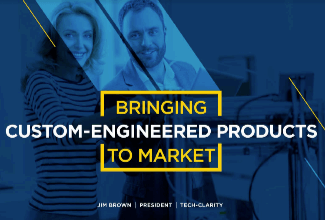 How can manufacturers most effectively design, develop, and launch custom-engineered products that must be engineered to customer specifications? Tech-Clarity's eBook, Bringing Custom-Engineered Products to Market, shares survey data from over 200 companies to offer insights and best practices.
Please enjoy the summary* below. Click here for the full report, thank you to our sponsor Propel (registration required).
Table of Contents
Custom-Engineered Products are Compelling
What Does Profitable Customization Look Like?
Developing Engineered Products is Difficult
Benchmarking Engineered Product Performance
Top Performers Collaborate more Readily
Top Performers Integrate Data and Processes
Top Performers Integrate Systems
Conclusions and Next Steps
About the Research
Acknowledgments
Custom-Engineered Products are Compelling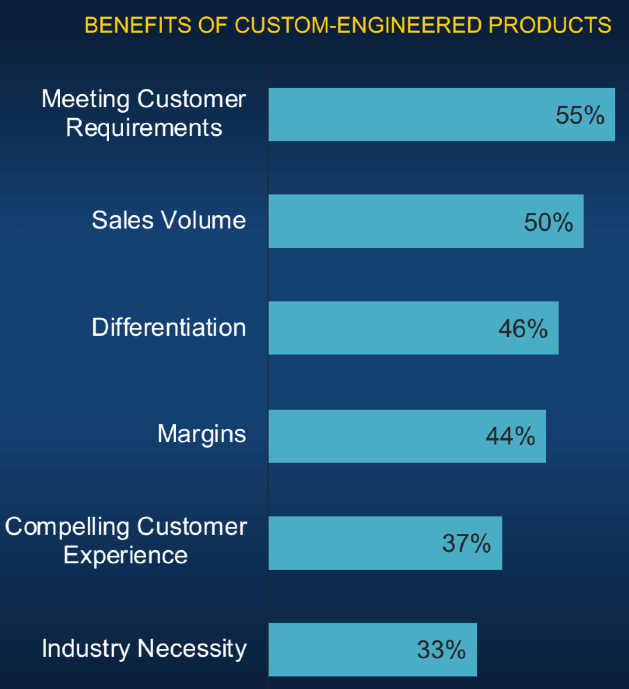 Custom-Engineering Increases the Top Line 
Product customization has increased in recent years and is expected to continue to grow "significantly" for most companies over the next several years. What's driving this expansion? The benefits reported by our survey respondents help explain why.
Customization Improves the Bottom Line
Driving higher sales is no guarantee of greater profitability. If custom-engineering results in selling products too cheaply or allowing costs to get out of control, the company can still lose money. Fortunately, 44% of respondents also share the custom-engineered products help them achieve higher sales margins. Whatever the cause, higher margins help ensure that the top-line benefits of custom-engineered products fall to the bottom line.
What Does Profitable Customization Look Like?
Custom Markets Require NPDI Speed
Regardless of the name, we asked companies what it takes to profit from these highly variable products. Quickly getting products and updates to market and rapidly responding to proposals are among the most common profitability drivers. This responsiveness requires strong new product development and introduction (NPDI) capabilities across the organization.
Speed Requires Precision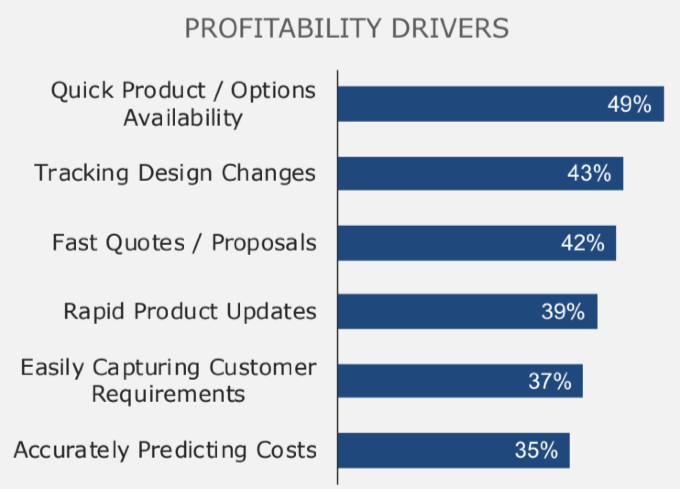 Speed without control, however, can be counterproductive. It could lead to errors or delays if companies don't design quality into their designs upfront. These problems can have a significant impact considering that respondents say most of their engineering customization happens during customer inquiry / investigation phase and/or during quote / proposal stage – when time is at a premium.
Developing Engineered Products is Difficult
NPDI and Engineering Challenges Impact Performance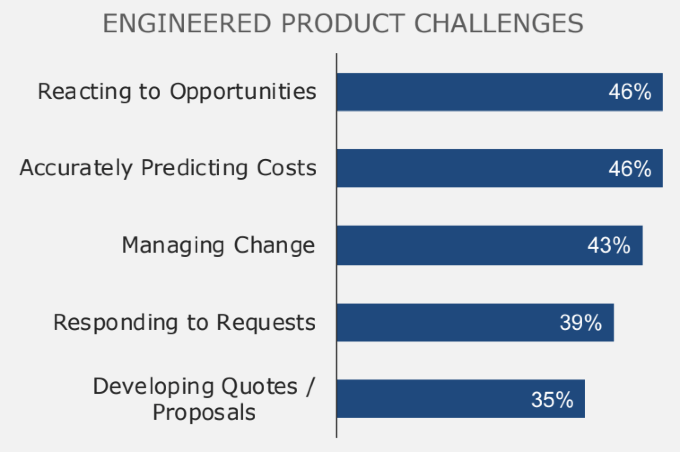 The challenges highlighted create serious consequences. Survey respondents indicate that these challenges lead to low margins, inefficiency, unhappy customers, rework/scrap, lost orders, missed market opportunities, and more. These are the negative business consequences of speed without control.
Conclusions and Next Steps
Custom-Engineered Products Deliver Benefits
Offering custom-engineered products drives significant business benefits including increased top and bottom-line results. The Top Performers, the 23% with the highest performance in critical market success criteria, are even more likely to enjoy these benefits. They are also more likely to report benefits that aren't achieved as frequently by Others. For example, about one-half of Top Performers report employee productivity as a benefit of offering custom-engineered products, which is are more than twice as frequently as Others. It's likely that their better practices allow them not only to achieve great benefits but also to do so in a more streamlined and efficient way.
Next Steps
Product customization is growing. For those companies that are already taking advantage of this opportunity, the best practices identified by this research can serve as a guide for continuous improvement. For others that are embarking on adopting a custom-engineered product strategy, the practices of the Top Performers can be used to gauge your company's readiness to deliver the speed and control required to succeed.
*This summary is an abbreviated version of the research and does not contain the full content. For the full research, please visit our sponsor Propel (registration required).
If you have difficulty obtaining a copy of the research, please contact us.