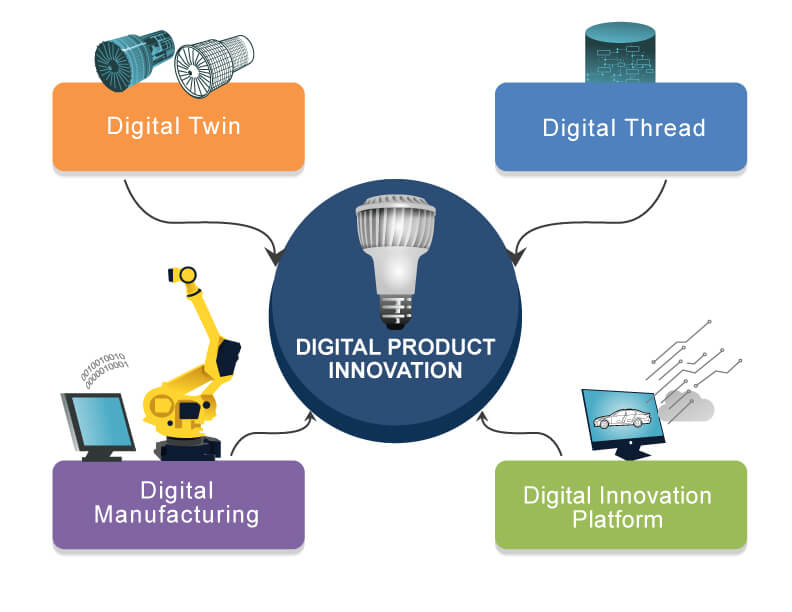 How can manufacturers improve their product innovation processes to outperform their competition? Jim Brown shares his perspective on digital transformation for innovation and invites manufacturers to take a free digital innovation assessment in his guest post on the Siemens Thought Leadership Blog.
Top Innovators have Digitally Transformed Innovation
Product innovation requires inspiration and a conducive culture to flourish. It is also heavily reliant on effective product design, development, and engineering practices. Turning an idea into a profitable product takes a coordinated effort supported by the right processes and tools. Our research shows that top innovators – those companies that outperform their competitors in revenue growth, profit margin expansion, and product portfolio freshness – have digitalized their product innovation process.  These companies have embraced digitalization across four pillars:
Digital Twin
Digital Thread
Digital Manufacturing
Digital Innovation Platform
Read More
Please click the synopsis below to read the full guest post on digital transformation for innovation including:
The four pillars of digital innovation
How to understand your digital innovation maturity
How to benchmark your maturity and get customized recommendations
An invitation to take the assessment to benchmark your company
Next steps
Ready to take the assessment? You can reach the Digital Innovation Maturity Assessment directly here. Or, read more about the assessment tool here.