Dassault Systèmes is an innovator in the PLM industry. DS continues to push the boundaries and scope of engineering software from CAD (CATIA) to Digital Manufacturing (DELMIA) to Simulation (SIMULIA) to PLM (ENOVIA) and well beyond the limits of traditional PLM. DS has strong engineering roots but they are becoming increasingly involved in a larger scope of their customers' businesses. Dassault Systèmes' president Bernard Charles paints a very strong vision of a company that helps "harmonize product, nature, and life." That's a pretty ambitious goal, and one that DS has made some significant progress on in just the last year since I wrote about their strategy.
This post shares my view of DS' vision for PLM. It is a part of Tech-Clarity's PLM Strategies of the Major PLM Vendors 2015+ series. It updates our views from last year in Dassault Systèmes PLM Vision 2014+.
An Update on History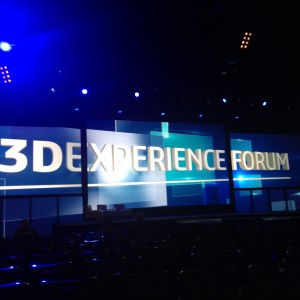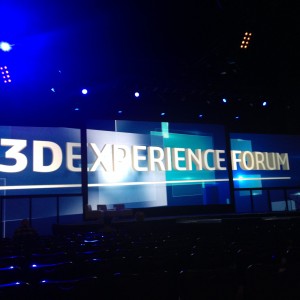 As I mentioned in the prior post on their strategy, DS has looked at PLM differently for some time. I won't repeat myself here but DS has been on a divergent path from the other major PLM vendors and continues to pursue a different vision than their competitors.
Let's update some history since we last talked. One of the key investments DS has made is on what they call the "3DEXPERIENCE Platform." They are harmonizing their products around an integrated platform based on the MatrixOne product they acquired years ago. The platform serves as a process and data backbone and makes ENOVIA the centerpiece of their solutions. Over the last couple of years, DS has rolled out a number of "industry experiences" on the platform that cross product / brand boundaries to meet specific industry needs.
There are a few key updates this year:
DS made a significant investment by acquiring Accelerys, now known as BIOVIA. The acquisition extends DS significantly further into the scientific lifecycle and allows them to gain a foothold in the life sciences industry. This is the largest acquisition DS has made in their history.
They migrated another acquired product, Enginuity for recipe development, onto the the 3DEXPERIENCE / Enovia platform. See my thoughts on Enginuity in the platform.
DELMIA has acquired businesses to expand digital manufacturing (DM) into execution
OK, I think we are caught up. Let's talk strategy.
The Dassault Systèmes "PLM" Strategy
I'm going to talk about DS' "PLM" strategy by using PLM as a category of software and software vendors, although it's fair to say that DS does a lot more than traditional PLM. They have gone beyond the boundaries of product into the business. But before anybody thinks that means they aren't focused on the core capabilities of product innovation, product development, and engineering – that can't be further than the truth. What they have done is expand on it.
I'll talk about their strategy in four aspects:
Product Experiences
Business Platform
Industry Focus
Technology
Product Experiences
First let's talk about the more traditional "PLM" things – developing products. DS has a strong suite of solutions for product developers and engineers across a large number of industries. One big shift for DS is the move from "products" to "experiences." This can be viewed in a number of different ways, but for this context let's focus on the fact that a product is a "thing" and customers buy more than that. They buy what the thing does and how it performs. DS has spent a lot of time and money developing realistic simulations of products. They started by including simulation and gaming capabilities to allow customers to interact with a product model in a multi-physics environment in a "lifelike experience." This took the virtual product walkthrough from "let's look inside the car" to "let's drive the car." They have also focused quite a bit on simulating systems behavior. It's no longer enough to understand what the physical product does, DS wants to show how the mechanics, electronics, and software come together to provide a product experience. This view of a systems "experience" is only one aspect, but it's an important one and one that existing customers grasp relatively easily how it expands their solutions and investment in DS.
3DEXPERIENCE as a Business Platform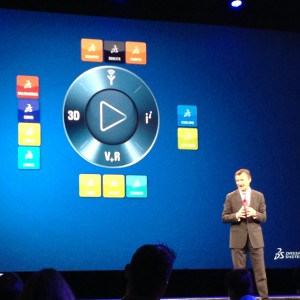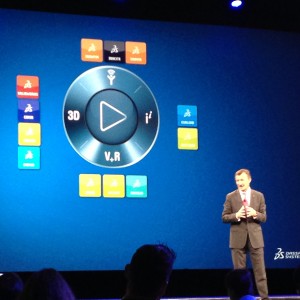 The transition to 3DEXPERIENCE as a Business Platform is another view of "experience" and one that still takes most customers some time to get used to. DS has more in store for companies than design tools. In fact, you could view the "IFWE Compass" as about a 50-50 split between design-centric and business-centric functions. For example, DS has invested heavily in dashboarding, semantic search, and business intelligence (BI) with EXALEAD and NETVIBES. This expands the DS suite further into the business by providing capabilities to gather and analyze structured and unstructured information from inside and outside of the business. In my past review of DS strategy I asked what "secret sauce" DS could bring to technologies where competitive products are already available from companies like Microsoft, IBM, Oracle, and others that serve needs across all domains. A recent demo really opened my eyes by showing how Exalead can put information into a business context (like a tool from a generalists) but can go beyond to put the information in the context of the product structure, right down to variant configurations. DS has taken a general business capability and allowed customers to use it at that level, but also let them drill down into things that are only well understood in the PLM domain. They have also taken the time to develop valuable business solutions such as OnePart to help rationalize parts instead of offering a generic toolkit.
Another example of how DS solves real business problems is the use of EXALEAD to make sense of the vast amount of machine data products communicate back to their manufacturers and operators via the Internet of Things (IoT). Again, DS is taking a general capability and tuning it to their customers' needs based on their strong domain expertise. With that said, it's clear that DS also wants to provide business-level tools that don't reach that deep into products. But their differentiation, as I am starting to see it, is that they can do both – go deep and offer high-level business tools.
Industry Focus
I'm not going to say too much here about industry focus other than to say that DS has taken this to heart. They have organized themselves in such a way that industry leaders lead more than just marketing and sales activities. Seasoned industry veterans are driving the "industry experiences" that showcase capabilities to customers and prospects but also drive requirements back to development. That shows real investment in industry-specific solutions. In addition, acquiring businesses like Accelrys (BIOVIA) last year and Gemcom (GEOVIA) before that show that DS is willing to make the investments needed to penetrate new industries. There are other initiatives such as the Living Heart Project and the consumer-oriented shift of 3DVIA that show DS' exploration and investment in new areas. DS is a busy – and curious – company.
Platform Technology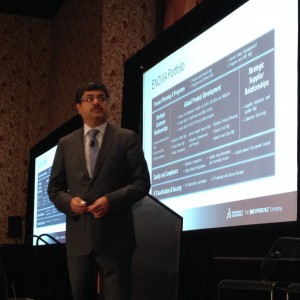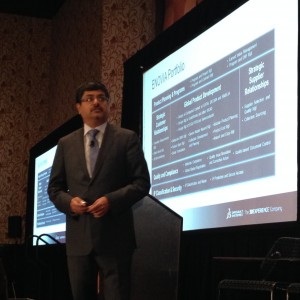 There has also been an important shift in the architectural approach to the platform and PLM. ENOVIA is taking a "zero files" approach where they are moving a lot more information out of files and into the database. This is a very different approach and is a step toward making all information readily available without the need to access / download files. For example Enovia holds assembly information in the database so that information is available to all users on a concurrent basis. Only the detailed geometry remains in a file-based format. This shift to a data-driven architecture will take time given the number of files involved in a typical product lifecycle, but DS has started the journey with their customers.
Perhaps no strategy review in 2015 is complete without a mention of the cloud. As of last year I would say that DS was lukewarm about PLM in the cloud. Since that time they have warmed up a bit (now offering a multi-tenant version of ENOVIA on the cloud) but are still not touting it as strongly as some of their competitors. As I mentioned before it's not an architecture issue, DS embraced SOA early on, but a business decision. In fact, they are building new solutions – including mobile and collaborative applications like Requirements Management – in the cloud.
Wrapping it Up
Dassault Systèmes continues to innovate, invest, and expand their offerings – both in terms of new industries and in terms of new capabilities for existing customers. They are expanding the scope of PLM beyond what some call "PLM" to business experiences and investing in an integrated platform that brings broad capabilities to customers.
RELATED POSTS
See other posts in our on PLM Strategies of the Major PLM Vendors 2015+ series:
Synergis Software PLM Vision 2015+
See more in our Strategic Visions of the Major PLM Vendors 2014+ series including:
Agile (Oracle) PLM Vision 2014+
Dassault Systèmes PLM Vision 2014+
Oracle's Vision for Agile 2014+
Also, don't miss our The Strategic Visions of CAD/CAE Vendors 2014+