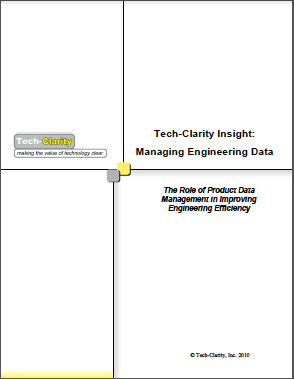 Tech-Clarity Insight: Managing Engineering Data – The Role of Product Data Management in Improving Engineering Efficiency shares the benefits of controlling engineering data and collaborating with PDM. The research discusses extending PDM with product-related processes and expanding implementations beyond engineering data.
Please enjoy the free Executive Summary below, or click the report title above to download the full PDF (free of charge, no registration required).
Table of Contents
Executive Overview
PDM and the Business Strategy
Gaining Control of Product Data with PDM
Collaborating with PDM
Automating Product-Related Processes
Leveraging PDM beyond Engineering Data
Conclusion
Recommendations
About the Author
Executive Overview
Research on today's manufacturing environment makes three things clear. The first is that manufacturers must innovate to capture their share of lower sales volumes. The second is that they must bring products to market faster to combat hungry, global competitors. The third is that manufacturers are running very lean due to price pressure from customers and the recent economic downturn. The combination of tough markets, reduced headcount, tight budgets, and aggressive new product development targets means that manufacturers need to be able to design and develop products extremely efficiently to get the most out of their engineering efforts.

Leading manufacturers are leveraging engineering software to provide the product development efficiency they need to survive tough times. For many companies this starts with an investment in world class Computer Aided Design (CAD). These tools help engineers better communicate product designs with Manufacturing and other departments to improve product development cycles. But these tools also add complexity to managing files, making the use of shared folders and other informal data management processes ineffective.
In order to manage the complexity, manufacturers are turning to data management solutions to share product data across the business through a central repository. These systems go by many different names, including Product Data Management (PDM), Collaborative Product Data Management (CPDM), Product Lifecycle Management (PLM), Engineering Document (or Data) Management (EDM), and others. The core requirement of each of these systems is to get engineering data securely under control and make it easily accessible to those who need it. Product data management is the fundamental building block of any engineering software strategy and helps companies get the most out of their precious engineering resources. "The key is product integrity," explains Ken Lechner, Vice President of Engineering for AMETEK Technical and Industrial Products. "With PDM, we don't wonder what the right revision is and don't need to go to multiple places to find it. We know it is the latest revision and that it has gone through the approval process." 
PDM provides the foundation needed to improve product development and engineering performance. Once product data is under control, manufacturers can streamline and automate product-related processes such as transmittals and engineering change orders. It also enables information sharing with other parts of the business that play important roles in developing high quality, profitable products. In fact, as PDM gets established, other departments such as Manufacturing, Quality, Purchasing, Sales, and Marketing frequently recognize the value of extending PDM to manage their product-related information. These improvements rely on a foundation of accurate, current engineering data. The result is that PDM has become a mission critical initiative that enables faster, more effective product development.