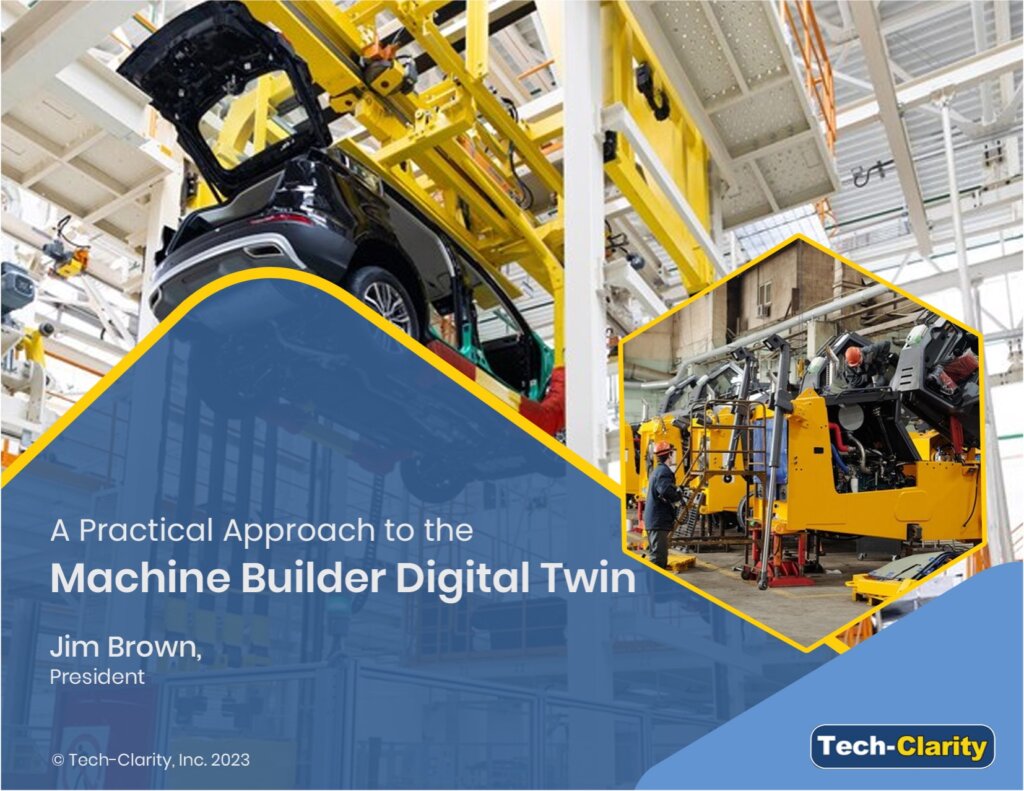 Machine builders must continuously raise the bar to compete in today's dynamic, global markets. How are they leveraging digital twins to improve how they quote, design, produce, install, and commission more complex, smart, connected, flexible, and tailored equipment than ever? Further, how can they extend their digital twins to improve installation, commissioning, and service?
Please enjoy the summary below and visit our sponsor Siemens to learn more about machine builder digital twins and other solutions for machine builders. You can also download the full eBook to learn more. 
For related research, please read Increasing Equipment Design Velocity and Increasing Performance Engineering Performance.
Table of Contents
Recognize the Potential of the Digital Twin
Making Progress Toward Your Digital Twin
1) Design in Full Product Context
2) Embrace BOMs / Configurations / Variability
3) Simulate / Optimize / Virtually Validate Equipment
4) Expand Further Down the Lifecycle
Get Started
Acknowledgments
Improving Engineering, and more, with the Digital Twin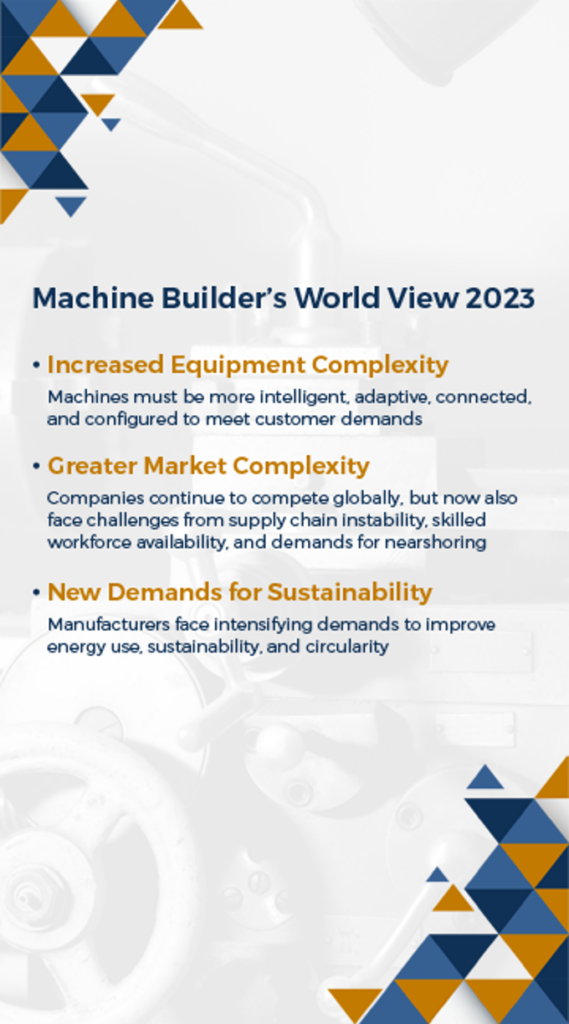 Digital Twin Potential
Machine builders must continuously raise the bar to compete in today's dynamic, global markets. How are they leveraging digital twins to improve how they quote, design, produce, install, and commission more complex, smart, connected, flexible, and tailored equipment than ever? Further, how can they extend their digital twins to improve installation, commissioning, and service
Increase Digital Twin Maturity to Drive Value
Digital twin improvement opportunities span the product lifecycle and offer significant new business value from bids through service. Our research shows that top-performing manufacturers use more advanced, mature digital twin capabilities.1 But few machine builders have tapped the full potential.
Continuous improvement through a comprehensive digital twin spanning the lifecycle is valuable, but it is a journey. There is plenty of room for most manufacturers to improve and drive increased profitability, but they can't do it all at once. Instead, they can implement the basics and find ways to expand the value through higher maturity at each step. This eBook introduces four areas where machine builders can improve their digital twins, sharing a combination of first steps and more advanced actions to drive business value and increase profitability.
Recognize the Potential of the Machine Builder Digital Twin
The Growing Need for Machine Digital Twins
Machine builders face increased challenges, including increased equipment complexity, greater market complexity, and new demands for sustainability. These issues impact their operations and their operators, driving additional engineering requirements such as increased machine automation, monitoring, and the need for remote service.
Extend Machine Builder Digital Twin Value over the Product Lifecycle
Comprehensive digital twins allow equipment manufacturers to innovate and experiment in the virtual world to get unique machines right the first time. Virtual design helps them improve machine design cycles, quality, performance, configurability, and sustainability by allowing all disciplines to collaborate starting as early as equipment requirements on a holistic, contextualized product model. Lastly, running digital twin simulations enable them optimize designs virtually before building them.
But the value doesn't end in Engineering. Machine digital twins incorporating manufacturing operations and quality data allow them to produce equipment faster and more efficiently with higher first-time quality. Machine digital twins extended to the operating environment can speed up commissioning, ensure equipment runs the first time, improve performance for machine operators, and enhance operator training. Twins can also enhance service through service transformation, including machine monitoring and analytics. Finally, they can help in product retirement by enabling circular thinking where equipment can be brought back, refurbished, or harvested for valuable components.
Making Progress Toward Your Digital Twin
Choosing a Starting Point
For many companies, the improvements described on the previous page sound like rocket science. In fact, it is. Industries like aerospace have proven the value, and the potential is nearly limitless. But adoption can be intimidating, especially for manufacturers that haven't fully achieved the value a holistic digital twin can offer to Engineering.
What should machine builders do now? Each manufacturer needs to define what the digital twin means to their business, assess their current capabilities and then make tangible, incremental steps to improve their maturity and associated business value. Digital twin initiatives should have rapid ROIs, providing value right away and making progress toward a fully mature future state. The value will be different for each company, but we've identified a number of improvements for companies to use as a starting point based on their goals and maturity. 
Create a Value-Driven Strategy
It's essential to develop a practical plan based on what would be the most valuable to the company. Find practical problems and use the digital twin to address them. The challenges may relate to quality, speed to market, or supporting additional configurability without compromising quality. Or, they may be supplier collaboration challenges. For some, they could be sales enablers to let potential customers experience how configured equipment will behave in their environment using high-fidelity simulations. 
We recognize that each company is different in their starting point, what will drive the most value, and the practical sequence in which they can implement changes. It's time to identify ways to get started, create a customized plan with first steps to drive business success, extend the value, and expand on the competitive advantages achieved. Let's look at some opportunities.
Start Small, then Expand
The opportunities are expansive and potentially overwhelming. Remember that every company is different in where they start and what will drive the most value. Don't try to do too much at once or skip maturity steps. Focus on the tangible steps that add value to your business. But, keep the big picture in mind to ensure that early successes can be built on to reach a higher vision.

Focus on People and Process
The end goal is a better way of doing business, an integrated design and development process supported by the machine digital twin. To achieve this vision, make sure to get key people and departments aligned with the vision and the transformation. Help them understand the big picture, the steps to achieve it, and how it will help them in addition to helping the company.  
Enable the Transition
New ways of working require the right tools. It's essential to evaluate your current software solution portfolio to ensure they are sufficient for the job. An effective machine digital twin requires support from a variety of engineering solutions, including CAD, multiphysics CAE, software design, and PLM. It also requires industrial and factory automation solutions, including CAM, MES, HMI, SCADA, virtual commissioning, and the IIoT. Depending on maturity, it may also require asset lifecycle and service management solutions (ALM and SLM). 
Think Holistically 
It's important to consider more than individual tools. Evaluating how solutions work together to support the digital thread across the lifecycle is crucial. The machine digital twin is best served by a platform of solutions that work together. The platform should provide a central data model, the digital twin backbone, kept in configured context. It should be able to be acted on from different angles so everyone can contribute and get what they need in a secure, collaborative environment. Together, these product innovation platform capabilities support the machine digital twin.
It's essential to acknowledge, though, that no single platform will support every need. It's critical that the platform is open to allow integration and offers the capability to develop new applications that pull information together for specific purposes, ideally in a no-code or low-code environment. 
Let's Get Started
There are many options and a lot to do, but the value should come fast and be extended over time. Let's get started.