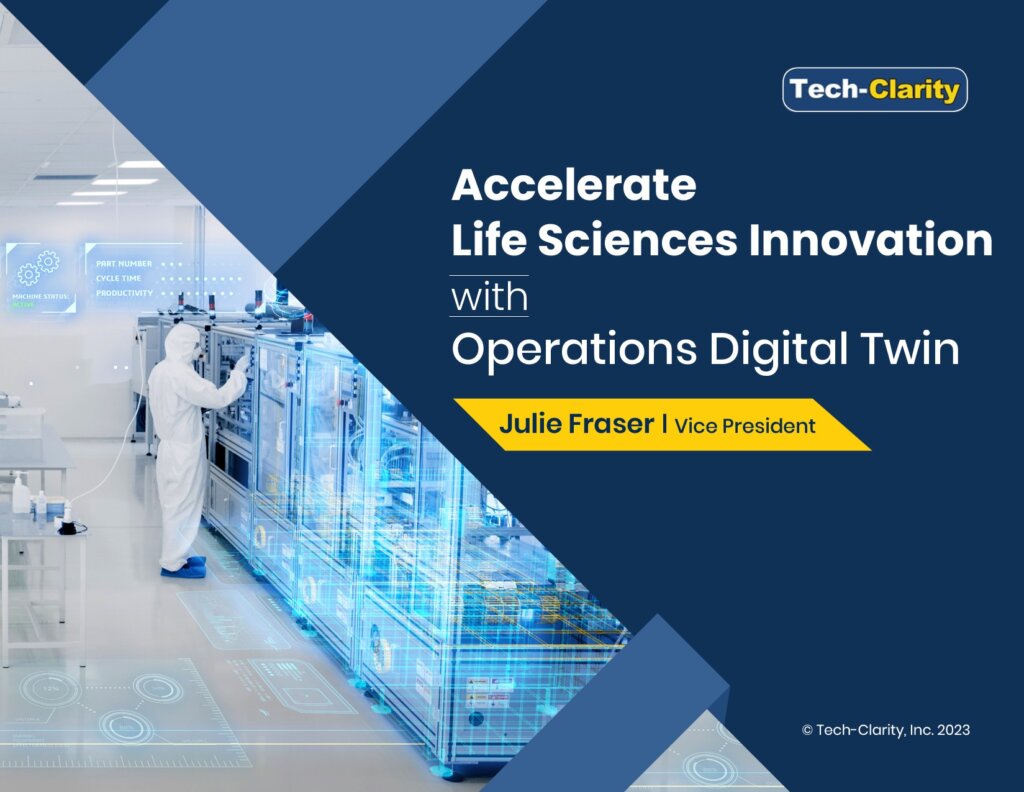 How can manufacturing software accelerate life sciences innovation? By combining MES with an operations digital twin.
Please enjoy the summary* below. For the full research, please visit our sponsor Dassault Systemes(registration required).
Table of Contents
Rapid Life Sciences Innovation
New Realities and Opportunities
Manufacturing Must Keep Pace
Digital Twins: Marrying Virtual and Real
Operations Digital Twin Examples
Digital Twin of Operations Accelerates Progress
Twin Benefits in Operations
Virtual Uses through Validation
Virtual Uses Post-Approval
Benefits of Virtual to and from Real
Closing the Virtual-to-Real Loop
Considerations for Useful Virtual
Enterprise Transformation
Clearing the Way for Acceleration
Recommendations
Acknowledgments
Rapid Life Sciences Innovation
Speed to Market
Innovation has always been at the heart of life sciences companies' success. Being quick to market helps both profits and patients. Of course, fast is relative, with most drugs and biologics taking 10-15 years from Phase I to approval, and medical devices taking three to seven years from concept to approval.  
The question is: Can life sciences companies accelerate this innovation process and make it more reliable? We have seen that they can by using current software and methods. It's important to remember that innovation and supporting software serve not only R&D but also operations.
Quality by Design
Every aspect of innovation must increasingly aim for Quality by Design (QbD). For drugs, the EMA website defines it: "Quality by design is an approach that aims to ensure the quality of medicines by employing statistical, analytical and risk-management methodology in the design, development, and manufacturing of medicines."
Modeling and simulation allow a virtual test of a design against quality and regulatory requirements. This can result in improved product quality and patient safety before physical prototypes are built.
In short, ensuring data-driven approaches early on can generate better outcomes at every stage of the product lifecycle. The chart below shows that concept.
Figure 1. Accelerating Innovation Has Profits Benefits Throughout the Life Sciences Lifecycle

Recommendations
Recommendations and Next Steps 
Based on this research and our experience, we recommend that Life Sciences companies in biologics, pharmaceuticals, or medical devices:
Treat this as a

transformational operations innovation acceleration initiative

, not an IT project.

Educate and create a vision

everyone shares for a more agile manufacturing operation that accelerates innovation.

Distinguish operations twinning from a Metaverse or gaming approach: it is

for running the business

, not training or purely visual representation.

Carefully

review your options

to ensure the digital twin platform will support the organization now and in the future.

Get started with twinning

high-impact areas

and build on the success to get maximum value and momentum.

If you don't have

enterprise-capable manufacturing planning, scheduling, S&OP, and execution software

, be sure those investments are in the plan.

Be sure the top

executive team sponsors

and fully resources the program – including dedicating some of your best people and incenting everyone.

Set an expectation that the twin will become a

crucial aspect of daily operations

: you will see what happens as things change and conduct what-ifs to gain speed and confidence in decisions.

Keep the end in mind:

virtual and real, constantly driving quality, innovation, improvement, and speed.
*This summary is an abbreviated version of the research and does not contain the full content. For the full research, please visit our sponsor Dassault Systemes (registration required).
If you have difficulty obtaining a copy of the report, please contact us.