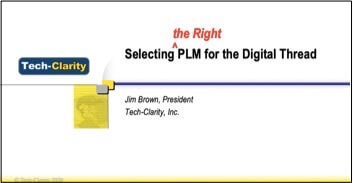 Why are manufacturers pursuing the digital thread? What is the right PLM system to support a digital thread initiative? Jim Brown joins PTC's Jeff Zemsky to share results from Tech-Clarity's recent survey on PLM and the Digital Thread. Jim and Jeff discuss the goals and benefits of the digital thread, followed by requirements to ensure that companies select the right PLM to provide the digital thread backbone.
Register for PTC sponsored the webcast now.
Please also see our related eBook, Choosing the Right Enterprise PLM to Support Digital Thread Initiatives.
Webcast Announcement
Leading manufacturers are embracing the digital thread to streamline product development and create digital continuity across the product lifecycle.
The digital thread is a strategic initiative that provides significant, measurable benefits including, increased engineering efficiency, improved quality, faster time to market, enhanced innovation, and better compliance.
The backbone of the digital thread is enterprise PLM. PLM is a key digital enabler according to a recent Tech-Clarity survey, finding that top performing companies are 73% more likely to use PLM to support the digital thread.
Join our panel interview hosted by Jim Brown, President of Tech-Clarity and Jeff Zemsky, Senior Director of Product Management, PTC. The panel will share recent survey results on PLM and the digital thread and discuss how to select the right PLM solution to meet digital thread objectives. The webcast covers:
The strategic value of the digital thread
How to create digital continuity across the product lifecycle
Key requirements of a supporting solution
Special considerations for Engineering, Manufacturing, Quality, Service, and IT
Other requirements critical to achieving digital thread value' is supposed