I had the chance to talk with … both Dyadem and MasterControl earlier this year about their Quality Lifecycle Management (QLM) solutions. The conversations are examples of how PLM is expanding to cover additional product-related processes.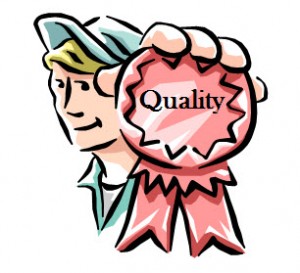 Quality is among a number of product lifecycle processes – including compliance, service, product costing, direct sourcing and potentially others- that are logical extensions to PLM. QLM, however, is still a standalone solution for the most part. So what is QLM, and how does it fit into the product lifecycle and into product lifecycle management (PLM)?
Note: OK, this is really a combination of two 1:1 conversations, I wonder if that is a 2:1 or 2:2? So let's call it a "What I Learned" and follow up with the Dyadem and MasterControl stories later this week.

What is Quality Lifecycle Management?
Quality is an important aspect of any product, and key to the profitability of a product across its lifecycle. Quality management plays critical roles in the product lifecycle, including:
Accelerating time to market (particularly in regulated industries where products must be approved for sale)
Ensuring and documenting compliance to industry or customer quality processes
Improving customer satisfaction and response to customer complaints
Reducing the cost of poor quality
Minimizing corporate risk

Applying lessons learned from product use to enhance product designs (closing the loop in the product lifecycle)
Quality lifecycle management includes managing the quality of the product as well as the quality of product-related processes. One quality lesson we have learned as an industry over the years is that managing quality in through inspection is not as effective as managing quality in by design and through good process. For that reason, managing quality processes is as important as managing results.
One example of a QLM process is managing product quality in design by correcting problems before they surface with approaches like Failure Mode and Effects Analysis (FMEA). FMEA (specifically design FMEA, or DFMEA) is a great example of where QLM can help because it can directly impact product quality, but can also impact time to market and compliance. FMEAs are mandated in certain industries and by some customers, and can delay product launch if not available (although hopefully we aren't putting them together at the end of product development, but actually using them in the beginning). Corrective and Preventive Action (CAPA) is another example of a process that attempts to close the loop in the product lifecycle, by tying actual quality issues back to be addressed in earlier phases of the lifecycle (through another design revision or modified manufacturing plans, for example).
How does it Fit in the PLM Ecosytem?

There are a number of competing and complementary solutions that can help manage product and process quality. These include specialized Quality Management Systems (QMS) in addition to ERP, Product Lifecycle Management (PLM) and QLM. In the ideal scenario, I would place the majority of the quality planning functions in PLM, which probably requires a PLM/QLM hybrid. Then, the execution would be tracked in ERP/QMS and fed back into a QLM capability in PLM to close the loop. Unfortunately, most PLM systems do not have needed QLM capabilities, let alone a solution that can compete with standalone applications. To be fair, two PLM solutions that I know have invested in these capabilities Agile and Aras. QMS also plays an important role, typically adding strong analytics capabilities to monitor and improve product and process quality. Of course, QMS solutions are also a logical choice to provide QLM capabilities. In short, the landscape is full of good solutions to choose from, but it takes some work to sort it all out. For more on the expansion of PLM solutions into related processes, please see PLM, Please Take 3 Giant Steps Forward.
Implications for Manufacturers
Manufacturers today can't afford the risk and cost associated with poor quality. In most industries, the base quality of products has improved pretty dramatically over the past decade. And for many industries (such as Medical Devices or Pharmaceutical) there are mandatory processes that must be complied with.  So managing quality is not optional, it is a cost of doing business. The area where I see an opportunity for manufacturers to gain an advantage of their competition, however, is to apply quality management concepts to the product lifecycle – closing the loop between product design and the rest of the lifecycle. This is where the opportunity for QLM really comes into play.
So that's what I learned, I hope you found it interesting. What do you think? I will follow up with more from the vendors later this week.