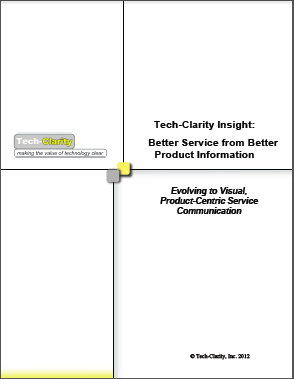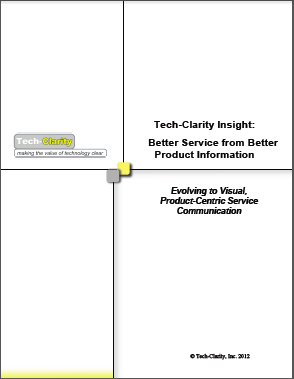 Tech-Clarity Insight: Better Service from Better Product Information: Evolving to Visual, Product-Centric Service Communication discusses the importance of having accurate, timely product information at hand in order to profit from service and satisfy customers in the service lifecycle. Highlights the importance of detailed, visual service information such as 3D graphics and animations to communicate product details, and explains how companies are leveraging PLM assets to improve service performance.
Please enjoy the free Executive Summary below, or click the report title above to download the full PDF (free of charge, no registration required).
Table of Contents
Executive Overview
The Service Imperative – Opportunity and Challenge
Bring Speed and Accuracy to Service Information
Enhance Service Illustrations
Leverage Existing Assets for Improved Communication
Move Beyond Pictures to Products
Service the Product across the Lifecycle – Managing Change
Evolve to Structured, Product-Centric Service Communications
Conclusion
Recommendations
About the Author
 Executive Overview
Service is critical to company profitability and customer satisfaction for today's manufacturer. This puts significant pressure on service organizations to perform. They have to close service calls quickly to save time and money. More importantly, they must service equipment accurately to keep customers happy and ensure they get maximum value from the products they buy. As Andrew Miller, Technical Consultant for Whirlpool explains, "Our ultimate goal is 'first call complete,' our customers rely on our products." This is strategic, as Tech-Clarity's report The Service Lifecycle Management Approach: Strong Customer Relationships Result in Profit in the Service Industry concludes, "Customer satisfaction is extremely important to building long term relationships. It is also good business, because it leads to greater profitability through customer retention and repeat business."
To service products effectively and efficiently, technicians need to be armed with the right product information. Timely, accurate, and easy access to service manuals, training materials, and customer service information is critical. "Documentation is an invisible aspect of service, one of our top two business priorities," says Debra West-Maciaszek, Sr. Information Architect for Nikon's Precision Equipment Business. "When things go wrong, you can often trace it back to a missing or inaccurate graphic." Without the right information service technicians and customers have to reinvent processes and make guesses, neither of which are conducive to doing the job quickly or correctly.
Modern service information should be highly graphical to enhance communication and cut across language barriers. Beyond simple 2D illustrations, 3D service communications provide an even richer way to communicate with ease and accuracy. Gene Harrel, Supervisor for Technical Manuals at General Atomics, says simply, "3D is much easier to use." 3D is far more realistic, and interactive 3D allows technicians to rotate, explode, and interact more naturally with the product information.
Beyond compelling graphics, service communications must provide product and service information in the context of the product. To address this, companies are beginning to address service as an extension of their Product Lifecycle Management (PLM) infrastructure. This allows them to take a holistic approach, share more accurate product data, manage communications throughout the changing product lifecycle, and bring about tighter linkages between Engineering and Service organizations and information.