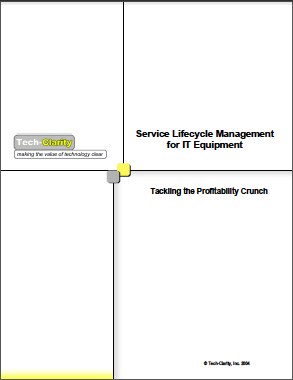 SLM for IT Equipment: Tackling the Profitability Crunch explores tackling the profitability crunch in the IT equipment services market as service becomes more difficult, competition gets stiffer and margins keep shrinking.
Click here to read the full report, thank you to our sponsor Astea.
NOTE: This paper is from the Tech-Clarity archives, it was originally published in 2004 but still has relevance today.
Table of Contents
Executive Overview
The Job's not Getting any Easier
Competition Demands Superior Service
Where did all the Margin Go
Superior Service—But Not at all Costs

Never Ignore a Call for Help
Reduce Waste in the Call Center and Office
Avoid the Service Call (or at Least Reduce the Urgency
Make the Right Calls First
Close the Call the First Time
Keep Technicians Productive, not Just Busy
Turn the Service Call into an Opportunity
Turn Service into Cash – Rapidly
Stop Revenue Leaks
Enhance the Customer Relationship
Grow Revenue by Restarting the Service Lifecycle
Turn to Proactive Management

Carrying Inventory—No Longer Practical
SLM Means Smarter Service
Recommendations
Summary
About the Author
Executive Overview
Your customer contacts the call center. Their equipment is down. Your service representative begins to document and diagnose the problem. A trouble ticket is generated and a service technician is dispatched to resolve the problem. This scenario is repeated countless times a day, it is routine for your service organization. But from the customer's perspective—this is not routine at all. It may be a central piece of equipment such as a server that is down or it may just be an individual PC or printer. No matter what the situation is, it is stopping your customer from running their business. Somebody is not working—or not working in a fully effective way—and they are relying on you to get them back in business. This is your chance to prove your value and re-earn your service contract.
Managing service processes effectively allows service companies to continually prove the value of their offerings. Effectively running any services organization can be greatly enhanced by following the tenets of Service Lifecycle Management (SLM). SLM, coined by industry analyst firm AMR Research, is a strategic approach to improving customer service while simultaneously reducing service costs. Leading service organizations are increasingly reaping the benefits of adopting SLM principals. Companies that focus on servicing Information Technology (IT) related equipment, in particular, are turning towards SLM to address the increasingly challenging IT Services market. Three things are clear about servicing IT assets in the current climate:
The job is not getting any easier
Competition is getting stiffer
Profit margins are getting smaller
The combination of these three factors means that leading service organizations must continue to aggressively adopt better service practices in order to prosper in a challenging market. This paper provides insight gained from recent conversations with some leading service companies to discover how SLM principals are being used to combat the increasing complexity, growing competition and shrinking profit margins in the IT Services Industry. These companies, like all service companies in the IT industry, face the challenge of combating the profitability crunch while continually improving service to their customers.