What do industry experts and your manufacturing peers have to say about Industry 4.0 and smart manufacturing initiatives? Join this free live event on October 6th in Charlotte, North Carolina to learn and share your experience.
Our own Jim Brown will keynote the conference. He will share his research on how manufacturers can "bounce forward" from recent disruptions with smart manufacturing. Then you'll hear from a host of knowledgeable speakers and have the opportunity to join in the roundtable discussion to learn from the presenters, panelists, and peers alike. And you can stay for the happy hour to continue the conversations or just enjoy the experience at The Barrel Room at Trip C Brewing Co.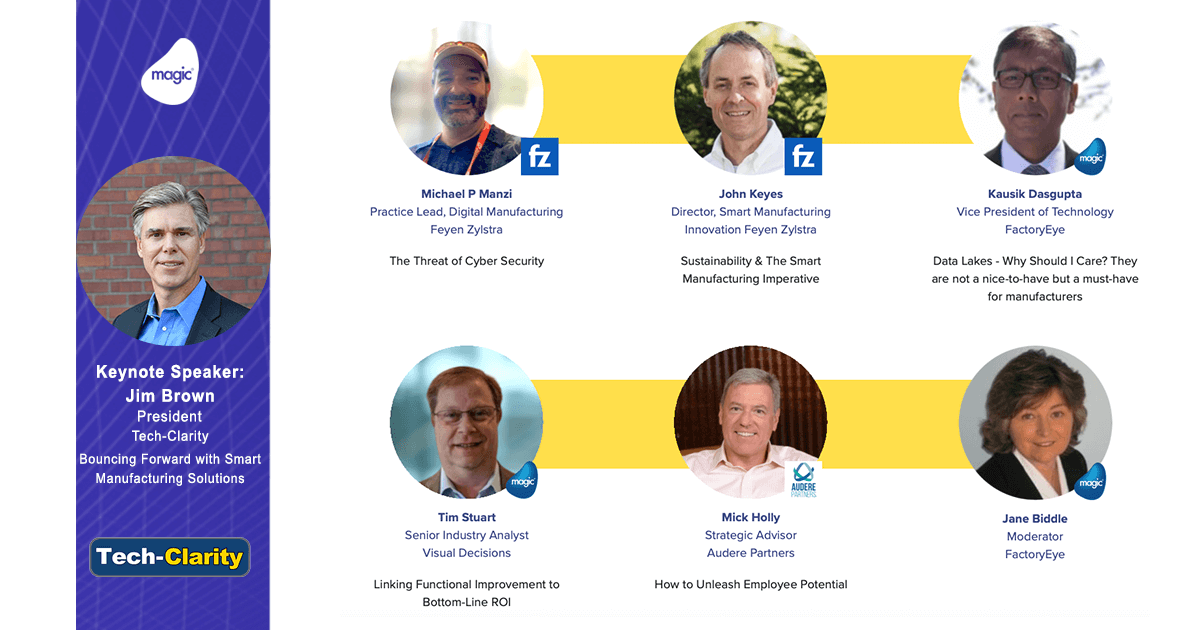 List of speakers: 
Jim Brown (keynote) 

– President and Founder, 

Tech-Clarity

Bouncing Forward with Smart Manufacturing Solutions

Michael P Manzi – Practice Lead, Digital Manufacturing, Feyen Zylstra

The Threat of Cyber Security

John Keyes – Director, Smart Manufacturing Innovation, Feyen Zylstra

Sustainability & The Smart Manufacturing Imperative

Kausik Dasgupta – Vice President of Technology, FactoryEye

Data Lakes – Why Should I Care? They are not a nice-to-have but a must-have for manufacturers

Tim Stuart – Senior Industry Analyst Visual Decisions, Visual Decisions

Linking Functional Improvement to Bottom-Line ROI

Mick Holly – Strategic Advisor, Audere Partners

How to Unleash Employee Potential

Jane Biddle, Moderator, FactorEye
The last event was a great learning experience! For full event information and registration please visit the event sponsor, FactoryEye. 
You can also view the event brochure or a summary video to learn more.