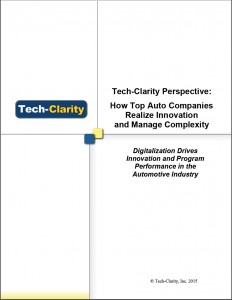 How Top Auto Companies Realize Innovation and Manage Complexity – Digitalization Drives Innovation and Program Performance in the Automotive Industry shares survey data and insights from the global automotive industry that detail the best practice processes and technologies the leaders use to drive higher profitability in the auto industry. The report shares that automotive OEMs and their supply chains are facing mounting product and product development complexity amid significant market growth. The report looks at the strategies, processes, and technologies auto companies are adopting (see graphic). Our research then analyzes the Top Performers – those reporting higher revenue and margin growth over the prior 24 months – to determine what they do differently and identifies a number of differentiating approaches detailed in the report.
Please enjoy the summary below, or click the report to download a PDF overview (free of charge, no registration required).
For the full report, please visit our sponsor, Siemens PLM, and their Automotive PLM Leadership Page (free of charge, no registration required).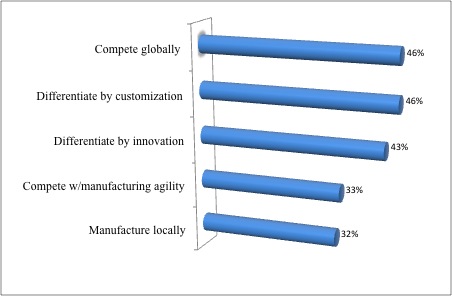 Table of Contents
Executive Overview
Key Strategic Plans of the Auto Companies
The Automotive Industry Faces Significant Complexity
Identifying the Top Performers
Collaborate / Design Concurrently between OEMs and Suppliers
Adopt Next Level Simulation / Optimization
Transform to Next Level Manufacturing Planning
Enabling Technology
Conclusion
Recommendations
About the Research
Executive Overview
The global automotive and transportation industry is experiencing a tremendous rejuvenation. The market is alive and sales and profits are growing. Within the last few years, automotive manufacturing has entered an age of innovation and witnessed unprecedented introduction of new models and advanced technologies to meet the challenge of doubling fuel economy and halving emissions.
In parallel with the booming auto market is a growing level of product development complexity. This increased complexity results from a variety of factors ranging from advanced materials for vehicle lightweighting to the increased role of software in product innovation and product performance. Some like to say today's cars are like computers driving around on wheels with over tens of million lines of code – but that's a huge understatement. Today's automobiles are an intricate orchestration of mechanical, sensors, controls, and software and are increasingly interacting with other vehicles and their surroundings. The resulting complexity is immense.
How is the industry responding? Tech-Clarity analyzed survey data and reviewed automotive executive presentations to determine how automakers and suppliers address complexity and take advantage of the industry renaissance. We found that top-performing companies are going beyond today's best practices in manufacturing and leveraging digitalization to realize innovation. These companies have transformed their vehicle development processes to take greater advantage of digital product models and simulation, leading to growth and profitability.
Specifically, our research shows that Top Performers in the automotive industry are:
Continuing their lead in collaboration and concurrent design
Expanding their use of digital product models to optimize products early in design and better validate mechanical, electrical, and software systems
Expanding their ability to synchronize and integrate design and manufacturing
To support these initiatives, Top Performers are leveraging digitalization to:
Use more integrated, holistic PLM capabilities that allow early, model-driven systems optimization
Integrate systems across the lifecycle to align and share design data from concept through production