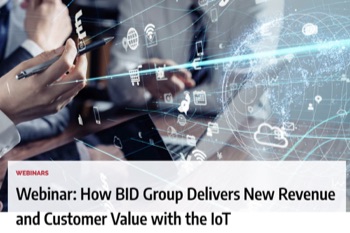 How has one of the largest integrated suppliers to the wood processing industry used the IoT to digitally transform their business and deliver new revenue? Learn how BID Group has improved throughput and performance for their customers by remotely monitoring their equipment through the IoT. Join this interactive IndustryWeek webcast, How BID Group Delivers New Revenue and Customer Value with the IoT, to hear Tech-Clarity's Jim Brown and Bid Group's Sefton Jubenvile discuss IoT remote monitoring goals, value, success, and adoption. Jim will discuss perspectives from Tech-Clarity's recent Service Transformation by Monitoring Customer Equipment eBook and Sefton will share his experience helping transform BID Group into a digital business.
Register for the PTC sponsored IndustryWeek webcast now (registration required).
Synopsis
BID Group is one of the largest integrated suppliers in the wood processing industry and is the North American leader in their field. Achieving this position required the company to gain a deep understanding of how their products and services help their customers to operate at the highest level of profitability.
This discussion will look at:
How BID Group developed a solid digital transformation strategy for service verse building an in-house solution
The importance of listening to customers and how to best incorporate those insights into a solution to guarantee added value
The value of their production health module and how this improves customer satisfaction
The unique benefits that are passed on to customers to improve mill efficiency and profitability