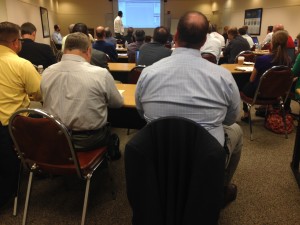 Engineer to Order is a great way to increase sales and improve margins for some and a business reality for those in industries that demand products that fit into their customers' environments. It's also one of my favorite topics because I have seen the issue from the ERP / sales configurator side of things as well as the Engineering / CAD side of the business. I was really happy to have the opportunity to participate in an ETO seminar to discuss these issues with a group of mid-sized manufacturers along with my friends from Siemens PLM that work on their rules-based ETO technology Rulestream and Mercury PLM Services. I had the chance to talk to companies that produce electrical enclosures, custom windows, industrial washrooms, high end storage units, marine propulsion, firetrucks, and more.  Two of my standard examples from past experience are custom windows (I make the argument that engineering custom windows is more complex then engineering a car, at least in some ways) and firetrucks (who knew that each one is different?). It was great to have a company that does each in the audience, I hope my examples were up to date (note to self, check in with them to refresh your examples!).
A Shift in ETO Challenges Toward Agility?
What are their biggest challenges? The overwhelming answer was time. It takes too long to develop accurate drawings and models for the shop floor. I also heard the most common issue that I hear in the ETO business, the ability to rapidly develop accurate quotes. Companies typically have to choose between developing quotes quickly (and overprice with a big cushion or risk losing money from underpricing) or developing them quickly.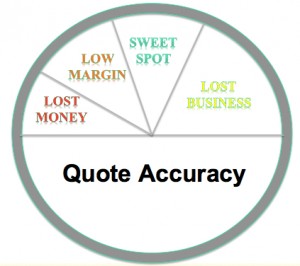 These issues are alive and well, but at least in this group the pressure of speed seemed to be on the rise. Maybe this is because of the instant gratification expectations we have today? Or because midsized manufacturers compete on agility and speed? I don't know, it's an interesting observation. It's also a small sample size, so it may just have been the collection of companies that showed up for this seminar on a Thursday morning. It would be fun to do some more research on this to see if there has really been a shift.
How to Improve ETO Performance
I shared some of my research with the group that shows that top performing companies (those that have higher revenue and margin growth) are not more likely to engineer to order. I know, it wasn't what they expected to hear. What I told them is that it isn't the fact that they engineer to order that sets them apart, it's how they do it. My research shows that top-performing companies are more likely to use rules-based design approaches that dramatically help improve quote accuracy and shorten order engineering time. The research also showed that top performing manufacturers are much more likely to use configuration / design automation technology.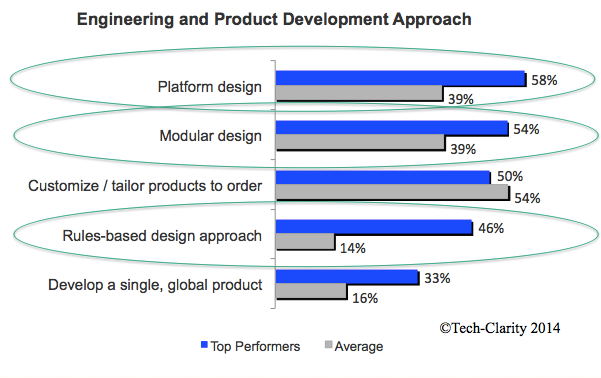 Some Great Examples

After I set the stage with some of the business implications and how manufacturers can improve ETO performance, I heard some good examples of this today from Mercury Marine and S&C Electric. S&C Electric has been using design automation technology for quite some time and shared how they use rules to eliminate waste and redundancy and reduce content creation time through automation and reducing defects. Carl Breving of S&C also talked about the importance of capturing engineering knowledge in their platform, another great benefit of design automation. They shared a common knowledge challenge where they have two people that engineer their orders that have combined experience of 90 years! Clearly important to capture that expertise! They shared a demonstration that showed how changes to specs were updated in the CAD model in what looks like real time. Pretty cool.

Mercury Marine has products that span from build to stock to ETO. They use a 150% BOM with options and variants approach with PLM to drive configurations, which works well in many circumstances. They now have more complexity in a new product line that goes beyond this approach. One example is smart technology that includes more systems. They are looking toward more automated systems to help with the design – a great example of how rules-based technology can span beyond ETO. Another example was replacing a manual test in CAD that is required to meet a "tip test" regulation for fuel tanks, again an example of rules-based design automation that applies outside of the "to order" world.
Parting Thoughts
As a side note, I knew the Rulestream team and followed their technology prior to their incorporation into Siemens PLM. I have always been impressed with their ability to drive new CAD assemblies using parametrics based on rules. It's a pretty cool approach and it was great to see their progress over the years. Brian Grogan of Siemens PLM also shared some additional examples and some very practical advice on how to implement rules-based design solutions based on a wealth of experience.