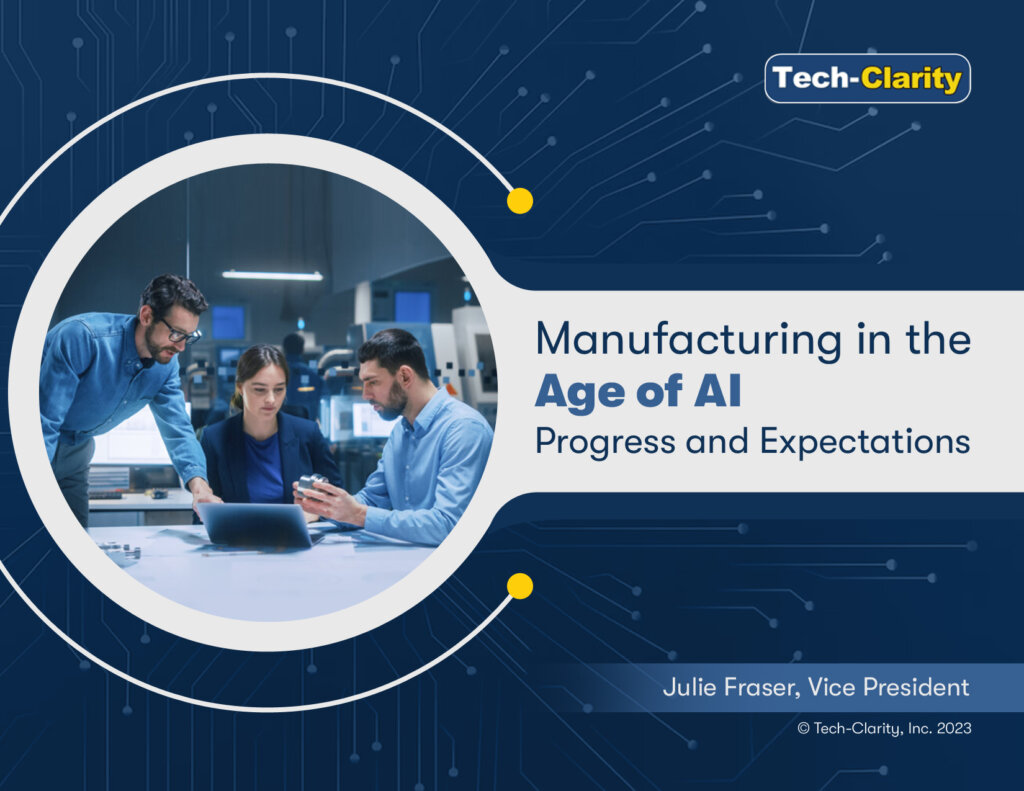 What defines Manufacturing in the Age of AI? How much progress are companies making toward Industry 4.0? What data management elements have leading manufactures put in place to support rapid decisions? Our eBook Manufacturing in the Age of AI explains the findings of our survey of over 300 manufacturing professionals. It reveals answers to these questions and more.
Please enjoy the summary* below. For the full research, please visit our sponsor Critical Manufacturing (registration required).
For additional research, please read our Manufacturing Data Challenge eBook exploring explores the many challenges and lessons in Industry 4.0. Additional content includes The Challenge of Manufacturing Data Management article and a recorded a session of the webinar revealing significant findings of research on the topic of manufacturing data management.
Table of Contents
Progress on Industry 4.0
Difficult Environment
Keys to Success
Closing the Loop from Data to Action
Multiple Aspects to Master
Challenges in Manufacturing Data Management
Integration Still Obstructs Purpose
Improvement is Possible: Top Performers
Understand All the Issues Matter
Launch Initiatives to Address the Issues
Improve Organizational Structure
Succeed in Staffing
Overcoming Skills Shortages
Leverage Commercial Applications
Have Better Experience with MES
Explore Advanced Technologies
Gain Business Capabilities
Accelerate Improvement
Meet Cost Targets
Why Manufacturing Data Management
Why Drive to AI?
Quotes: Selected Benefits of Advanced Analytics
The Path Ahead
About the Research
Acknowledgments
Speeding the Loop from Data to Effective Action
A New AI-driven Era for Manufacturing
Despite challenging supply chain situations, manufacturers are making progress toward Industry 4.0. Most understand that artificial intelligence (AI) and improved analytics can lead to better decisions and, thus, business benefits. However, creating the data management structure for success is something many are still learning. This research shows how Top Performing companies are making more significant strides than others. In short, they understand, invest in, and make the most of many aspects of people, process, and technology. Together, they enable capabilities that close the loop from data to information to insights to decisions and to profitable, timely action.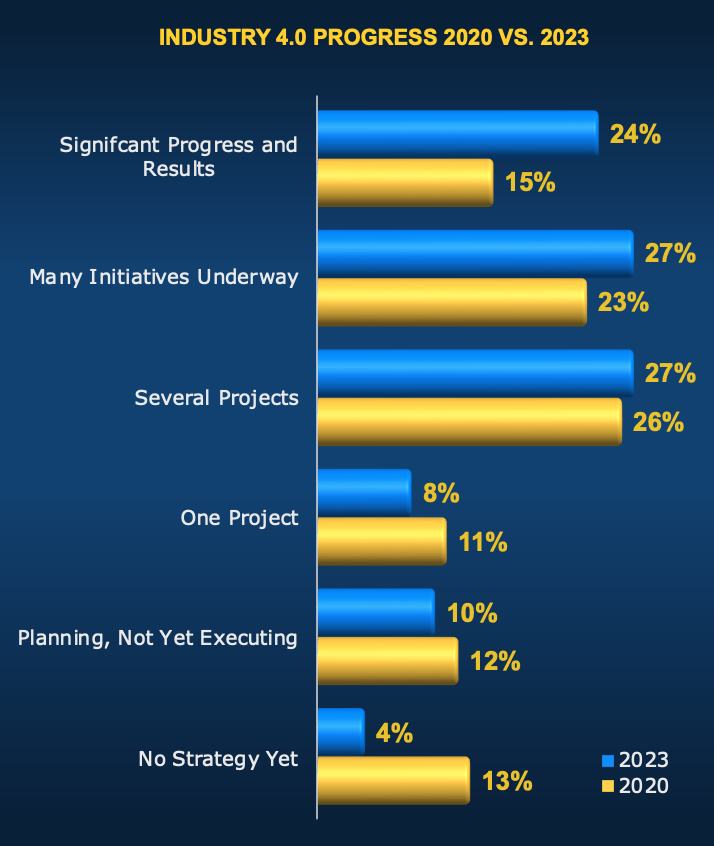 Progress on Industry 4.0
Industry 4.0 Vision
The future of manufacturing is more flexible, agile, and responsive based on AI and intelligent automation. This is the vision of Industry 4.0, which goes by many other names. While the concept encompasses the entire enterprise and supply chain, the manufacturing area often poses the most significant challenges and opportunities for gaining substantial benefits.
Three Years of Progress
When manufacturers embark on an Industry 4.0 initiative, they typically know it will be a multi-year journey. What we see is that most companies are now well on their way. There has been clear progress since our survey, The Manufacturing Data Management Challenge,1 in 2020. A much more significant percentage of respondents' companies have made tremendous progress toward Industry 4.0 and gained benefits already.
Why Drive to AI?
Many Applications
This is the age of AI. Just as human intelligence can address many topics, so can artificial intelligence. We asked, "Where would your company anticipate benefits from using advanced analytics in the plant such as artificial intelligence (AI), machine learning (ML), predictive, or prescriptive analytics? (list all processes, areas, or disciplines). The responses varied widely, as the word cloud shows.
Top of Mind
The most common benefits these respondents see are in production: quality, productivity, efficiency, yield, maintenance, safety, costs, and control. They also cite error-proofing, speed, and efficiency. In addition, they see benefits across the business, including for management, training, supply chain, revenue, engineering change, marketing, fraud detection, and customer service.
The Path Ahead
Next Steps
The manufacturers in this survey, including the Top Performers, know they are on an ongoing journey. Every company must ask themselves what their next steps are. Depending on the state of your capabilities and processes, the answer will vary.
Recommendations
Recognize that Industry 4.0 is a journey, and manufacturers can only expect to get benefits once they have made significant progress.

In the face of complex and unpredictable external circumstances, invest in internal understanding, initiatives and projects, staff, and capability-building technologies.

Be sure everyone – top floor to shop floor – understands Industry 4.0 has many keys to success, and one central element is manufacturing data management.

Evaluate your data management weaknesses across all facets and set out to improve them.

Prioritize projects not only by data flow gaps but also for the potential to make significant revenue and cost improvements across the company.

Evaluate whether applications with broader functionality will reduce your integration resources and effort and still be deep enough to meet your needs.

Educate your team on many aspects of data management and analytics to ensure they understand how projects fit into a larger vision.

Start initiatives and projects that help you learn – progress requires action.

Focus on creating an attractive workplace and staffing for an array of newer positions that support data management, AI, and transformation.

Step up your evaluation of commercial technology that might replace homegrown systems, spreadsheets, and Excel.

Focus on AI and analytics as benefits drivers, and focus programs on areas that matter to business success. 
*This summary is an abbreviated version of the research and does not contain the full content. For the full research, please visit our sponsor Critical Manufacturing (registration required).
If you have difficulty obtaining a copy of the report, please contact us.