A quick peek into some research on … the business value of PDM and how companies can implement PDM solutions in a way that helps them achieve value quickly and set themselves up for more value over the long term.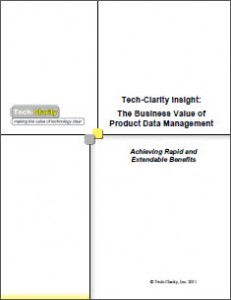 The report, The Business Value of Product Data Management: Achieving Rapid and Extendable Benefits, shares the experiences of three small to midsize (SMB) manufacturers and discusses how they were able to take a more "out of the box" approach to PDM to implement it quickly, achieve the value they were looking for, and ensure they could continue to add on and upgrade the solution over time.
Note: See updated version of this report here.
The Research Findings
The report is based on interviews with several SMB manufacturers in different industries, including:
Veeraja Industries– A total solutions provider of coolant filtration, chip removal and coolant management
Flovel Energy – A fully integrated hydro power equipment supplier
Weir Valves & Controls – an end-to-end whole plant solutions to nuclear, fossil-fired and renewable power stations
The findings are similar to other research I have done into product data management solutions, including Managing Engineering Data – The Role of Product Data Management in Improving Engineering Efficiency. Manufacturers are using PDM to get control of their product-related data and better share it across their business. In specific, the report identifies several repeated themes that companies report as valuable results of implementing PDM:
Control and secure product-related data
Improve the ability to quickly find and reuse information
Share product knowledge with other departments
This report examines how companies can achieve these benefits rapidly. The companies surveyed took more "out of the box" approaches to implementing PDM. This helped with faster time to benefit from PDM, but also set them up to leverage more of the solution in the future (and take future upgrades without having to reconcile modifications with the new release). Specifically, they used a solution that allowed them to:
Take advantage of PDM systems with pre-configured, best practices for security, part numbering schemes, and other common information required to set up a the system
Leverage standard best practice workflows such as "release to manufacture" and "engineering change control" to speed implementation
Limit customization of PDM in order to achieve rapid time to benefit and simplify future maintenance and upgrades
Implications for Manufacturers
The research provides a way to view how PDM helps improve business performance. I am still surprised to find companies that haven't implemented PDM, while others are on their second or third generation or have extended the value to a full PLM solution. The barriers to implementing PDM have come down dramatically in recent years, and there are now more pre-configured solutions on the market that can help companies implement without reinventing the wheel. Even for smaller companies, there is a PDM solution that is right for them and can help control the complexity of today's engineering environment.
So that was a quick peek into some recent research on PDM and how to implement it quickly, I hope you found it interesting. Does the research reflect your experiences? Do you see it differently? Let us know what it looks like from your perspective.
Please feel free to review more free research and white papers about PLM and other enterprise software for manufacturers from Tech-Clarity.